Cheapest Themed Hotels in France
While hoteliers are allowed to be creatively expressive, guests are sometimes wittingly (or otherwise) on the lookout for themes before booking. Themed hotels can be expensive, especially in a place like France, but options abound. Despite this, many affordable accommodations have great themes that connect to the spirit of the age, sports teams, pop culture trends, books, et al. In essence, themes affirm our love for that reference whose object we love or used to love and can thoroughly relate with.
Here Are Some Cheap Themed Hotels In France
Hôtel Le 123 Sébastopol Astotel – Paris, France
Cheap, simple but chic, this hotel is the perfect one if you are a lover of cinemas. Situated in Le Marias/Les Halles area, the hotel has a classical cinema theme that leaves you amazed. The rooms are decent, soundproofed, and well furnished with facilities to ensure the all-round comfort of guests.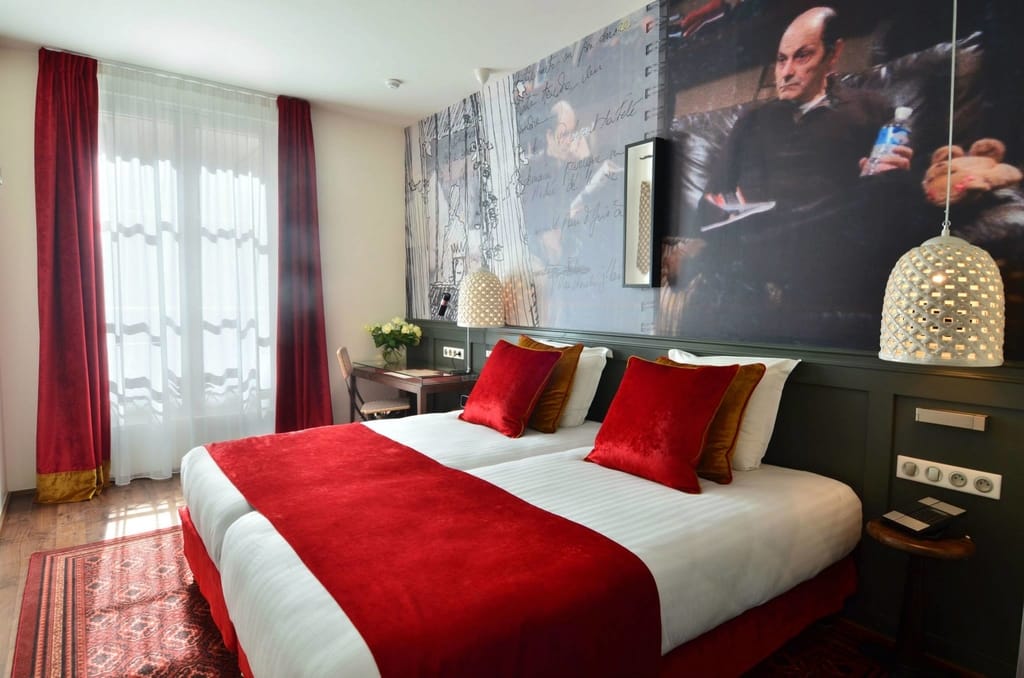 The toothsome breakfast at Hotel Le 123 Sebastopol is something you should not miss. As a tip, all-day snacks in any of the hotel groups around the city. Some of its facilities include a gymnasium and a private cinema. If you want to enjoy Paris on a budget, start from here.
The Negresco Hotel – Nice, France
When you are in Nice, prepare to lodge at the impressive Hotel Negresco. It is vibrant and historic. You will find art items from way back, like paintings, furniture, and chandeliers. Classic and bright, all the floors and wings have distinct decorative themes. Some of these themes include Picasso, Napoleon, and Dali. With a visit to the Hotel Negresco, you can have a supersize suite to yourself with a large bathroom furnished with separate toilet and old-style bathtub.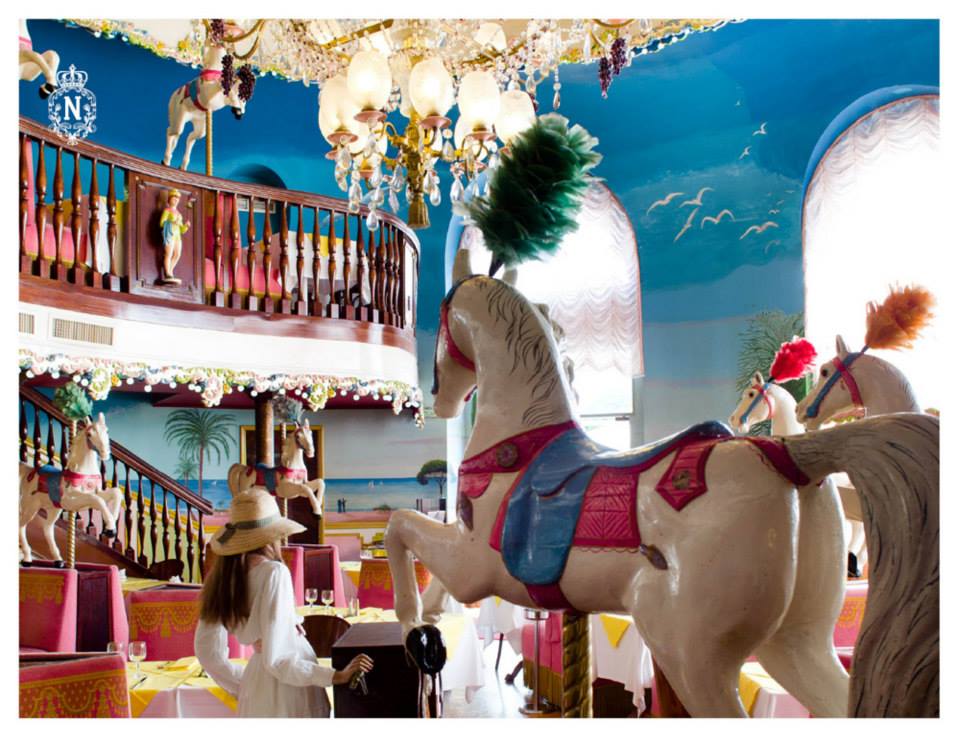 While themes, the rooms are unique, therefore check the hotel's website on the specifics you want (room size, suite, themes, facilities, etc.). In this part of Nice, there are lots of things to do and see. The bar is nicely decorated, and it is a great place to have a drink with friends.
Upstairs, there is a cool area designated for books. If you are a book buff, this might be your favorite spot. Downstairs is louder and more active as there are people to meet and things to do. Looking for a cheap place for real comfort in Nice? Hotel Negresco got you.
Hotel Barriere Le Gray d'Albion – Cannes, France
The French Riviera is an expensive region in France, and that makes accommodation is super luxury. But with Hotel Barriere le Gray d'Albion, you get comfort and serenity in the right blend. It is perfectly situated between the sea and shopping artery of some of the popular stores in Cannes, the hotel is a vacationer's paradise.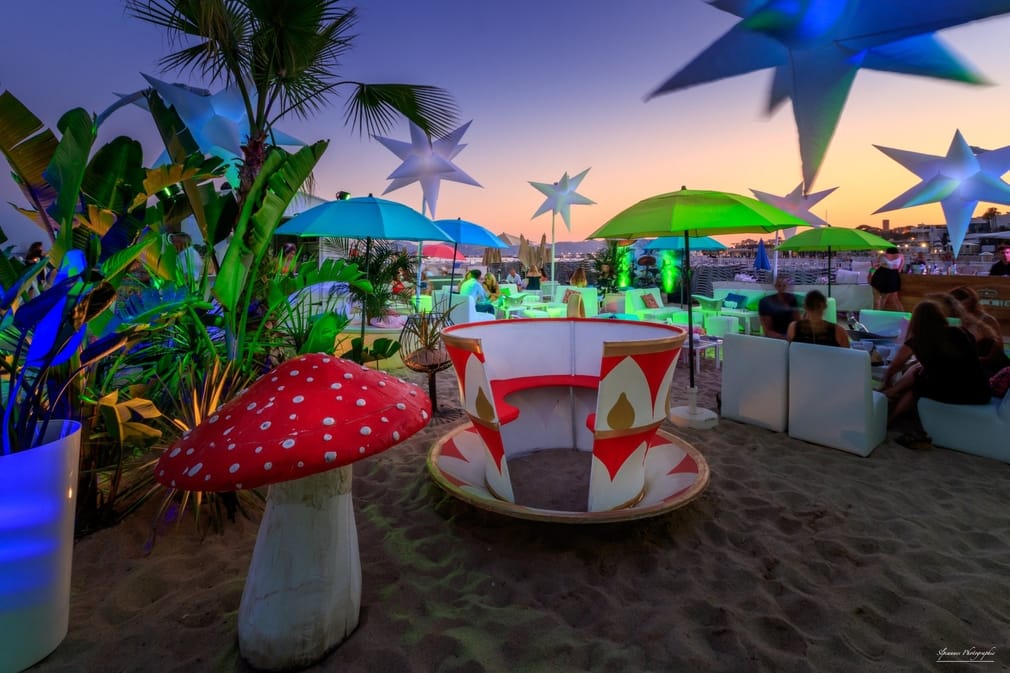 Having undergone renovation, the hotel now has a modern style to its design that bears semblance with the atmosphere of the area, bright in the day and shimmering at night. On your visit, explore the sunny delights in the hotel's restaurants as you have some Cote d'Azur delicious specialties.
For activities, the hotel's fitness center is one of the best in the area. While the hotel's beach has been temporarily closed, there are interesting alternatives for guests at nearby beaches. While you have to pay for parking, there is free Wi-Fi and airport transportation for your comfort.
The rooms have blackout curtains, air-conditioned, and they come with a flat-screen television. Check with the hotel if you want well-designed interconnected rooms. Situated in a splendid area, the hotel gives you a ravishing view of the city from the comfort of your room, all at an affordable price. 
Explorers Hotel Disneyland – Paris, France
Want to visit Paris on a budget? You might want to add this pirate theme hotel to your list of cheap accommodation options. From the get-go, the Explorers Hotel comes across to be a wonderful place. The car parking is at no cost, and you can even get on the free shuttle bus if you do not have a vehicle.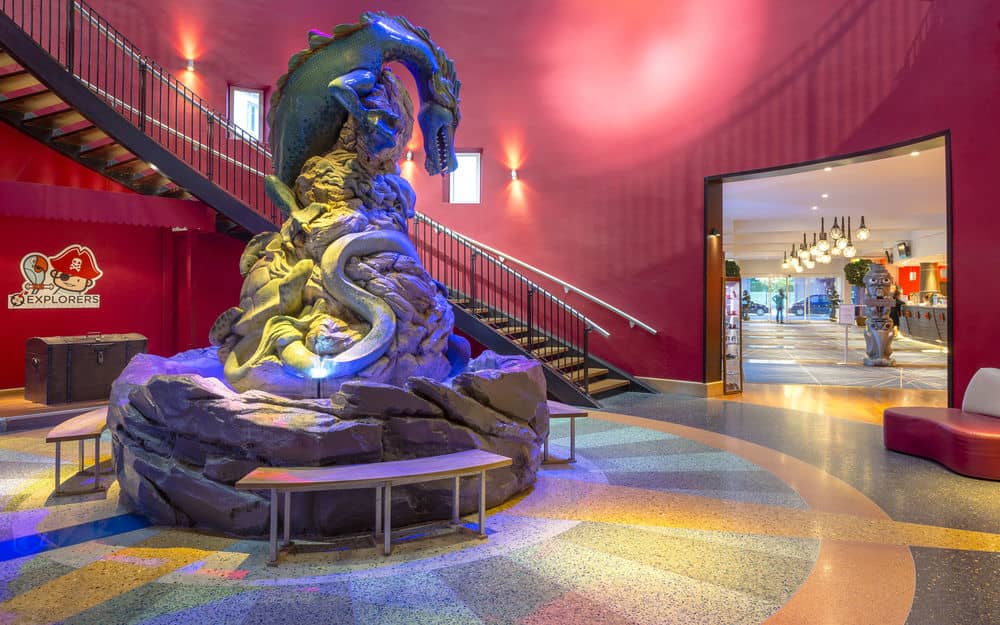 Well-designed rooms perfect for a family are a good place to chill after a long season of work. The swimming pool is great and for everyone who cares to have fun, but remember to bring along your Speedos. Breakfast is also something you should not miss here as they are very good. The meal comprises of pastries, meat, cheese, etc. Though the price of the buffet is reasonable, the menu selection is incredibly brilliant.
Explorers Hotel is children friendly as the young ones will be totally gripped. What's more, there is a shuttle that picks up families that wish to go to nearby Disneyland or the train station. 
Idol Hotel – Paris, France
How about some music theme atmosphere that promises serenity and relaxation? Idol Hotel is a Parisian reasonably-priced accommodation that is located in a music area with lots of music-related stores. The stores sell a wide collection of musical instruments that will catch the attention of music lovers.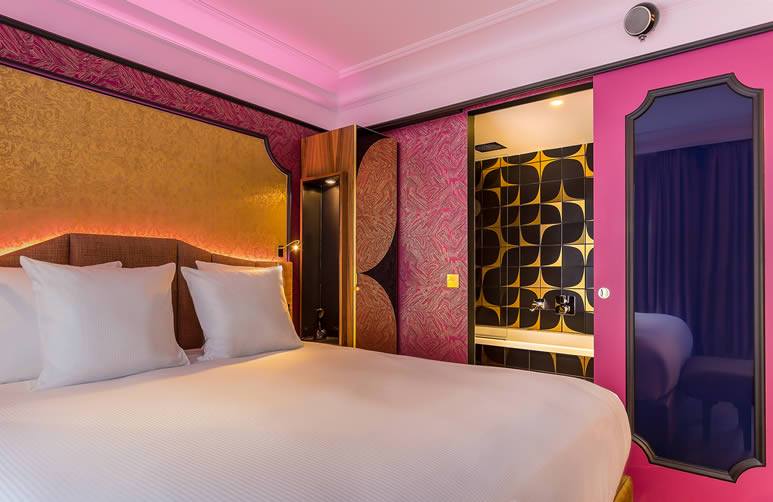 Idol Hotel is situated on a quiet, vast, and bright street that is away from the noise of city life though it is still within a 5-minute walk to the train station. And while the rooms are not large, they are comfortable with quality fixtures and linens that gives a luxurious feel.
Try the complimentary coffee/latte/espresso in the lobby, and you will not regret it. There is also a coffee machine in the room with a great audio system (a truly music-themed abode). Bedding is nice for a sound, deep night's sleep. And if you do not speak French, the staff speak good English. The hotel's small courtyard has a table for guests to take in the terrific views.
There is the 'Give Me the Night' suite, which is a spectacular disco-themed one. The suite has a big room with a comfortable supersized bed, chairs and a table, freestanding bath, and big mirrored wardrobes. Also, the room boasts of a Japanese toilet with a warm jet-wash function and a large walk-in shower room. 
The rooms have access to the hotel's free Wi-Fi, and they have a built-in Bluetooth sound system to play our favorite tunes. 
Buddha-Bar Hotel – Paris, France
Right in the heart of Paris, the phenomenon Buddha-Bar Hotel is an oriental theme hotel. Its suites are large and culturally rich, decked in shades of red, gold, and black, with a dragon printed on the bathroom mirror. The Chinese theme is a bold and expressive design of a proud heritage.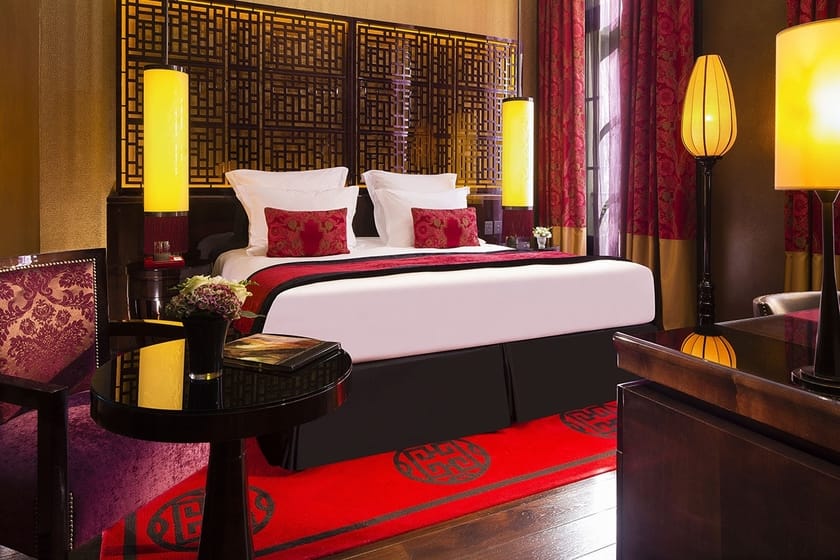 So for a lush experience of oriental comfort, the Buddha-Bar Hotel is an affordable hotel to get your needs right. It is located in the 8th arrondissement, close to Tuileries in a modish quarter. The area witnesses political protests lately, so it shuts down every weekend. That is why there is a heavy presence of the police to quell unrest. And even though there is no room for a traditional boulangerie, to get some croissants, the area still retains its bougie feel.
The hotel's Studio Suite is a special one. It is spacious, well furnished, smells good. It provides adorable Asian-inspired interiors while the tallest windows tower over the garden area. 
Hotel Atmospheres – Paris, France
Traveling to Paris as a couple has never been this great. The Hotel Atmospheres is a tryst-worthy place primed for comfort and relaxation. Though cheap, the hotel is ultra-modern with facilities to enhance your experience. The rooms are great, and some even have balconies that look over the street. They are small but chic and colorful with classic themed floors. Made with lighting ceilings and different color schemes, rooms hardly look better than this.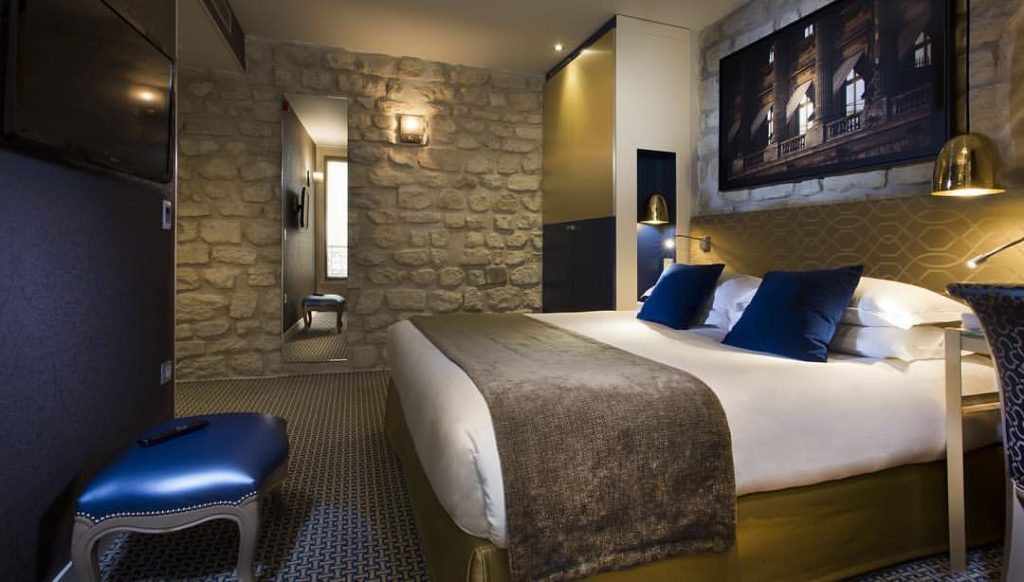 Its location is quite good. It stands opposite to a little and popular Bistro on the corner that has one of the steaks around. You also find many little shops, bistros, bars et al. The metro is station is about 3-minutes from the building. Hotel Atmospheres offers you a chance to connect to some of the city's famous attractions quickly. For example, a walk to the Notre-Dame is about 6 minutes' work and about 20 minutes' walk to the Champs Elysee. To feel France like a local, book at the Hotel Atmospheres.
Hotel du Continent – Paris, France
This is special for the warmth and country theme designs. It is situated in a perfect place that is not difficult to get to. Hotel du Continent's rooms are clean, comfy, air-conditioned, chic, and small; the beds are a delight too. There is free Wi-Fi, refrigerator, and reliable security.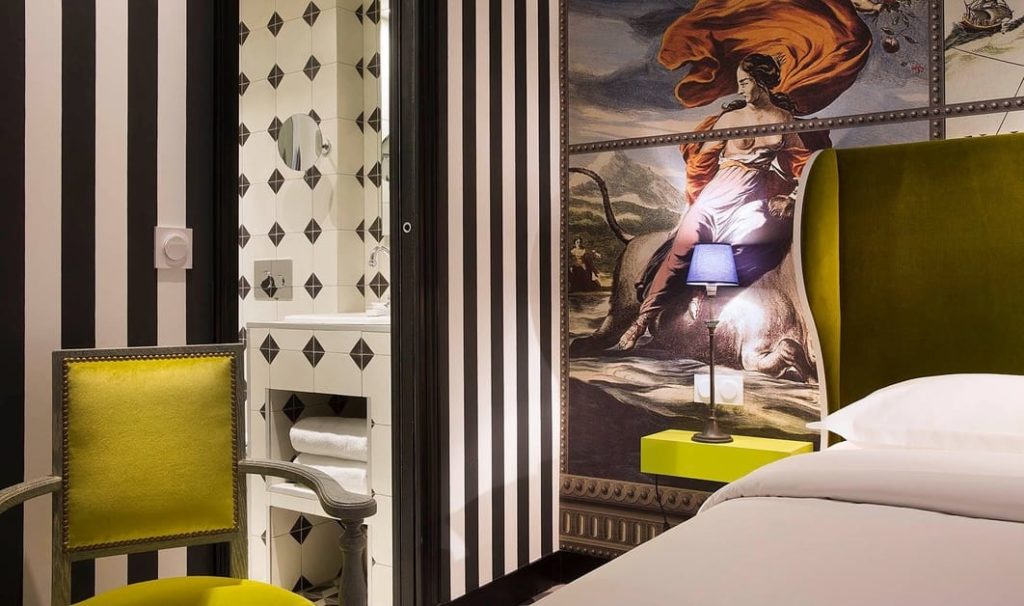 If you are traveling alone, this might be the best option for you in town. Their breakfast is great, and restaurants are excellent, offering the best deals and the best cuisines. 
Hotel du Continent is a walking distance to top tourist spots like Musee d'Orsay, Louvre, and the Musee de l'Orangerie. The staff at the front desk are super helpful too if you need anything. 
Best Western Plus Hôtel Masséna – Nice, France
Perfectly located (close to the station, trams, and metro), the hotel is about a 15-minutes' walk from Vieux Port. And if you want to see the Promenade des Anglais, the beach, Galeries Lafayette with simple accessibility to transportation to popular city attractions, the hotel gives you just that. 
The hotel even organizes sightseeing trips for guests who would love to see the city. Comfy beds, clean rooms, great location- there is all to see and do here. It's black and white theme works incredibly well and if you plan to explore the Cote d'Azur region, do branch at the Best Western Plus Hotel. 
Lyric Hôtel Paris Opera – Paris, France
This terrific hotel is located close to the imposing Opera Garnier, in the center of Paris. Bearing semblance with a dance studio, Lyric Hotel rooms provide an astonishing musical environment. A difference of good neutrals and blocks of bright color plays out in the bedding and ballerinas dance in the net curtains.
The hotel is a classic dance-themed one with en-suite bathrooms with lots of designer toiletries. The rooms also have coffee and tea making machines, flat-screen televisions. Minibars, and of course, free Wi-Fi. The breakfast is made up of scrambled eggs, French croissants, dried fruit, bread, cereal, jam, fruit purees, cold cuts and cheeses, and a lot more.
There is also a fitness room, spa, sauna, and an indoor pool for the pleasure of guests. 



Have you stayed at any of the Cheapest Themed Hotels in France? Let us know which one.