Cheap Things to Do in France
Finance is an integral part of traveling, and it probably demands attention like no other. While the budget mostly determines our destination and what we do there, traveling to France requires careful planning. From enchanting beaches to deluxe class restaurants to luxurious hotels to impeccable food, France has many things in store. Consequently, there are many things to spend on.
But the good news is that France welcomes anyone from the social-economic strata. Regardless of how much you decently have, no one is excluded from France's goodness as there is an enormous range of options for everything. So whether you are a prepped for honeymoon with your partner, or a student, an aesthete, a lover of wine and food, a cyclist, a jazz music lover, France is the perfect destination.
It might even surprise you that some fun things actually go for free. All you need is the right information to recognize these opportunities.
Here Are Some Cheap Things to Do in France: 
Go on a Free Talking Tour
Seeing monuments and iconic spots in the course of a walking tour is part of what multitude come to do in beautiful France. There are many tours that organize this sort of walk for free, and it offers the chance to connect with the city in a special way. Walks also afford visitors the opportunity to meet other visitors and, perhaps, share experiences. It is a great idea to engage in walking tours because they can enhance your traveling experience. With walking tours, you do not need to break the banks to see the French city you are visiting in a special way.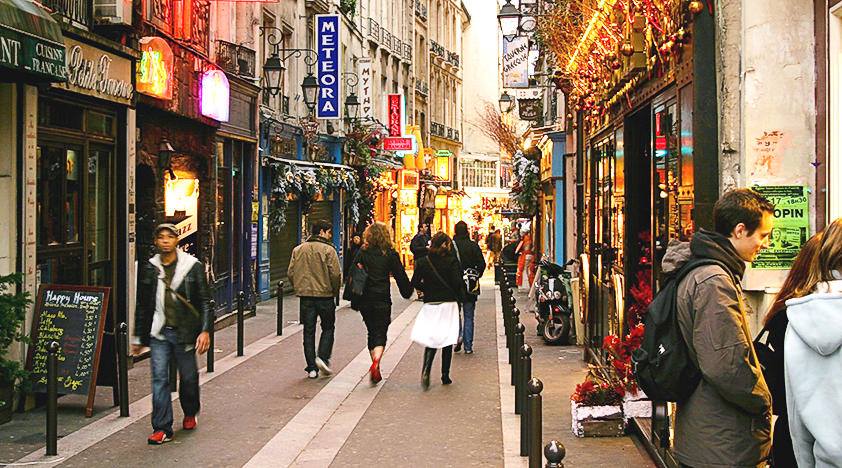 Explore Parks 
French cities have lots of great parks to see, especially for lovers of nature. Tranquil and charming, parks are a good place to escape the bustles of the fast-paced outside world. Securing entry into a park might cost you as low as 3 euros, but they are usually free. Vacationers do add park visitation to their itinerary because strolling through the fresh green expanses can be relieving. 
Some areas are particularly known for having parks for the public. Jardin de Luxembourg (5th Arrondissement) is an example of this. It is hosts what is perhaps the most popular gardens in Paris. In addition, some parks and gardens have other attractions like lakes, stores, etc. Lake Tuileries is not far from the world-famous Louvre, and it is a perfect spot to relax by the fountain or lake. You can even have a picnic in the area, and it costs no dime to see the pulsating features of nature. 
Walk along the Bank of a River at Night
No one will charge you any dollar for sightseeing at a river late in the day. It is a splendid way to see starry dark skies meeting the water. The Seine River is the perfect destination for this. Walkthrough this incredible river's banks as you appreciate nature. While walking the banks, you will get fascinating views of the city's top attractions you might not get from any other angle.
If you visit in the summertime, you will meet many people from around the world along the way. And if you are in Paris, the Pont des Arts close to the Louvre is a great place to explore like this as it attracts a good number of artists who visit to capture the stunning view before them.
>>Related: Most Beautiful Bridges in Paris
Walk Around Tourist Attractions
Hiking is another affordable thing to do in France. Some cities are primed for walking and hiking in particular. Nice, for example, is known for this, especially its stately coastal hike at the city's port. The coastal hike enchants many visitors every season because of its picturesque views. 
To get to the Old Town in Nice, walk around the ort, then pass the coast to La Reserve restaurant (a nice but expensive spot). Continue walking along the large crags filled with topless sunbathers till you arrive at a small community garden just across the street from Square Theodore de Banville Park.
The path starts in the garden, touches the coastline around the cape, and ends at Mont Boron's base. As you reach the end, you either follow the coast trail back or hike up 240 steps to the main road that spans from Nice to Villefranche.
You will see signs that warn of the hazards of hiking the trail in periods of rough seas. Authorities are concerned because the waves can crash over the trail in some areas. This is dangerous, but the sea is decently calm, and the views are beautiful. 
Cheap Things To Do in Paris
Paris is a great place for some fun hiking too. The glitzy Champs-Elysees in the capital city is a famous tree-lined area that you should definitely see hiking. Indulge in a stroll in the day and walk by crowded cafes and glamorous stores. The fascinating boulevard is also enchanting at night as the well-lit avenue comes to life. 
Continue stroll through the iconic Champs-Elysees, and you will come across the Arc de Triomphe, the famous monument built by Napoleon Bonaparte. It is one of the most imposing landmarks in the capital city. Instagrammers will be undoubtedly inspired by this scenic.
The Eiffel Tower is a must-do, too, especially its base. It has been said that the spot is more enjoyable once the sun sets while it remains striking during the day and even at night when it is lit up. The tower will remind you of Paris' magic and charm. 
Wine Tours and Tasting
Renowned for its wines, wine tasting is a fun thing to do at a low or no cost. This is something to particularly look forward to if you are visiting one of the major wine regions in the country. Alsace, Bordeaux, Burgundy, Champagne, Provence, Rhone Valley, and Loire Valley are the main wine regions in France. These are the major producers but are other parts that are about wine as well, like the Jura.
Bordeaux is known to have some of the world's most expensive wines as they are of deluxe class. The best wine in the region is its reds, which are a mixture of Merlot, Cabernet, and Sauvignon. The white wines you will taste in Bordeaux include Sauvignon Blanc and Semillon mixtures. Semillon, Sauvignon Blanc, and Muscadelle grapes are some of its sweet whites.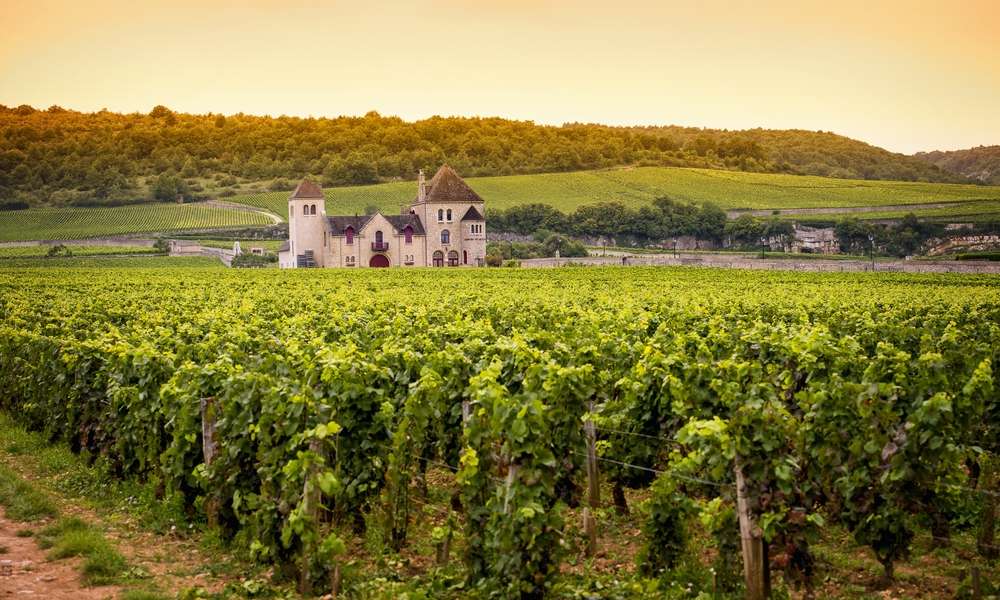 Bordeaux
Most wine tours dedicate half-day for a wine tasting for a city. For example, a half-day Saint-Emilion wine-tasting tour leaves from central Bordeaux and you will not only get to taste Burgundy wine but also stroll the streets. Saint-Emilion has been marked as a UNESCO World Heritage site with the medieval village making some of Bordeaux's finest wines. 
In addition, you can visit vineyards as well, as most tourists do. In each major village you reach, ask at the local Maison du Vin, for a comprehensive list of vineyards that you can visit, taste, and buy. La Cite di vin was opened in 2016, and it might be a great idea to start your Quest from there.
There is a gigantic building called the Guggenheim of Wine. It will offer you a fascinating trip to the world's vineyards, not the French alone, some cracking exhibits. This entire setup in a technical manner but done in such a way that visitors can focus on the tale that unfolds, with historic characters taking them back to the past, demonstrations on winemaking, talks with chefs and winegrowers. 
You can conclude your trip with a wine tasting at the Belvedere, a massive and e burgeoning space that towers over this part of the city. And you might consider trying out some bars too. They are numerous and have a lot to offer. 
Burgundy
Centering around Beaune, Burgundy is another of France's major wine regions. Located just a few hours' drive southeast of Paris, the wine regions of Burgundy include Chablis, Beaujolais, Cote de Nuits, Cote de Beaune, Cote Chalonnaise and Maconnais. Wine product from the area includes many popular French wines like Chardonnay (White Burgundy), Beaujolais Nouveau and Pinot Noir (Burgundy red wine). Some other types include a small number of sparkling wines and a small number of roses.
Add Beaune to your wine-tasting itinerary for some really nice treat., Beaune in Burgundy has the been the heart of the wine trade for centuries. You will find cellars to visit and wince shops with a wide range of Burgundies to taste and purchase. The Ecole des vins (school of wines) offers wine classes for the voracious ones. 
Champagne
A wine tour of Champagne is another exciting to do on a budget. Regarded as the queen of drinks, Champagne is pricey when exported but goes around the different, smaller houses, and you will find great, individual vineyards producing small qualities of good Champagne at reasonable prices. Reims and Epernay and around Troyes in the Aube are two major regions in Champagne.
Located in the east close to Luxembourg and Belgium, the area is the country's coldest winemaking region. Both globally and locally, Champagne is one of the most famous wine regions of France. This is owing to its short distance from the capital. And as most know, Champagne is a popular place in France recognized for its sparkling wine that can be called Champagne. 
Apart from the cooler climate of this vine region, it lends itself to be perfect for both Pinot Noir and Chardonnay. And as you might observe, Champagne's white wines are usually crisper, lighter, and less fruity than other places in France.
To enjoy Champagne, there are lots of exciting things to see. And if you happen to be in Reims, stop at one of the top international Champagne houses for a tour. There are also various things to see in Epernay, where you can stroll along the major street of beautiful 19th-century mansions owned by popular personalities. 
On your tour, the day trip allows you to stop at multiple places where you will learn about the traditions and history of the Champagne area. A stop at Epernay (the world's most expensive area), Mercier Champagne's underground cellars are hosting many of Champagne and the village of Hautvillers popular for being the place where Champagne was born. In addition, you get to have a taste of three different Champagnes before you take your leave. 
People-watch at an Outdoor Cafe
Want to enjoy France from the comfort of your seat? Go out for people watch an outdoor café, and you will enjoy every moment. The French are known for their chic dressing sense and social etiquette that does not stop to impress the world. You will certainly be entertained when you hang out around public places to see and also to meet new people.
In Paris, you can enjoy free entrainment at Place de la Concorde. Covering 8 hectares, it is the largest square in the city situated at the eighth Arrondissement. Facing the Eiffel Tower, the Place de la Concorde is a nice place to hang out and enjoy the sight of people going about their business. It offers free entertainment to as musicians, street entertainers, and dancers take center stage to perform their thing. 
In Nice, Cour Saleya is popular for its daily flower market and is a perfect place to have tea or coffee and be treated to some cool people-watching. In addition, the pedestrian area is filled with outdoor cafes and restaurants that offer great deals with a spectacular view of the city. 
Witness Live Music
Live music scenes are a common sight, especially in big French cities. Some even host global events that bring people from all over the world to celebrate the phenomenon that is music with reasonable ticket prices. In Paris, plan to attend 'Showcase' (a music fiesta) before midnight, and you will enter for free. The event hosts an impressive range of live acts playing multiple genres of music. World-class DJs also grace the occasion as they strut their stuff. The venue is under the magical Alexandre III bridge.
La Fête de la Musique is a free musical entertainment that gives popular, up-and-coming, and amateur musicians the chance to perform. It takes place every year on the 21st of June. Rock and jazz are the highlights of this electrifying showpiece. 
Other cities boast of lively musical scenes as well. Any night of the week is a great day for a wide array of musical options for music lovers. The great thing is that most of these shows are free as you are treated to be the most electrifying sounds of different genres. 
Visit the Famous Museums on the First Sunday of the Month
In some places like Paris, popular museums often open their doors to everyone for free on the first Sunday of every month. This is a perfect way to see the city's top attractions like the Musee d'Orsay, Pompidou Center, and of course, the Louvre at zero euros. 
At the Louvre, you will encounter some of the most fascinating art collections in the world, and as you stroll about, you will see works by popular artists like Leonardo da Vinci's phenomenal Mona Lisa. Visiting the Muse d'Orsay, Paris' second most popular art repository, you will be amazed at more art pieces, including the impressive painting corpus by Monet. Over at the Pompidou, you are expected to see one of the continent's top collections of modern and contemporary pieces.
Related:
>>Best Museums in France
>>Best Museums in Paris
Check Out Fashion Shows 
France is the capital of European fashion. For some sizzling style, visit fashion shows at affordable prices or for free. Search for fashion events scheduled to take place in the French visit you are visiting so that you can plan to attend. Fashionistas are usually up to something as it would be great not to miss out.
In Paris, you can be treated to the best designers in the world of fashion at the Galeries Lafayette. In the course of the 30-minute free show, six professional models will show off the latest styles for you to see. Every Friday at 3 pm, the show takes place, and people attend in their droves. 
Visit the Beaches
With many beautiful beaches, summer in France is perfect for you as a tourist on a budget. Another cheap thing to do in France on your vacation is to walk in the pristine sands of the beach with an ice cream cone in your hand while you take in the splendid sunshine. This is a beach holiday experience you would not want to miss.
You can also raise a campsite by the sea to get away from the noise and busyness of the outside world. The campsites by the sea, in particular, offer a perfect surrounding, serene, with easy access. Even activities like beach sports and sunbathing are what visitors can indulge in at the campsites to while away time. France is blessed with numerous camping spots for your relaxation, as you will be spoilt for choices. The coastal area like Normandy, Brittany, Aquitaine, and the Mediterranean never disappoints as they have impeccable sea views.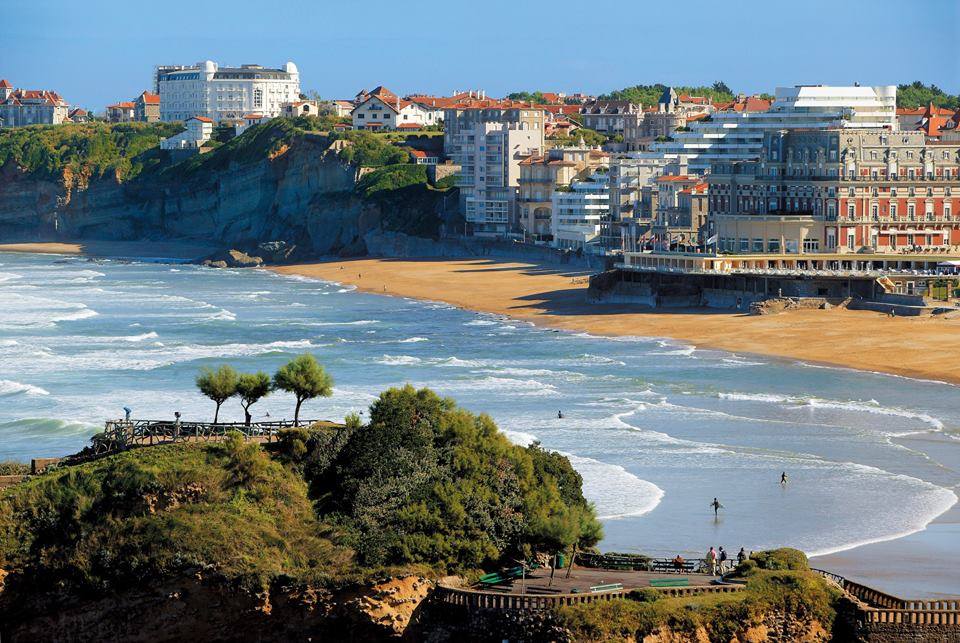 Normandy's Beaches
In addition, very few things are better than a vacation on Normandy's coastline. The area's long and diverse coastline, with its history, makes it a splendid destination for the summer holidays and easily accessible from Paris or the United Kingdom. In Cote Fleurie, you will find smart Deauville and more mellowed Trouville followed by a long coastline that runs westwards beyond Dieppe to Le Treport (two of the popular English Channel spots in the north of Europe). 
Famed for its World War II D-Day Landings, the more southerly Normandy beaches run from the Utah Beach as St. Vaast-la-Hougue to Ouistreham, north of Caen. Despite been desolated by World War II, the long sandy stretches are perfect for sandcastle builders. 
Related:
>>Beautiful Beaches Near Perpignan
>>Best Beaches On The French Mediterranean
>>Best Beaches in France
>>Nudist Beaches in France
Mont St-Michel
The craggy Cotentin Peninsula -to the west- stretches with its port Cherbourg at its tip, to the English Channel. Around the northern coastline of the Cotentin, you will eventually arrive at Le Mont St-Michel, one of the grandest sacred sites in France and Europe. For more things to do and see, travel a little further north to Avranches- a perfect place to stay as you look into the beaches of the western Cotentin Peninsula. 
Campsites along the French coast provide mobile home accommodation and camping holidays for visitors, whether it is a family or an individual. You also get to enjoy the sunshine, and relax by the pool or just walk through the nicely scented places. And while booking trips to beach campsites can be expensive, it is possible for you to strap their bag and seek the adventure themselves too. 
Cheap Things to Do in France – Summary
We have successfully demystified the view that you can only visit and enjoy France with a fat pocket. With the right information, you would not spend a fortune to have a nice time at the beach, see the Mona Lisa at the Louvre, taste one of Champagne's most velvety wines, or eat the scrumptious local delicacies in the south of the country. There are lots to see and do with a small budget in France.
What are your favorite Cheap Things to Do in France? Leave your comment below.