August In Paris and France: Travel Guide
If you are planning a vacation to Paris or generally in France in August, well, you're not the only one. Although this month tends to have beautiful weather, lots of festivals, and great outdoor markets to enjoy (remember to pick up a sweet Cavaillon melon if you're in the south), it can also be expensive and jam-packed with tourists. August is also the month in France when French workers take their vacations. Many French get the whole month off, meaning that not only will you be competing with hoards of American tourists in many of the popular destinations, but also French nationals.
It can also be a potentially problematic time to travel, especially in northern France (Paris), as the vacation month for les Francais means some shops remain closed for the month. All of that being said, if you do find yourself in France during August, there tends to be a great festive, summer-vacation atmosphere, beautiful weather, and a large number of festivals that are sure to make up for the higher prices and potential crowds.
>>Also Read: Paris Travel Blog
What To Do in France and Paris in August
Much like being in France in July, the great part about being in France during August is that you are pretty much guaranteed to have beautiful weather during your trip. While it can be hot and a touch on the muggy side (especially in Paris), you'll generally find moderately pleasant hot weather and blue skies throughout this month in most of France, which really opens up your choices in possibilities of various outdoor activities.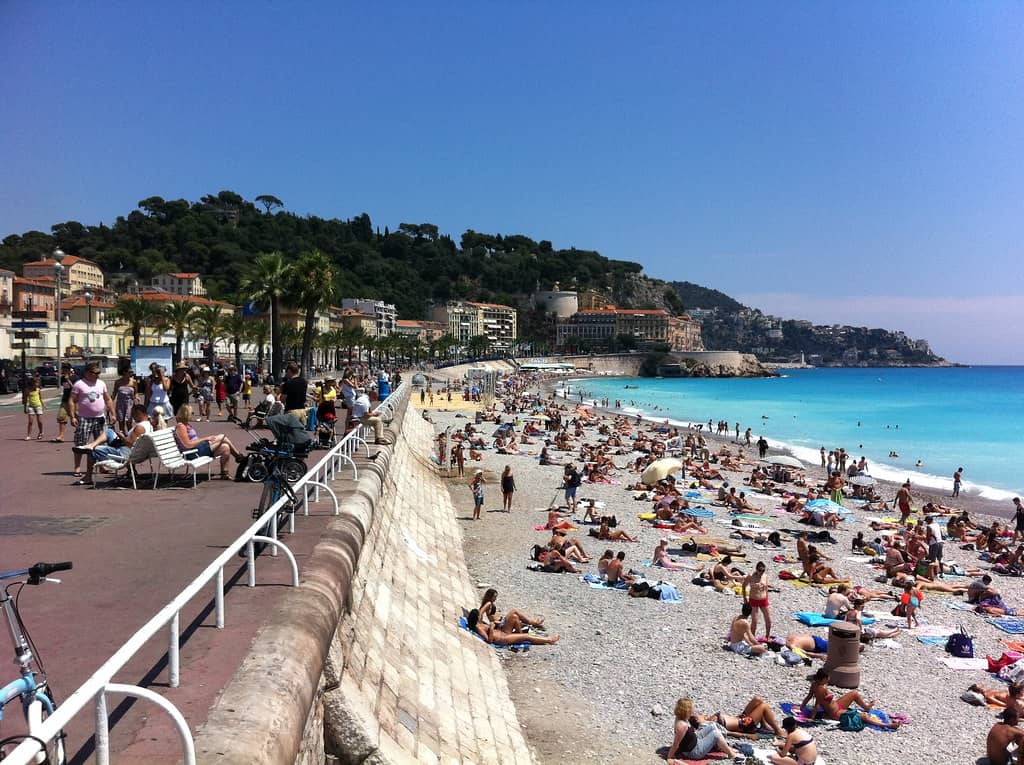 Here Are Some Things To Do In Paris and France in August
Shop at the Markets
Another great added bonus to being in France in July is the plethora of great outdoor markets and the abundance of fresh, in-season produce. While many of these markets can be found throughout France year-round, the produce tends to be much more bountiful during August.
Visit the Museums
While you may find some shops closed down during August in Paris, many museums in France have extended hours during most of July to accommodate the extra tourists and locals. There is a rumor floating around that museums are now free for those under 25 in France (which is good news to some and doesn't mean a thing to many of you).
>>Not sure what museums you should hit up? Check out Paris' Top Museums
Hit the Beach
Beaches in France are also packed with both international and local tourists, who flock to the French coastlines during the summer months to soak up the sun, eat fresh gauffres (waffles) on the boardwalk and swim in the ocean. Whether you head to La Baule or rub elbows with the rich and famous along the French Riviera, you're sure to have a great time.
>>Check out the Best Beaches in France, French Islands Articles
Take a Barge Tour
France is laced with a network of connected canal systems (from the days before trains and automobiles), and today barge tours are an extremely popular way to see France during the warm summer months. Guest float through the French countryside on this canal cruises, stopping in villages along the way, biking alongside the boat, and enjoying meals out on the deck.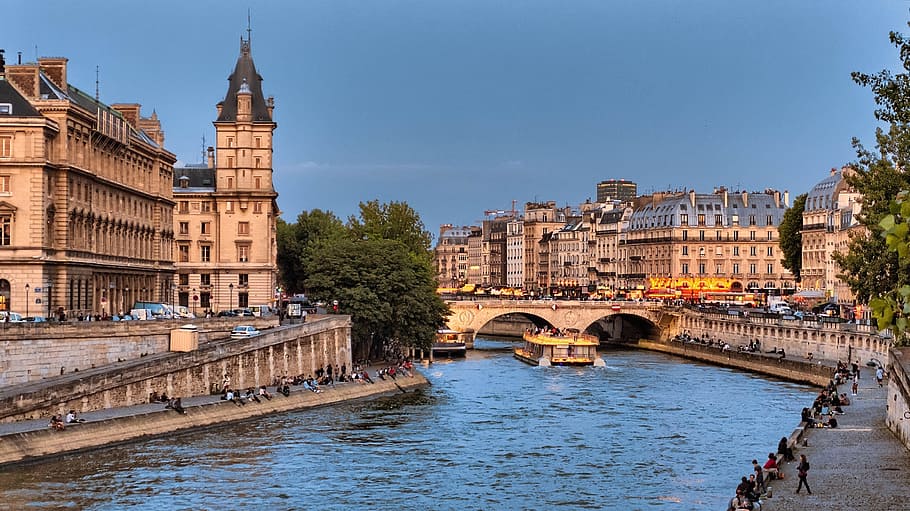 >>Why you should take a canal cruise in Paris, Best Seine River Cruises
Canoe the Dordogne
One of my favorite summertime activities I did in France was Canoeing the Dordogne River. Not only was the scenery totally beautiful, but floating this gorgeous river was relaxing, fun, and a unique way to see this part of southwestern France.
>>Read: Best Canoeing Spots In France
Holidays, Festivals and Events in France in August
While Bastille Day (the national holiday) and the Tour de France take place both in July in France, there are plenty of lively festivals that should keep you entertained through August in France.
Bayonne Festival
If you find yourself anywhere near the Spanish border during August, it is worthwhile to find your way to this Basque City for a festival that features bullfighting, cow racing, live music, dancing, eating, drinking, and more. The festival kicks off with a big fireworks display, which symbolically re-enacts the awakening of old King Leon, who reigns over the festivities. This is a great excuse to not only visit a beautiful area of France but also to see and experience a unique Basque culture.
Buzet Wine Festival
For those French wine lovers out there (which, let's be honest should be just about everyone), there is a great wine festival in the small appellation of Buzet near the Bordeaux region of France (not sure what appellation means? Read my post on Understanding French wine Categories) that features a sound and light show, craft market and tastings of the locally made Buzet wine. The weekend festival is to take place in the beautiful medieval town of Nérac, which, apart from being one of the most flower-filled villages in France, is also home to Henri 1V's impressive château, overlooking the Baïse river. This is the backdrop to the festival when all the town's restaurants will be serving regional dishes to accompany the Buzet wine in the evening sunshine.
>>Learn more about wine and read my Guide to French Wine
Monte Carlo International Fireworks Festival
If you are spending August on France's Mediterranean coastline (like many French nationals will be during their August holiday) then make sure to find your way to the ritzy yacht harbor of Monet Carlo where you can enjoy spectacular fireworks show over the ocean. As you would expect from any event in this playground of the rich and beautiful, the Monte Carlo International Fireworks Festival is an explosive event that brings together the very best pyrotechnics displays from around the world. The competition for the best show ensures that the displays really are spectacular, so get a spot camped out along the harbor and enjoy!
>>Day Cruises From Cannes: Why You Should Take One
Champagne Route Festival
Every year in the beginning of August, there is a festival honoring our favorite bubbly wine along the Champagne Route. Now, for me, any festival that involves drinking is probably worthwhile, and this one is no exception. Champagne growers open their cellars for the weekend, and participants can sample liberally upon purchasing a "Flute passport" (which costs only €8) as you enjoy tasting different variations of bubbly along the road. Villages along the route also get decorated in beautiful arrangements of flowers and local restaurants roll out specialty gourmet menus in honor of the event.
Oyster and White Wine Festival in Eymet
Now, I already said that any festival that involves drinking is sure to catch my attention, but any festival that involves drinking AND eating is a sure can't miss event. Every year around August 15, this medieval town located in the Dordogne about 50 km from Bergerac hosts a white wine, an oyster festival. Here you can sip and slurp your way from stall to stall, enjoying two of France's gastronomic delights.
>>Bordeaux Dinner Cruises: Why You Should Take One
Perigord-Noir Music Festival
As if foie gras, pate, duck confit, and delicious wine weren't enough to make me want to visit this region in southwestern France, this town also hosts a music festival from mid-July to late August, which features dozens of concerts in churches and abbeys. The festival also has one week during this time in which the music is focused around a specific theme that changes every year.
Paris Plage
You may be looking at the words Paris and plage (beach) together next to each other and be feeling very confused, but every year from mid-July through mid-August, Parisians get their own version of the beach right in town. During this time, a full-fledged beach, complete with sand, games, "boardwalk cafes," chairs, and umbrellas, take over the banks of the Seine. There, "beach" goers can enjoy cocktails at the open-air bars or work on their tan on the chaise lounges.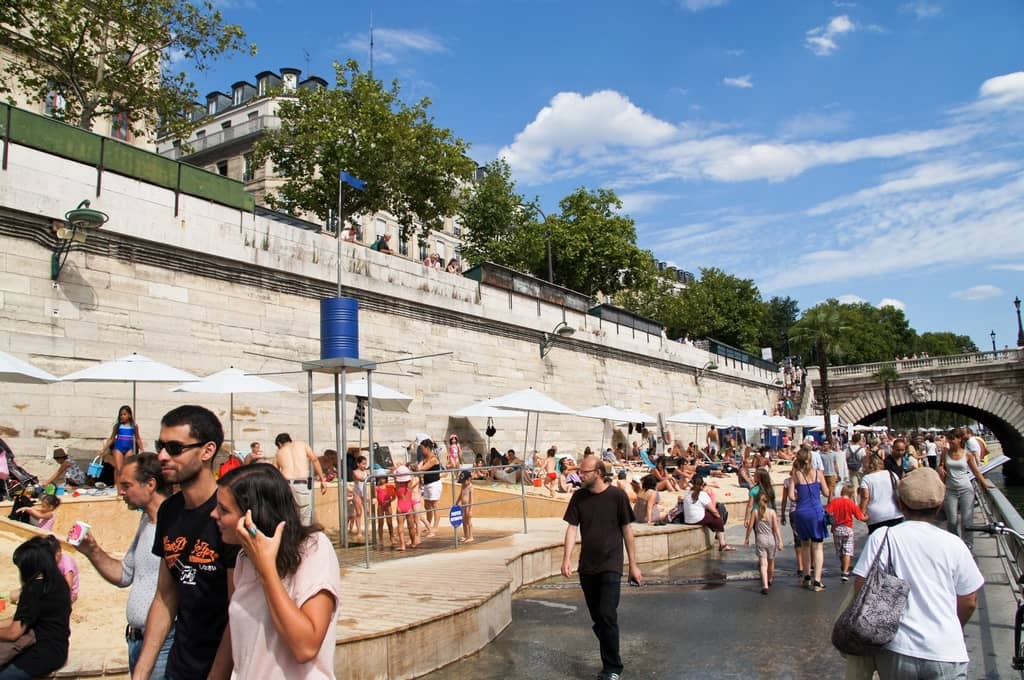 Open-Air Cinema Festival at the Parc de la Villette in Paris
While you may find many shuttered windows over boutiques and boulangeries in the capital in August, there is no shortage of special events happening around the city. From mid-July to mid-August, Parisians and visitors spread out blankets at the modern Parc de Villette. There, movies are shown on a giant outdoor screen for only about €2 a pop.
Weather in France in August
The great part about traveling to France during August is you are likely to enjoy some truly fantastic weather. With summer in full swing, days should be warm to hot and evening comfortable to slightly chilly, depending on your locale. Paris can be a little on the muggy side, and the Provence can definitely scorch during these months too, but the weather in France across the country is usually quite pleasant.
Paris: Average high temperature = 24 degrees celsius/75 degrees Fahrenheit. Average low =13.9 Celcius, 57 Fahrenheit. The average rainfall is 55.2 millimeters or 2.2 inches.
Nice: Average high temperature = 26.7 degrees celsius/80 degrees Fahrenheit. Average low = 20 degrees celcius/68 degrees Fahrenheit. The average rainfall is 31.6 millimeters or 1.2 inches.
Bordeaux: Average high temperature = 26.1 degrees celsius, 79 degrees Fahrenheit. Average low = 15 celcius/59 Fahrenheit. The average rainfall is 59.1 millimeters or 2.3 inches.
Strasbourg: Average high temperature = 24 degrees celsius, or 75 degrees Fahrenheit. Average low =14 celcius/55 Fahrenheit. The average rainfall is 70.4 millimeters or 2.8 inches.
>>Best Sailing Cruises in France
What to Pack
Depending on where you are planning to be in France during August will determine how you pack. Despite warm or hot temperatures almost everywhere in the country, keep in mind that it can still be chilly in the Alps; especially in the evenings or if you head high into the mountains. Here is a list of things you shouldn't forget:
Sunscreen
Swimsuit
Flip-flops (though don't plan on wearing these out and about much—especially in Paris. They are great for quick trips to the beach; however, you'll get a lot of strange looks wearing flip-flops around town. Opt for a pair of nicer sandals instead)
Good walking shoes
For ladies: skirts and dresses; don't be one of those tragic American tourists walking around Paris in shorts, tennis shoes, and carrying a fanny pack. French women don't wear shorts, and you probably shouldn't either. Stick with skirts and casual dresses instead. Plus, the extra ventilation will keep you cooler.
Light clothes and layers. Steer away from polyesters and opt for breathable fabrics; especially if you plan on hanging out in Paris, which can often get muggy and hot in August.
A great market basket to carry all your goodies you pick up at the great markets during July.
>>What To Pack When Visiting Paris or France For The First Time
Getting to France in August
While you are likely to have beautiful weather and plenty of great festivals to go to in August in France, you are also not the only traveler who has realized August is a great time to be in France. More tourists mean more crowded attractions and higher hotel rates and airfares. However, with enough searching, it is possible to a decent deal on airfare to France for July. Booking far in advance can also help land you a cheap flight to France, even in the peak summer months. If you are arriving in France from another European city, you'll probably be arriving by train or ferry. For those arriving from London, taking the Eurostar between Paris and London is the easiest and fastest way to get between France and the UK. However, there are other transportation options for getting from London to Paris.
Where to Stay in Paris and France in August
Make sure you book your hotels in France early as August can be a tough time to get a room. With the great weather in France during this time of year and lots more people flooding into this popular tourist destination, even finding a hostel in France can be hard during August. Plan ahead and book early, and you'll have a better shot at getting a room. If you find yourself hanging out along the Mediterranean coast, Nice's best hostels (including the famed Villa Saint Exupery) offer great accommodations on the cheap.