The Seine River is one of Paris' numerous spectacles that has been a subject of tourist attraction. When traveling to the city, it would not take a long while before you see the Seine. The river runs through Paris and separates it into the left banks (River Gauche) and the right banks (Ricer Droite). The Seine connects a good number of major sights of the city like the Eiffel Tower, the Louvre, and the Musée d'Orsay, the Cathedral of Notre Dame, and more than 35 bridges.
Seine River cruises come in different price ranges, from pricey private yachts to affordable water buses and are run by a host of tours. Whether you are going alone or in-group, there are cruises for everybody, including children. Couples on honeymoons are a common sight along the Seine. Though there is only one Seine, the tour cruises are ubiquitous.
And whether you are looking for a splendid experience, romantic dinner option, or just want to feel Paris from a unique view, you would love booking a River Seine boat cruise.
Before going for one of the dozens of cruises here, it is important that you have informed details on which is suitable for you:
Seine River Cruise Guide 
It is fine if you are still not sure whether to take a river cruise along the Seine or not. We have come up with a few important tips you should consider. For the first tip, you can enjoy many of the capital city's major sights from your seat while sipping a burgundy. One great thing about a river cruise is that you can have the soothing luxury in any season and most weather. 
Secondly, booking a cruise on the Seine is possible on a budget because there are options and packages. Whichever cruise you finally go for, it is worth noting that every boat takes roughly the same route. As a usual practice, the itinerary is as follows: boats begin on the left-bank close to Île Saint Louis. The cruises then sail alongside the left-bank, passing under 20 bridges en route.
From the boat, it would not take too long before you see the Grand Palais, Petit Palais, Pont Alexandre III Île de la Cité, the Parisian bouquinistes, and more Haussmannian architecture than you would have ever thought. The boats would then turn around close to the Eiffel Tower before sailing back to the landing docks alongside the right-bank.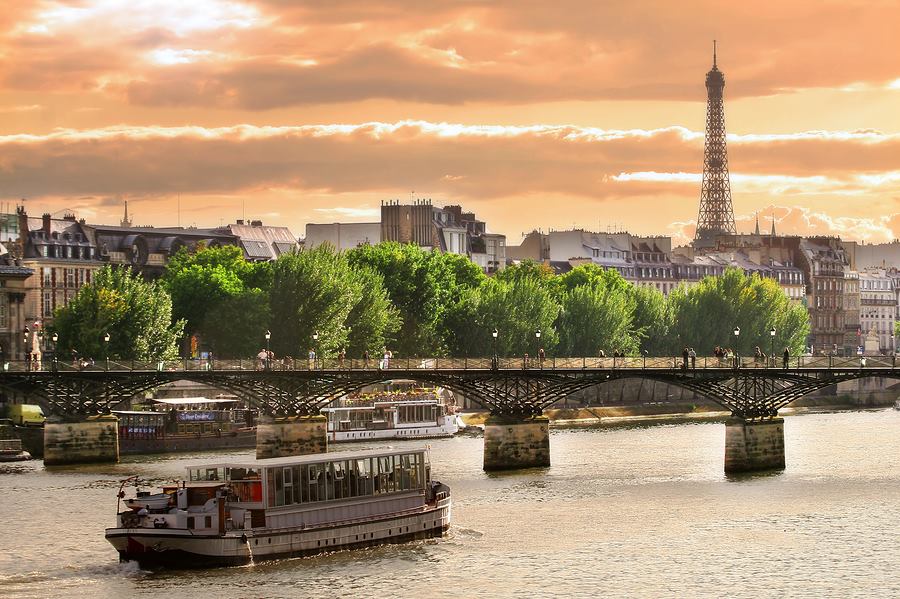 How to Book a Seine River Cruise
The booking procedure is not different from all other tour operators. Once you choose the company for your Seine cruise, put in your preferred date, the number of intending travelers, then click on the "Check Availability" button.
Then select the type of desired Seine cruise. If the operator proposes different options to choose from, e.g., day cruise and a glass of champagne, they will appear at this step. Add the option of your choice to the cart and proceed to payment.
Tickets have a date, but they don't have a precise timestamp. There are many departures throughout the day. That is perfect for you because you can choose a time that better fits into your schedule and then arrive at the pier before any of the daily planned departures.
Here are Some of the Best Seine River Cruises in Paris:
An Hour Cruise on the Seine 
This is a classic cruise you can be treated to as nothing ever beats perfect sightseeing in the beautiful city of Paris on the Seine. This is just an hour cruise to see some of the city's iconic sights from your seat. It is a great option for anyone that is having less time to explore Paris. And you should know that many Seine cruises leave every 30-60 minutes throughout the day.
The foot of the Eiffel Tower is where the most patronized cruises set out. Some of them include an audio guide that covers multiple languages, and the tours accept mobile vouchers. So there is no hassle that comes with printing tickets. 
Canal St. Martin
The city of Paris has a channel called the Canal St. Martin. This less popular water links the Canal de Ourcq in the north of Paris with the Seine and is running partially subsurface. As a little digression, you can spend an evening along the Canal St Martin as the streets along there are lined with great bars and restaurants, and the banks are well known for their nice picnic spots.
The cruise that connects a Seine river cruise with a cruise down the Canal St. Martin is a must-do. You have the chance to discover two distinctly different, but equally attractive parts of the capital city. The ride can include the navigation through a lock and 1-mile ride under the Bastille vault till the Canal St. Martin touches the Seine.
Best Brunch Cruise on the Seine
Granted that brunch may be the least-formal meal available on a Seine riverboat, but as far as food goes, brunch on the Seine is cooler than most meals you have ever had. The boat features all-armchair seating, and all are facing outward, so it is somewhat comfortable, relaxed surrounding in the first place, and with delicious little pastries, fruit, salmon, etc. and a warm cup of coffee or tea, with wine to go with it. It is an overly splendid experience.
Best Drinking Sruise on the Seine 
France is popular for its wine, especially the champagne (made from the Champagne wine region). This hour-long cruise includes a whole champagne tasting and lesson with an English-speaking certified sommelier as the boat moves slowly down the Seine and you take in the sights. You are expected to learn the difference between a brut, a rosé, and a demi-sec, as well as how to taste and value champagne.
Lunch Cruise on the Seine
A great cruise is never complete without a fantastic lunch on the Seine. Nothing matches seeing incredible sights like the Eiffel Tower or the Île de la Cité at the comfort of your seat while you grab bites of some local delicacy, with the most velvet of wines to go with it. It looks very much like how life should be approached without any cusp of worry. This and much more are what you can indeed get on a 2-hour Seine cruise with any of the tours. Some even arrange an all-inclusive 3 French course à-la-carte menu.
Seine Dinner Cruise and Paris by Night
Aptly dubbed as the City of Lights, Paris is incredibly stunning when well lit at night. Quite an enriching task that it should make an entitled entry to your bucket list. Paris at night is that ravishing and super cool when done with delicious food. If you are coming to Paris and you intend to make at least one romantic dinner, you should surely look to combine a cruise on the Seine with a French 3-course dinner. Most tours do a 2-and-half evening illumination cruise through Paris with a French dinner and wine, as usual, the usual features.
Bateaux Parisians cruise also offers another brilliant cruise for a night on the Seine. You get to combine dinner and dancing on a glass-canopied. You will be treated to a bon vivant dinner, including champagne and wine, with entertainment by a French orchestra followed by dancing on the dance floor. Select a romantic cruise with slow-dancing or an upbeat cruise rocking on the river.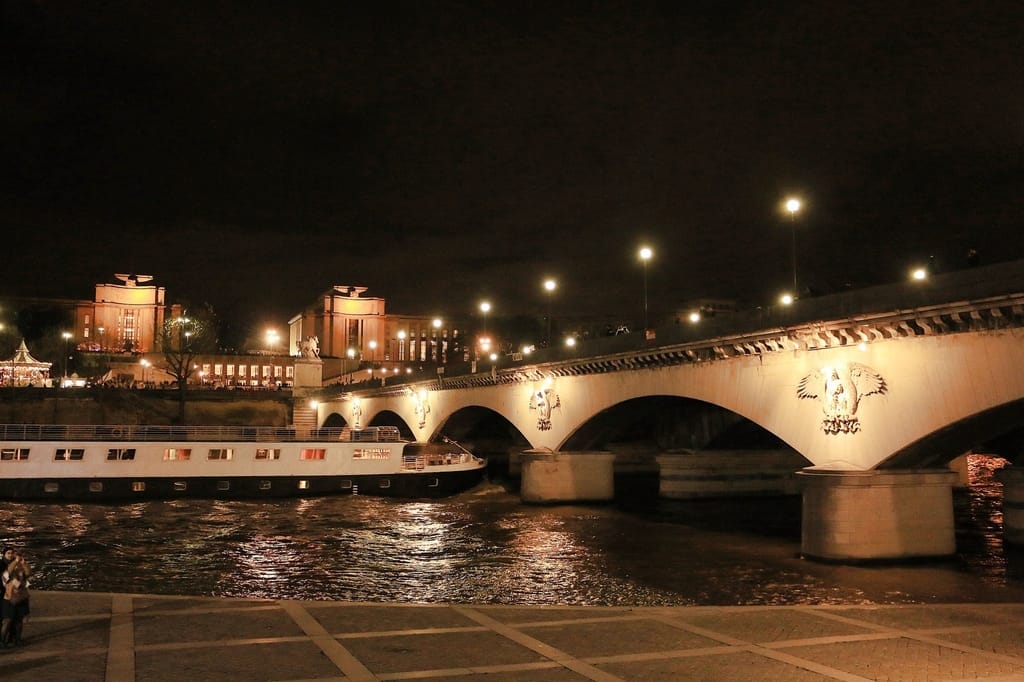 Cruise for Children
A timeout with children can be thrilling and educative. That is why Bateaux Parisians' special cruise is a one-hour tour with actors describing the history of the city in songs and stories. Throughout the cruise, two elves, Lilla and Philou, engage children by dancing through the aisles and asking silly questions. The cruise is in French, but children would not miss the excitement as they could follow along with the elves' cheerful roleplaying and singing. 
Romantic Cruise – Boats of Paris
Romantic cruises are among the most popular services that tours offer. The Seine River is an idyllic spot for some intimate and sweet romantic encounters you will ever have. You can have dinner on the luxury European yacht, the Don Juan II. It is more of a floating mansion than a tour boat, so be prepared to have a really nice time. The 1932 Don Juan II has a library, leather armchairs, mahogany bar, designer linens, and tableware, among other furnishings.
You will dine of a six-course tasting menu by a top chef while admiring the lit-up city icons. The setting is alluring and intimate- only 14 tables are seated for dinner. 
Cruises and Packages  
By now, you know that there are tons of things to do and see in the French capital city. If you are visiting on a budget, it is worth every of your penny to consider getting combined tickets instead of standalone. Combined tickets are cheaper than getting standalone tickets and less time consuming, as you just have to go through the reservation process once. To get the best deals and packages, you should do more research online before booking a cruise tour.
Best Seine Cruise for Budget Travelers 
The lovely thing about Paris is its inclusive setting; there is always something for everyone. If you are traveling on a budget, that is fine as there will still be much to see and do. You can see the city like a Parisian by taking the Batobus that is also known as 'water bus'. You get to see 8 locations along the Seine river, including the Eiffel Tower, the Musee d'Orsay, the Louvre, and the historic Notre Dame Cathedral. While the Batobus is not a sightseeing cruise, it is a water bus and affordable public transportation used by locals to navigate through the city. 
For families traveling with young children, it is an exhilarating alternative to the Paris Metro. Purchase a ticket for a day passes for as low as 14 euros for a week at the Batobus website or at any Batobus stop in the city. Check the website for schedules. Note that the service runs less frequently in the winter.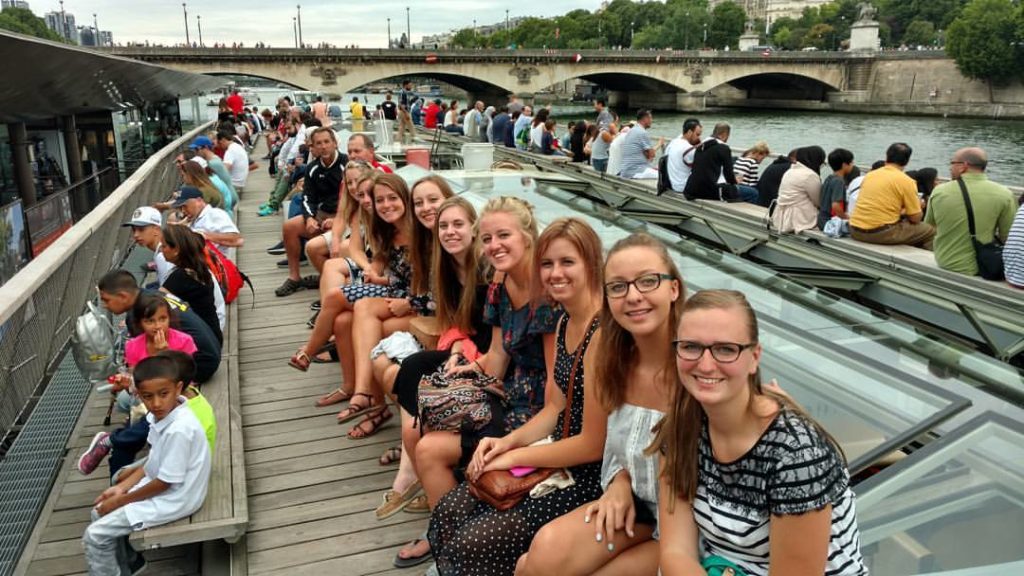 Helpful Tips for your Seine Cruise Tour
Here are additional tips you should follow to have a safe and rewarding cruise experience on the Seine:
Don't be caught off-guard by the weather: While packing for Paris, ensure you do not forget your sunscreen or an umbrella/raincoat. They can be day savers, so you do not have to share tales of how you literally had the weather rain on your parade. Take note too of anything else you might need and remember that you might need to queue a little before boarding. Always check the forecast.
Check if your tour accepts mobile vouchers: This is very important for no hold-ups as not all tours accept mobile vouchers. Getting vouchers printed can be a burden.
In case you booked a dinner or lunch tour, check the required dress code carefully to avoid being turned when boarding. The French can be very strict about meals and etiquettes, and you should bear that in mind. You might not take along your fancy clothes, and that is fine. This is France, and Paris is the world capital of fashion. So, you might want to appear your best as much as you can. 
Best Seine River Cruises – Summary
It is amazing how much fun you can have on a Seine River cruise. Depending on your preference, all the cruises are great regardless of the season you are visiting. Even educative children cruise lights up the faces of the young ones. While on a romantic, dinner, or any other cruise, you have the luxury of letting in all the wonderful sights from the comfort of your seat. A cruise on the Seine River is a definite no-miss!
>>Also Read: Visit Paris by Boat