Is Quimper Worth Visiting?
The oldest city in the region of Brittany is the appealing city of Quimper. Initially occupied in ancient Roman times, the city saw an overwhelming economic boost from the 1600s, given its local pottery industry's success. Today, it remains a lively spot in the area- unapologetically proud of its Breton culture and Celtic heritage. 
Here Are a Few Reasons Quimper is Worth Visiting:
Get Off to Le Jardin de la Retraite
A quiet sanctuary in the city, fortified by the old city bulwarks, Le Jardin de la Retraite (Retirement Garden) is divided into four botanical parts, including a grove of palm trees, a tropical garden with its own group of bananas, a 'dry garden' with exotic plants and more. A horse chestnut tree is one of the plants' oldest trees, and it dates back to 150 years. Le Jardin de la Retraite is located at 35 Rue Élie Freron, Quimper, France.
Be Blown Away by the Cathedrale St Corentin
The city's cathedral is christened after St Corentin after Quimper's maiden bishop and is a special view. The city's popular landmark is said to be one of the typical Gothic religious architecture in the region. In the 1100s, construction started, and the spires were completed in 1856, with major refurbishments being undergone over the years. Cathedrale St Corentin, with its 1400s stained glass windows and ravishing detail, is best adored when visitors come close.
Meander Around the Musée des Beaux-Arts
When French engineer Jean de Silguy left behind 3000 drawings and paintings and 12000 engravings with a proviso that the town builds a museum to house these works, Musée des Beaux-Arts was established. The charming frontals of the museum give way for renovated sides that are airy and light and impeccable for a few hours spent strolling around, adoring the pieces within. The museum is located at 40 Place Saint-Corentin, Quimper.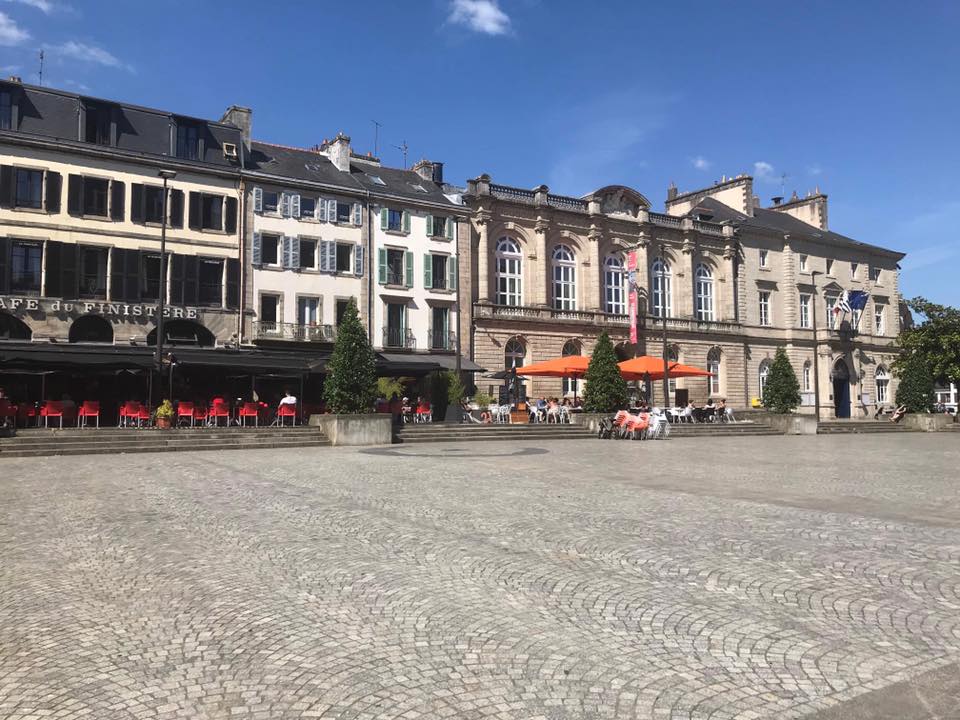 Step into the Château de Lanniron
On River Odet's banks, Château de Lanniron used to be the summer residence of Quimper's bishops. Located in about 38 hectares of gardens and parks, this attractive sanctuary is just 20 minutes away from the city and dating back to the 1600s, the gardens are worth seeing. Visitors can also choose to take on the gardens on their own or employ the services of a guided tour. Château de Lanniron is free for children below six; entry is not free for adults. It is located at Domaine de l'Orangerie de Lanniron, 85-90 Allée de Lanniron, Quimper, France.
Check out the Weekly Market
Shopping at a French market ranks high among the things to relish on vacation. This is recommended if you are lodging in a self-catered accommodation option and looking for authentic and fresh local ingredients to cook with. The city's most popular market- Les Halles Saint Francois, is a covered marketplace that has been operating since 1847. There is also Le Grand Marché, specializing in local products and food. It takes place around the covered market on Wednesday and Saturday mornings.
Learn About the City's Pottery Heritage at Musée de la Faïence
Thanks to Quimper's pottery industry, the city had a thriving economy in the 1600s, adding more life into Quimper than ever seen. The city's pottery museum is a massive stop to know more about Quimper's link with this trade and skill through history. It is located at 14 Rue Jean Baptiste Bousquet, Quimper, France.
Walk Around the Medieval Quarter
The city has a big medieval quarter that is entirely pedestrianized and good to walk around. With corbelled upper stories, the half-timbered houses will undoubtedly make you feel you have gone back in time. Place au Beurre is a fine central square, ideal for stopping at a restaurant for a delectable treat.
Hike up Mont Frugy
Climbing neatly from the Odet River's left bank that courses through the city are a little hill that offers breathtaking views over the rooftops of Quimper. Records have it that in the course of the French Revolution, the city was momentarily renamed "Montagne sur Odet" owing to this modest vantage point. It provides a welcome shady area in the warmer months.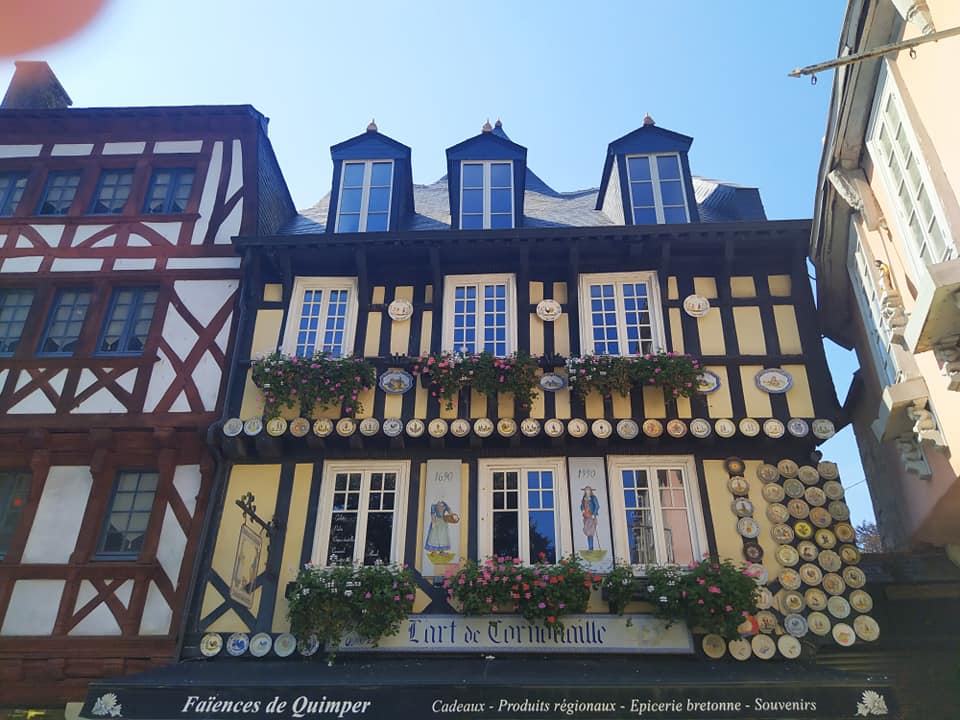 Feel Alive in the Festival de Cornouaille
This festival is a yearly fete that has been held in the summer since 1923 in Quimper. Festival de Cornouaille remains one of Brittany's largest cultural events. It is a celebration of Brittany's diversity, and different types of entertainment are performed here- from traditional costumes and dancing. Quimper heats up to the festivity for five days as the city comes alive to the sound of visitors and locals celebrating the region's past and future.
Indulge in a Crêpe
Crêpe is one of the region's favorite snacks and main dishes, both delicious (often served with buckwheat) and savory (often prepared with wheat flour). Galettes and crêpes are two local dishes in Brittany, even though they are the same. The latter is a pancake prepared with flour while the other is prepared with buckwheat. Often served alongside a bolée (ceramic bowl) of apple cider, they can be sampled throughout Brittany.
Contentiously, the best comes from Quimper. You will discover lots of crêperies in the old town, especially in Place au Beurre and Rue du Sallé. Another must-taste is buckwheat pancake with sausage and galette-saucisse. It is the local street food in the region.
Get in Touch With Nature at Pointe de la Torche
To feel the Atlantics' full power and some ocean's air, proceed 30 km to the southeast to this unhidden promontory. Edged by dunes, the sandy beach has a crude beauty to it even though the currents are slightly too powerful for bathing. But the ocean rollers are the reserve of seasoned surfers. Because of the consistent breezes, a phase of the windsurfing world championship is held annually here in October. Also, walk to a big Nazi "blockhaus" that was installed in the war and a craggy foreland where dolmen mark a Neolithic burial spot.
Visit One of France's Most Beautiful Villages, Locronan 
Lying just a few kilometers to the north, getting to Locronan from Quimper is easy and quick. The appeal of the village comes from its ambiance of unity, with streets of the 1600s and 1700s cottages and granite houses that take onlookers back to when this town used to be the hub for the hemp business. Then, it supplied British, Spanish, and French navies with sails and rigging. In Locronan is also the Locronan Church that bears the tomb of St. Ronan, an Irish hermit who was crucial to the spread of Christianity in the 6th century in the region.
See Exotic Plants at Jardin de la Retraite 
Sitting against Quimper's eastern ramparts is Jardin de la Retraite. It is a subtropical garden that vividly takes us to the time of 1500s voyagers who returned to France from expeditions to the New World with plant species that had never been seen prior to then. Arriving, they observed that the Breton climate was conducive for anything to grow.
That is how the region effectively became a place for the acclimatization of exotic species. You will find varied palms, rhododendrons, and camellias, hydrangeas, and Mexican desert garden with agaves, yuccas, and aloes in a bed of white and pink gravel.
Adore the Manoir du Kinkiz
If you are impressed by the region's cider in the city, it will be difficult not to visit the original cider press just 5 km southeast of Quimper. The Manoir du Kinkiz is located in 30 hectares of orchards, where about 21 varieties of apples are grown. Additionally, you will get a concise detail of how Cournouaille AOC cider is pressed, preserved in oak barrels, and bottled. Above all, you can sample their cider, pommeau (a Breton drink made with a mixture of Lambig and apple juice), and Lambig (apple brandy aged as long as 25 years).
Experience Magic at Stangala
On the completion of your tour of Quimper, you could also trail the Odet upriver on the GR 38 footpath. You will get into one of the most gripping natural landscapes in Breton, just beyond the northeastern outskirts of Quimper. There is a steep valley with slopes at a 45° gradient for about 5 km, and you will find greenery of mossy rocks, beech trees, and ferns on the riverbanks. There are also massive granite boulders that allow you to jump over the water.
Is Quimper Worth Visiting? – Summary
Quimper might be low-key but certainly spellbinding in every regard. Among other things, it has amazing shops where you can get delicious treats and factory outlets like pottery where you can get the famed "Breton bowl" as a souvenir. The colorful Cornouaille festival highlights how lively this unassuming Breton city can be. You will hardly have enough of Quimper.