5 Of The Best South of France Day Trips
What to do with a week in the south of France? Not a bad question to be faced with. Having had the fortune of visiting Provence on a semi-regular basis for almost a decade now, I can tell you that travelers could spend months – even years – exploring this region and all it has to offer. Unfortunately, for most of us, vacations are limited to a week or two at a time. The challenge is seeing everything a place has to offer and getting in a good amount of rest and relaxation. Provence? It's perfect for both.
Planning Our South of France Day Trips
For this trip, a group of friends and I rented a house and a car. Part of our group arrived by air into the Marseille airport, and the other part arrived by train in Avignon (via Paris). We picked up a car at the Marseille airport, and here's a little tip. If you want a car that seats more than your standard sedan (say, 6 passengers), pre-pay for your reservation to guarantee the bigger car.
Having a) been in the area before, and b) been the one to convince my friends to come on the trip. There was some pressure on me to ensure each day was not only fun but also providing a window into Provence's culture and top attractions. Luckily I thrive under pressure.
We rented a 'luxury' house from AirBnB. Another tip: If everyone chips in, the cost of even a 'luxury' house is reasonable.
Our plan for the week was to eat most of our meals at home; cooking with fresh local ingredients purchased at the markets. During the day, we would venture off on day trips; the evenings would be spent cooking, eating, and sampling what the local vineyards had to offer. My final planning tip: memorize the word vin (wine). It comes in handy in Provence.
Here Is The Best Day Trip Itinerary I could Come Up With For The South of France
Day Trip 1: Morning Markets, Afternoon Wine Tastings
Provence is littered with open-air markets full of the finest local offerings; produce, cheeses, meats, spices, fresh pasta, olives and olive oil, lavender oil, you name it.
At the Bedoin market, we began what became a daily ritual of devouring pain chocolat (chocolate croissants) at a boulangerie (bakery) right off the main market. We also regularly stocked up on fresh bread, cheese, and saussicon (dry sausage) – the perfect picnic ingredients.
And please don't forget the wine. The Southern Rhone Valley has an exceptional selection: Chateauneuf-du-Pape, Cote du Rhone, Gigondas, Vacqueryas, Beaumes de Venise, Rasteau. There are plenty of well-marked, small wineries along the roads in Beaumes de Venise, Vacqueryas, and Gigondas (one of my favorites is Domaine la Fourmone). Most of these places do not charge for wine tastings – just as you would not buy a pair of pants without first trying them on, these wineries offer a sampling before you buy.
Believe it or not, you can buy even the most delicate regional wine in 5- or 10-liter "bag-in-box" containers (yes, it is the English term "bag-in-box"). Most of the local vintners have adopted this very American packaging concept. Yet unlike their American counterparts, the so-called box wines contain the over-runs of high-quality bottled varieties. Quality and economy, what more could you ask for.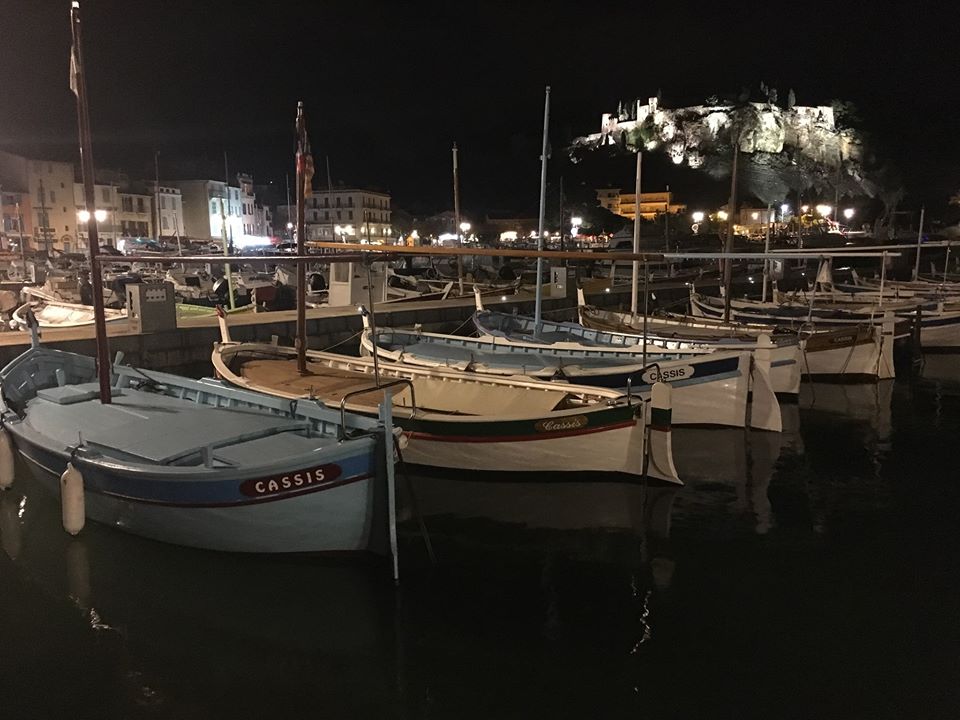 Day Trip 2: Cassis & Hiking the Calanques
You can't visit Provence without taking a day trip to Cassis, the Mediterranean port town. This town does not receive the publicity of Nice or Cannes, yet it is absolutely stunning. If you're a sun worshiper or appreciate views of the aqua-marine Mediterannean, then Cassis is for you. It's also a good base for hiking the Calanques.
Prep for your hike with lunch in Cassis. The restaurants on the water are pricey, as you are paying for the view. If you are on a budget, wander the side streets instead. (You get spectacular views on the hike, don't worry.)
After lunch, it's time for a hike. The Calanques are a series of deeply inset, narrow water inlets (like small versions of the fjords of Norway). Walk through town following the signs to the Calanques entrance (a nice thing about this region, both walking, and driving, is that things are well marked with signs).
The first three Calanques are doable in a half-day if you have good walking shoes and water. Doing this hike with first-timers is really exciting, as each Calanque is more spectacular than the last. The deep blue water is set against steep cliffs, with stunning beaches tucked into the inlets. This time around, the girls in the group, myself included, were so mesmerized by the water that we swam. In December. In the cold freezing water.
The verdict? December is not a great month for swimming.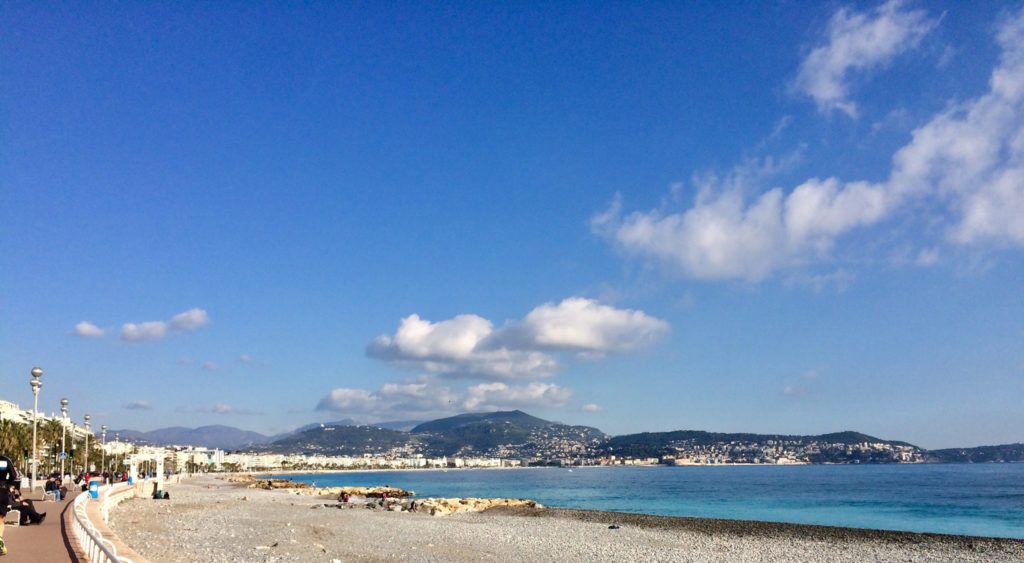 Day Trip 3: Carrières de Lumières & Les Baux
Les Baux is a medieval village overlooking olive fields and vineyards. Our first stop on our tour of Les Baux de Provence was right outside the walls, where there are several limestone quarries converted into a museum of sorts.
In the mid-1970s, Albert Plecy came up with the concept of Image Totale (Total Image), in which the spectator is included in a work of art. A Picasso exhibit was running the day we visited. It was a thrill walking through the cool, dark quarry hear music playing, with images moving across the huge walls matched to the tempo. It's an ingenious way to display Picasso's works. I admit I was completely enthralled by the experience. Plecy's goal of engaging the spectator is met with flying colors… literally and figuratively.
Next, it was up and over the walls of Les Baux for some lunch. A highlight here is the crêpes shop. I am of the school of thought that you can't visit France without having at least one crêpe… so I had two. An order of crêpes galettes (savory crêpes) for the main course, followed by a plate of crêpes sucrées (sweet crêpes) for dessert.
After lunch, it's time for a walk around the medieval part of Les Baux, which offers a 360-degree view of the surrounding countryside. The view alone could keep you mesmerized for hours.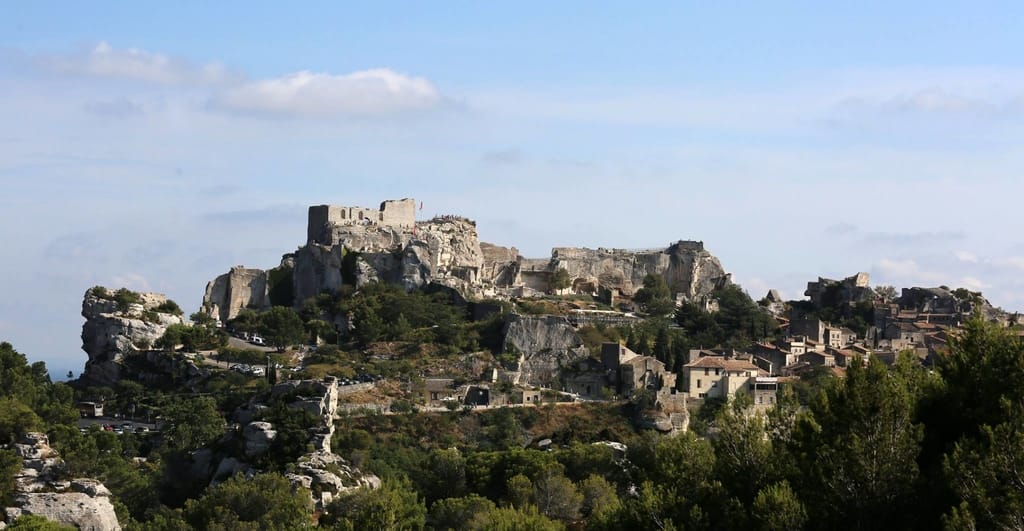 Day Trip 4: Aix en Provence
After all that hiking and swimming and eating and drinking, it was time to unwind. We opted for a leisurely day strolling the streets and squares of Aix en Provence… stepping into several shops, slowly sipping a café, enjoying a long lunch, and visiting a museum or two. An added bonus was the Christmas Fair, it being late December (at other times of the year the streets transformed with large open-air markets).
The Post-Impressionist artist, Paul Cézanne, split his time between Paris and Aix en Provence. We visited Cézanne's studio at Les Lauves, a short uphill walk from the city center. Walking into the studio is like stepping back in time – they've kept the studio as it was when he was working.
If you have more time to spend in Aix, check out La Fondation Vasarely – the Bauhaus building of the museum itself is worth the trip. The museum contains contemporary exhibits.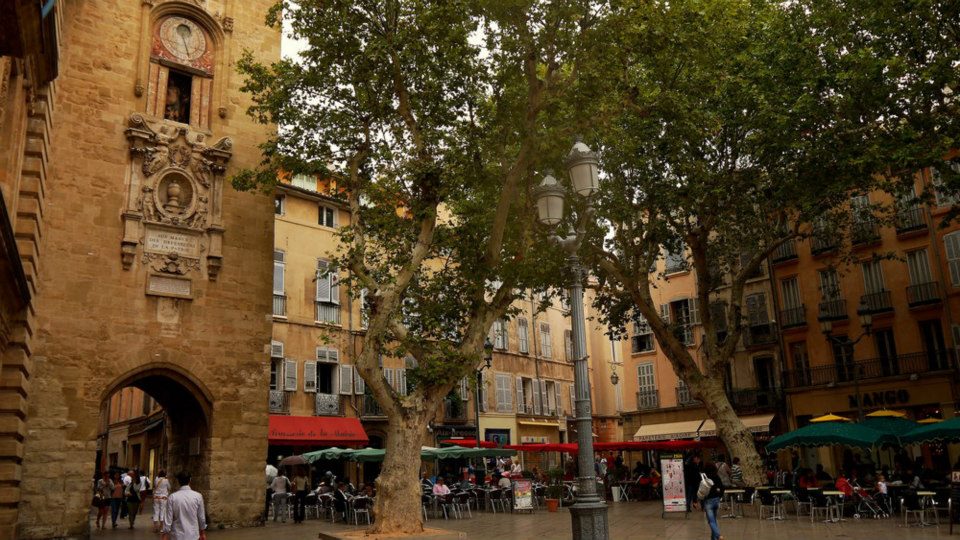 Day Trip 5: A Morning in Avignon & an Afternoon Hike to Les Barroux
We split our last day trip between exploring Avignon and hiking through Les Dentelles du Montmirail to Les Barroux, and back through the vineyards.
Avignon is a walled city on the Rhone River, former home of the Catholic Papacy, for a period during the 14th century. The Palace of the Popes (Palais des Papes) stands today, an impressive structure and a reminder of the wealth and strength of the Catholic Church.
Remember the children's song 'Sur le pont d'Avignon' (On the Bridge of Avignon)? The eponymous bridge stands half-way out into the Rhone, just outside the city walls. We bought double-entrance tickets for both the bridge and the palace (tip: architecture students get a discount). Included with the tickets are hand-held audio guides – history buffs will have no shortage of new information after listening to the audio tour.
The lunch hour nearing, we head back to the house to grab some lunch before heading out on our afternoon walk/hike to Les Barroux. Les Barroux is a spectacular walled medieval city, with a castle-like chateau at the top. There are a number of great walks to Les Barroux.
One of my favorites hikes meanders through a hilly, wooded area just southeast of Les Barroux. You'll need a walking map to find the trailheads, and once you do, there are plenty of yellow trail signposts to guide you.
>>Day Trips From Avignon
>>Things You Should See In Avignon
>>Avignon Travel Guide