Things You Should See In Avignon
A visit to Southern France can be life-altering for all the right reasons. And if you are still not sure of where to go, we recommend Avignon. It is a vibrant city where history meets modernity. Capital of the Vaucluse and the Cotes du Rhone. Seat of the popes and the city of art and culture, cinema, museums, big stores, and little shops. Avignon is a small city that definitely has everything a big one. And there are lots of exciting things to see and do.
>>Also Read: Avignon Travel Guide
Here is a List Of Things You Should See In Avignon:
See Avignon's Old Town
A brilliant thing to do in Avignon is a sight-seeing venture to witness the city's glory. The Old Avignon stretches around the dominant Palais des Papes. You can pick up a map to guide you as you set off along the narrow cobbled streets, which fill the old town, protected initially by the circular embankment. 
Also on your way, do not miss King Rene's house in the rue Roi-Rene; the rue des Tinturuers which trails the river Sorgue, giving the waters needed by the 18th-19th-century calico cloth-dyers who lived here; the Quartier de la Balance that runs down to the Pont Benezet, and the Place de l'Horloge, a large square shaded by trees with the theatre, town hall and many pavement cafes to relax.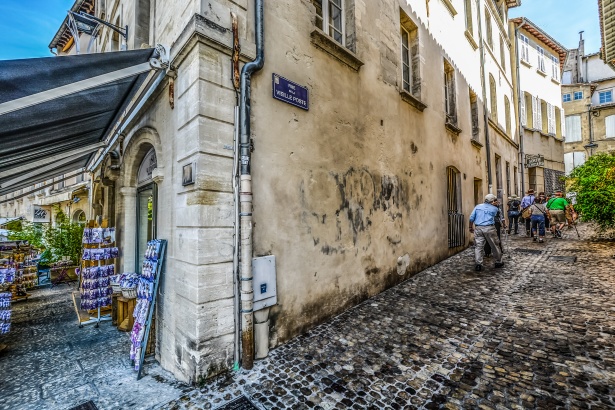 You can proceed a little further to Palace du Roure for the courtyard that you can stroll into. In the case that you visit the place on a Tuesday at 3 pm, you can take a guided tour which takes you into the rooms of Provencal costumes and textiles, old photographs of the Camargue and more.
Admire the Magical Les Baux de Provence
How about a trip to some thrilling French village experience? Tucked in the incredible countryside Alpilles, Les Baux de Provence is one of the ravishing villages in France. It is a small hillside settlement of houses assembled on steep slopes. Looking higher, you will find the Château des Baux, which is a ruined fortress, built in the 900s. This is mainly a children spot as it has large recreations of siege engines. There is more to see at the Baux de Provence regardless of the time you visit. A place like the Carrières de Lumières is among such spots. It is an interactive multimedia art experience with the iconic works of a selected artist projected onto the faces of a former quarry.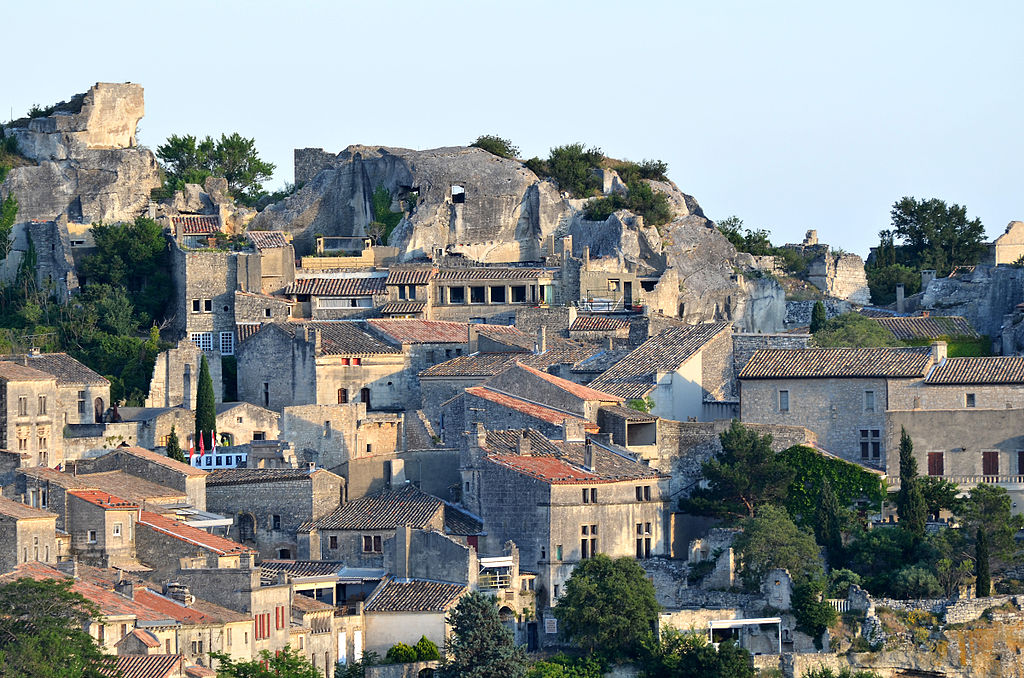 See Pont du Gard
This historic site is probably the Roman Gaul's most photogenic ruin is 25 kilometers to the west of Avignon. The Pont du Gard is splendid, buy its ravishing to think that is just a part of a system that once coursed 50 kilometers, descending just 17 meters on its path from Uzès to Nîmes. It is even more interesting to know it was made in only five years. 

The 275-meter-long, 50-meter-high part built to cross the Gardon River has impressed visitors and locals for more than two millennia. By all means, try to see it before leaving Avignon. There you will also find a closed-packaged museum of Roman history with children-friendly displays, and an explanatory video that details how this work of ancient engineering was carried out. 
Check out The Food at Avignon Les Halles
Visiting Avignon without having a taste of some local cuisines will be remiss on your part. From Tuesday to Sunday every day, about 40 merchants set up their stalls at this wonderful covered market on Place Pie. And in the case that you rented an apartment close by, you need not look any further for your food supply. You will find seasonal meat, fish, vegetable and fruit, wine, herbs, olive oil, herbs, cheese and charcuterie from around the region.
Amateur cooks should make sure they are there on Saturdays as the market welcomes dominant local chefs to its assigned exhibition space. It is pleasant to watch them work as they put on cooking demonstrations, and if you are lucky, you will get to taste some of their creations. 
See Musée Angladon
If you are a lover of arts and culture, the musée Angladon is a brilliant spot to satisfy your fantasy. Jacques Doucet was a native Paris tailor active at the turn of the century. He was actually regarded as one of the pioneers of fashion design. During his lifetime he accumulated an extensive art collection, including famous works like Picasso's Demoiselles d'Avignon, showcased as New York's MoMA. 
Doucet's heirs established the museum in a stunning early-18th-century mansion in the middle of Avignon; to exhibit the rest of Doucet's paintings. Therefore you can be lost in the setting's awe as you see works by Cézanne, Degas, Sisley, Picasso, Manet, Modigliani, Derain, and the only van Gogh painting in Provence. 
Visit Collection Lambert
The Collection Lambert museum offers something quite refreshing and different, especially if you have been to the numerous ancient museums in France. Established in 2000 by the art dealer Yvon Lambert, This is one of the city's newer art museums. It serves as a space to highlight the works Lambert had donated to the French government.
The galleries are set across two great 18th-century hotels. In 2009 Collection Lambert expanded when Yvon made another donation of 560 pieces. Since Picasso's posthumous donation in the 1970s, this is the largest gift of art to the French government.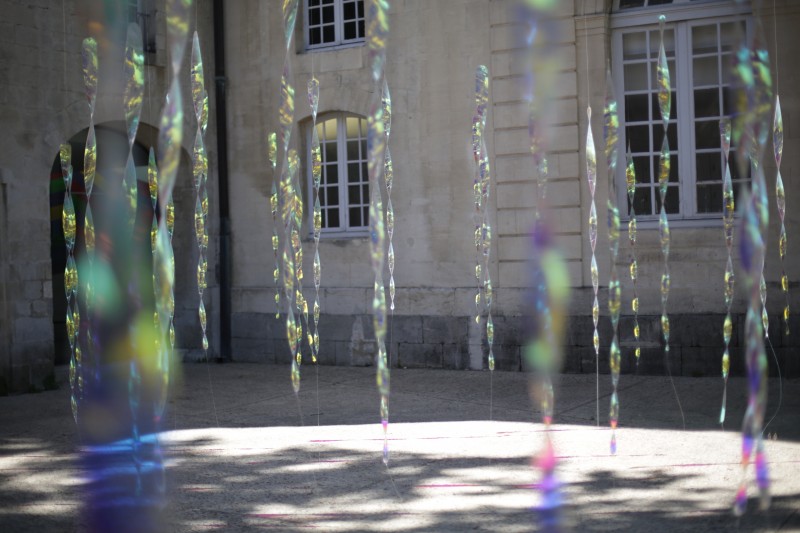 The art on show is contemporary, with photography, video, paintings, and sculpture from the 1980s up to the last few years from the likes of CY Twombly, Anselm Kiefer, and Nile Toroni. While hotel de Montfaucon houses the permanent collection, temporary shows are put on in the Hotel de Caumont.
Attend Exciting Avignon Events and Festivals
The city hosts cultural fares, musical fests, art exhibits, and a lot of other social events that attracts visitor from far and near. Of all the events that the city hosts, the Avignon festival is the most popular, both locally and globally. This festival kicked off sometime in 1947 Jean Vilar, the actor-director, whose aim was to bring theatre to the people with top actors like Jeanne Moreau and Jean Negroni.
Observed yearly in July, the Avignon festival runs for 3 weeks as the event dominates the central courtyard of the Pope's Palace in a 2000-capacity setup. It features over 40 different performances of theatre, dance, fine arts exhibitions, and music throughout Avignon as the festival's appeal soars. In fact, companies from around the world have performed works from Shakespeare to Mikhail Bulgakov, Euripides to Chekhov. Another event is the Avignon Public Off which takes over 100 smaller locations
See the Cathédrale Notre-Dame-des-Doms
The Cathédrale Notre-Dame-des-Doms is a magnificent piece you should not miss. And though it may be poised somewhat in the shadow of nearby Palais des Papes, the gorgeous 12th-century Cathédrale Notre-Dame-des-Doms is worth your time. The interior of this cathedral is one of the best parts of your visit here; dominated by old wall or ceiling paintings and marble statues. Another structure for its notable features is the golden statue of the Virgin Mary. It stands on top of the cathedral, peering out across Avignon. It is an excellent place for selfie spree btw.
>>Must-See Cathedrals in France
Sip on a coffee in Avignon Cathedral
This impeccably calm square, officially called cathédrale Notre–Dame-des-Doms, is at the center of Avignon in both its location and energy. There is a beauty to the square, something reinforced by the gaping array of restaurants and voguish cafes found here. One of the best ways to appreciate the architecture, like the 19th-century City Hall and Opera, is to have a cup of coffee and a slice of cake.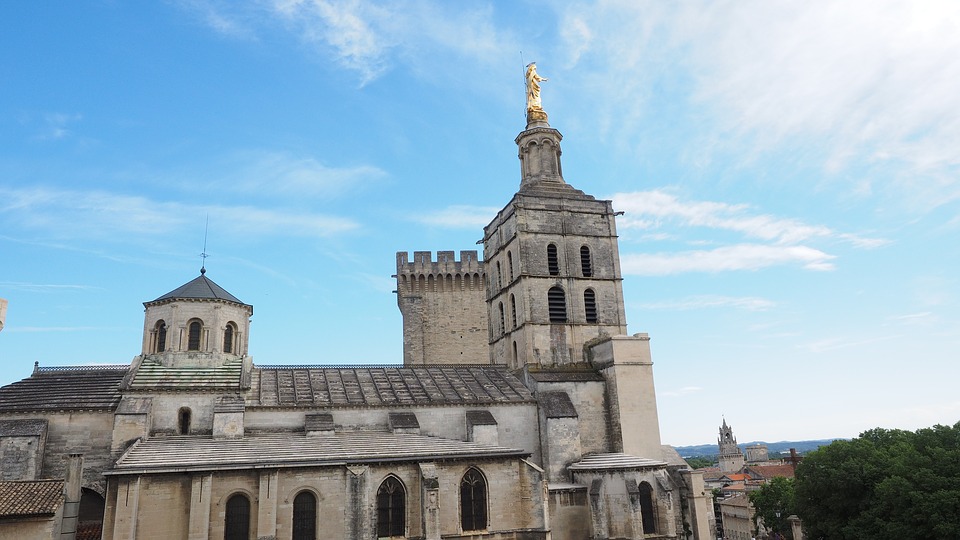 See Basilique Saint-Pierre d'Avignon 
According to a local myth, the Basillique's Saint-Pierre d'Avignon church's predecessor was destroyed by the Moors in the 7th-century. The gothic buildings that are currently at the site were started in the 14th-century during the papacy of Innocent IV. He was the fifth Avignon Pope.
Just before you make your way into the church, take a little moment to adore the massive wooden tours, sculpted from walnut in 1551 by Antoine Volard. You will also find a wealth of art to see inside as we, like the decorated choir from the 18th-century, renaissance, and baroque paintings, and the 1400s relics of Saint-Pierre de Luxembourg with his real cardinal's robes and hat. 
See Palais des Papes
You cannot apprehend the scale of the 14th-century Papal Palace unless you see it in real life. In trying to convey the size, you could fit four gothic cathedrals in here, and there are 24 rooms to visit on the tour. The Palais des Papes is the biggest attraction in Avignon's World Heritage site and one of France's most famous and priceless historical buildings.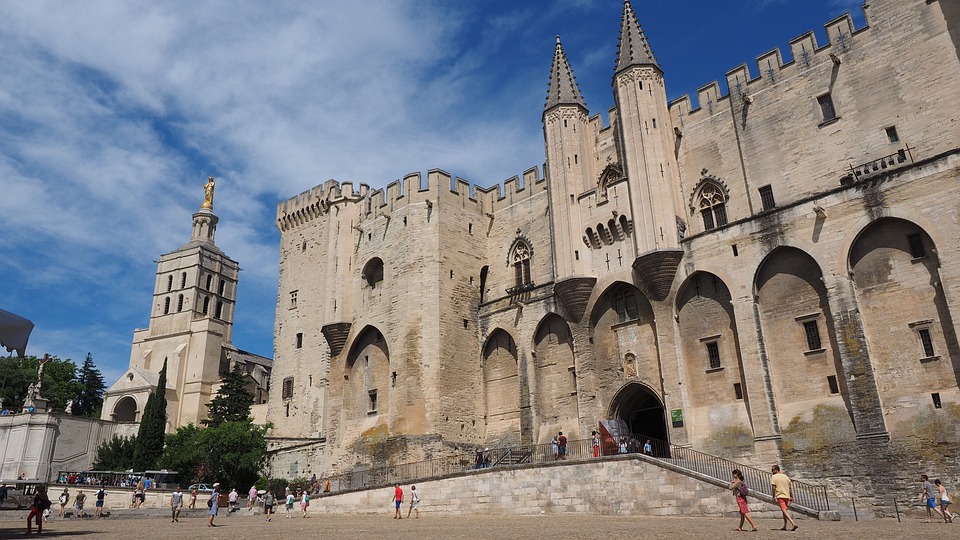 You can secure an audio-guide for the full story, and pause in the papal apartments with walls decorated with frescoes paints almost 700 years ago by the gothic artist Matteo Giovanetti. 
Admire the Pont Saint-Bénézet
This is one of Avignon's most iconic spots and often nicknamed the St Bénézet's Bridge. However, it is slightly inaccurate to refer to it as a bridge because much of it has been washed away in the 1600s. Regardless, it remains a beautiful historical site surrounded by myth and folktales.
A tale has it that in 1177 a shepherd named Bénézet was introduced by angels to build a bridge over the Rhone River; and was endowed with superhuman abilities to raise a massive piece of rock for its construction. You may, perhaps, have come across different versions of the story.
Take a Food Tour
Nothing hardly beats a new destination than through its food. And this is particularly true for the entire of France. A gourmet food tour is an exciting and tasty way to learn about Avignon. It is a venture worth taking to discover the history and culture of a new place. 
Morning food tours lasting hours can be thrilling as you get familiar with the city, its main sights, and culinary specialties. You will be able to try some of the delicious delicacies in the city. 
Spend some time at the Place de l'Horloge 
Arriving at the Place de l'Horloge, you may glance around for the Clock Tower from which this square bears its name. The square is full of restaurants and cafes which locals frequent for main occasions like the Christmas Market. This is a great place to eat or drink and relish the moments you have had. 
Admire Église Saint Didier
This piece of beauty is also known as La Collegiale Saint-Didier d'Avignon. It is a gothic church constructed in the mid-14th-century when Avignon was still the seat of the papacy. Today, the church stands not quite different with artworks from the 15th-century pride of place on the interior. You will find a sculpture of Jesus carrying the cross by Francesco Laurana. The work is believed to be one of the earliest examples of the Renaissance style anywhere in the world.
Things You Should See In Avignon – Summary
Avignon is immense when it comes to charm and luxury treats to keep visitors thrilled on a short or long trip. And while it is an important historical location, it has a lot of modern fascinations that will thoroughly engage you.
>>Also Read: How to Get from Paris to Avignon