Before making travel plans to a particular destination, we always want to be guaranteed safety, even if it is France, one of the most visited countries in Europe and the world. France is safe, but there is no harm in knowing the prevalent issues to avoid trouble. When we talk about how safe France is, it has a wider scope. France is made up of metropolitan France in western Europe and many other overseas territories and regions. 
Metropolitan France spans from the Mediterranean Sea to the English Channel and the North Sea, and from the Rhine River to the Atlantic Ocean. French Guiana in South America and many other islands in the Pacific, Atlantic, and Indian Oceans all make up the overseas regions. 
Despite the slightly varying security measures in continental France and its overseas territories, safety is a given. Violent crimes involving tourists are quite rare, but theft is one of the highest types of crimes to be mindful of. Unassuming travelers are common targets of some of these misdemeanors. 
Find out how to stay out of trouble, plus a few tricks on how to keep yourself safe while visiting France.
Pickpockets 
France, like other favorite destinations for holidaymakers and thrill-seekers, attracts thieves. So, when you are in Paris, for example, be careful around Arc de Triomphe, Champs Elysees, L'Opera, the George Pompidou Center, Les Halles, the Porte de Clingnancourt flea market, and the Eiffel Tower. Using crowded elevators can be tricky too.
If you are eating at a restaurant or a street-side café, ensure that your valuables and bag are secure. Don't leave them bare on the table. Any passing thief or thieves can distract you to comfortably steal your stuff or run away with it.
Pickpockets on the French Metro & RER
Used by a lot of people at the same time, the Metro and RER stations are always an operational base for thieves. So, always keep a strong grip on your wallet, bag, and other valuables, day or night. Pickpockets work in groups as well, and they are very skilled in being brutally tidy.
Part of their method is to grab your wallet or bag, and jump on/off the train the moment the doors are closing. Some of the train stations across France that frequently report pickpocket activity are Les Halles, Chatelet, Bastille, Concorde, Republique, Care de l'Est, Harve Caumartin, Auber-Opera- Charles de Gaulle-Etoile, Gare de Lyon, Franklin D. Roosevelt, Montparnasse, Barbes Rochechouart, Strasbourg-Saint Denis, and Gare du Nord.
Pickpockets seem to have a field day in a place like Paris but are the city even considerably safe?
Safety in Paris
Paris is welcoming because it is safe. While touring the city and seeing parks during the day, tourists will feel quite at home. Nighttime is the part of the day to be on your guard the most in the City of Romance. The Bois de Vincennes and the Bois de Boulogne can be dangerous when it is dark.
This is when sex workers and drug dealers frequent the parks. It is smart to stay in well-lit areas when enjoying the city's night breeze. Even shopping at Paris' shopping stores has its own demerits. It is not uncommon for department stores to report thefts and bag snatches. Patrons who leave their credit cards or wallets on cashier counters when making a transaction are easily targeted. Do not, at any time, leave your stuff out of sight.
>>Also Read: Is Paris Safe?
Safety in the French Mediterranean 
If you do not already know, the French Mediterranean has a tale of economic and class disparity. Paris might be the mecca of pickpockets, but crimes are more popular in the south, especially in the French Riviera cities of Nice and Marseille. 
The Mediterranean side of the country, especially Marseille, has been regarded as one of the most crime-ridden and corrupt areas in the whole of Europe. However, most of the crimes are not going to affect tourists as these involve money laundering, gun crime, sex-work, drugs, and robbery in the area. In fact, local gang tussles are some of the major stories on the local news bulletin. However, authorities have amped up security efforts to protect visitors and residents.
>>Also Read: Areas To Avoid in Marseille
Crime in France Per Region
About half of all crimes recorded in France are property crimes, and most occur in Paris and the southern coastal cities of Nice and Marseille. Muggings are reported, especially in the Il de France region that covers the French capital and the outer suburbs.
Pensioners are often the targeted group in the regional southern parts of the country. Even farmers have been robbed of their harvest by armed thieves. As a visitor, the particular areas where you should be careful of are rest areas on motorways and automated service stations. I advise that you don't sleep in such rest places or on the outskirts of big cities.
Be more careful in the military cemeteries close to Normandy. Visitors from different parts of the world visit these First and Second World War historical grounds that entice local thieves. Credit card skimming is another thing you should know about. In touristic areas and automated service stations, protect your PIN. If you can, use ATMs in more protected and controlled areas like shops, banks, and shopping centers.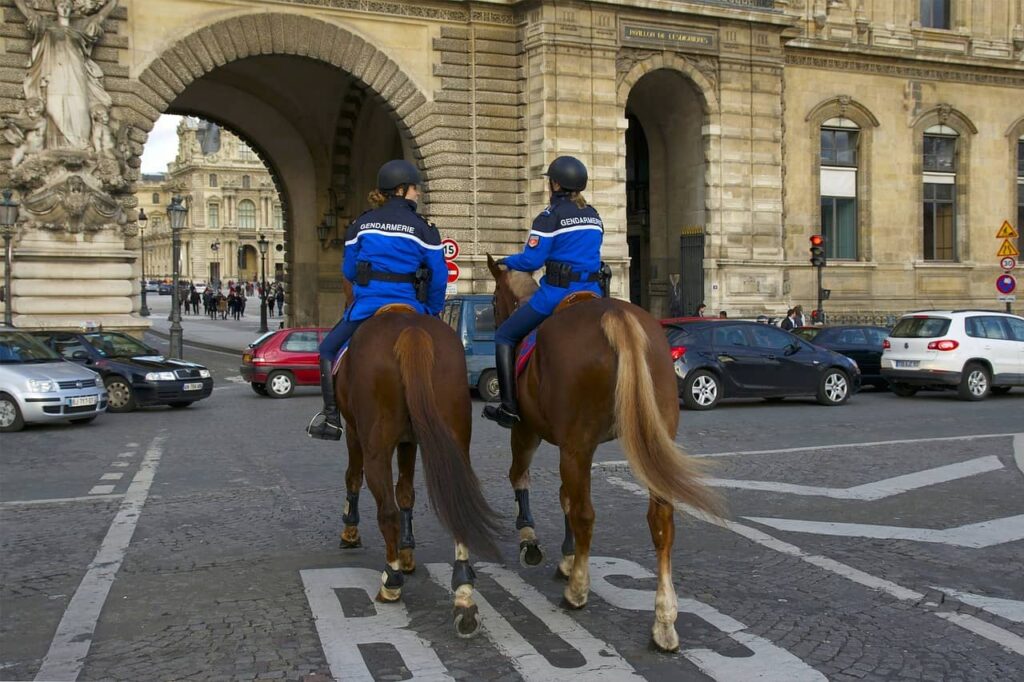 Civil Unrest in France
If it's not the Yellow Vest protests, it'll be another movement or industrial strike. The French seem to have a fixed response when there is public discontent, and I'm not against that in any way. These civil and sometimes industrial demonstrations often grind cities to a halt. So, you will save yourself a lot of trouble when you avoid areas of political rallies or protests. They can turn violent anytime. Avoiding outlying areas of major cities in France make up travel warnings because there have been gruesome clashes between aggrieved youths and the police before now. 
Airport Taxi Theft in France
Thieves have been reported to target cabs carrying visitors or rich locals from Charles de Gaulle international airport into the city. Along the A1 highway, the traffic to and from the airport is usually jammed, and thieves wait until the taxi stops before breaking the windows to steal the passengers' luggage. Keep your possessions in the cab's trunk, or take the safer Air France shuttle bus from the airport. 
Terrorism in France
In recent years, there have been some terrorist attacks carried out in many locations. When such happens, both tourists and locals make up the list of causalities. So, it should not surprise you when you spot heavily-armed military personnel at certain places. The nation is on a high alert, and authorities are committed to safeguarding lives and properties. 
Health
In France, there are not many health concerns. Hygiene and sanitation standards are high. Subsequently, a disease outbreak is not common. EU citizens enjoy benefits like free emergency healthcare in France so long they have an EU Health Card. Other visitors may consider procuring travel insurance before traveling. Additionally, France has a good water system, so tap water is safe to drink.
Safety for Solo Female Travelers
Women are safe in France and have less to worry about when they visit. Taking the regular precautions to be safe is necessary, though; like walking only in well-lit areas at night, not accepting drinks from strangers, and not staying out alone. 
Natural Disasters 
In France, there are no prevalent natural disasters except for threats from avalanches. If you plan to ski in the Alps, keep tabs on the local weather reports to know if it is safe to take on the mountains. Be careful of wildfires as well if you will be visiting in the summer. 
Is France Safe? – Summary
Yes, France is safe, it is a low-crime country, and the inner city areas with some suburbs are very safe. However, larger cities record more criminal cases. Of course, as a tourist, watch out for petty thefts and pickpockets. The police and military do a great job of patrolling and keeping everyone safe. Even the slight compromise in national security in the last couple of years has not stopped millions of visitors from visiting France (well, except for Covid-19). But adhering to safety measures would keep you safe and guarantee a splendid time in the country.