Where To Eat The Best Galette Des Rois
In France, seasonal indulgences don't end with the wistful dismantling of the Christmas tree. Instead, they continue with the galette des rois; the epiphany cake that dominates pastry shop displays all month long even if it's traditionally associated with January 6th, the twelfth day of Christmas. 
My galette des rois memories date back to maternelle, the kindergarten year that I spent in France at the age of five. Our teacher handed out slices of the flaky-crusted pie, and as the finder of the figurine tucked inside the almond filling, I became the queen and chose my king for the dance that followed. Like many of my classmates, I was less interested in the cake's rather adult flavors (the filling is traditionally spiked with rum) than in the magic it contained. 
When I came to Nice, I discovered that here the frangipane galette plays second fiddle to the brioche des rois, a ring-shaped sweet bread studded and decorated with candied fruit and sprinkled with sugar crystals. Found throughout southern Europe, this version has its aficionados who want nothing to do with its butter-soaked cousin. For this taste test, I weighed both possibilities and — at the risk of shocking some locals — chose the less traditional but more technical galette. As we discovered, it is one of the most difficult cakes to get right. 
>>Also Read: Nice Travel Guide
Testing For The Best Galette Des Rois
There were four on the tasting panel besides me: Les Petits Farcis' pastry chef Sophie, fellow cook Karine who often leads our food tours and assists with classes, and two amateur but dedicated galette lovers, Sébastien and Florence. We rated the galettes out of five on general appearance, quality of the pastry, taste, and texture of the filling, and value for money — a significant factor as they ranged in price from €5.90 to €18 for a four-person galette. The tasters could see the price of each galette but not where it came from. During the tasting, I asked the participants not to share their comments with each other, but they blithely ignored me. We tested the galettes at room temperature, which I'm told is the correct way to eat them, though personally, I prefer them slightly warmed in the oven.
>>What and Where to Eat in Nice
Here Is Where To Get The Best Galette Des Rois in Nice, France
The Winner – Pâtisserie Lac – 17.5/20
12 rue de la Préfecture, Nice (with other branches in Nice and Beaulieu)
€12 for a 2-3 person galette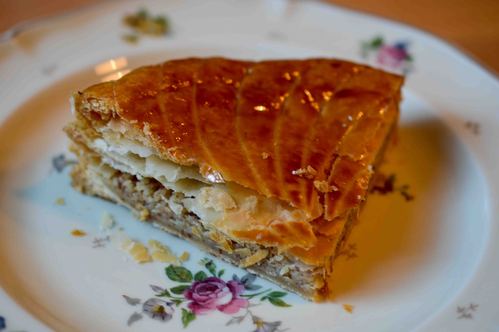 With perfectly puffed, tender pastry and a filling that was both intensely almondy and smooth-textured, this galette stood head and shoulders above the others. "Magnificent work from A-Z," said Karine, while Sophie admired the symmetrically puffed pastry, and Sébastien praised the "exceptional flavor". "It makes you want to keep eating," said Sophie, which was saying a lot after seven galettes. For such a chic patisserie, Lac also offered surprising value for money: its 2-3 person galette was as big as some others claiming to serve four.
The Runner-Up – Picard – 12.6/20
Branches throughout Nice and France
€5.90 for a six-person galette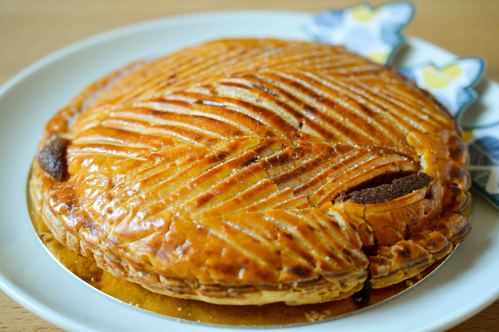 Before you all go running to Picard, please keep in mind that this galette edged ahead of more delicious ones thanks to its price, which was less than half that of the second-cheapest galette, and its rather industrial symmetry. Because it's sold frozen and uncooked, its freshness is guaranteed. The pastry was perfectly puffed and, although the crust lacked the appetizing glossiness of others, this stood out as one of the best-looking galettes. The flaw was in the filling, which had a nasty artificial almond taste that I suspect masked a shortage of real almonds. "Too buttery and dry but excellent value for money," said Sophie. 
Third Place – La Savoyarde – 12.5/20
20 rue de Lépante, Nice
€15.40 for a four-person galette
Boldly claiming to be the best bakery and patisserie in Nice on its Facebook page, this neighborhood shop produced what to me was one of the most appetizing galettes, with the almond filling oozing through the deep golden crust here and there (although Sophie pointed out that the pastry could have risen more). I also liked the higher ratio of filling to pastry in this galette, which Karine said reminded her of her childhood. Florence was unimpressed with the thinner pastry, and Karine found the filling too buttery, which placed it below Picard mainly because of its much higher price.
The Others
Maison Jean-Marc Bordonnat – 12.1/20
19 rue Barla, Nice
€12 for a four-person galette
Jean-Marc Bordonnat broke my heart when he sold his bakery near my apartment at Borriglione and re-opened near the Port. For me, his bread is the best in town — but how would he perform with this pastry classic? Very respectably, it turned out, with a good-looking if less decorated galette than those of the pastry specialists. Most tasters praised the filling for its flavor, but Sophie thought there could have been more of it, and a couple of tasters found it too dry.
Canet – 11.7/20
25 boulevard Gambetta, Nice
€16 for a four-person galette
Of the pastry shops I visited to pick up the galettes, this was the most tempting, offering several other galette variations other than the traditional frangipane. Although beautifully golden with an elaborate pattern etched into the crust, as is traditional in the better pastry shops, this one lost points for a slightly undercooked and under-risen crust and a filling that tasted too strongly of rum, masking the almond flavor. It was one of the few, however, to achieve the right balance of crispy crust and melting filling.
Deli Bo – 9.1/20
5 rue Bonaparte, Nice (and another locations in Nice)
€18 for a four-person galette
This galette went out on a limb with a square shape, which bothered Karine as it made her think of a savory pie. The pastry was less puffed than that of the best galettes, and Karine found the filling greasy, while Sophie said it was acceptable but not remarkable. I liked it better than the other tasters did, mainly because it was one of the few not to have a dry filling.
Bread – 9.1/20
44 boulevard Gambetta, Nice 
€12.95 for a four-person galette
Billing itself as a "boulangerie responsible," bread once impressed me with its array of organic loaves and cakes, but on this visit seemed a little sad and ordinary, with some of my favorites missing (I also drank one of the worst coffees here that I have tasted in Nice). Although the galette was displayed in the case with the other pastries, it was sold to me in a box indicating it had been purchased from another bakery, the Fournil de Bernis. The tasters liked the slightly rustic texture of the ground almonds in this galette, but unanimously found the filling dry and lacking the crème pâtissière that should lend it creaminess. Sophie and Sébastien both commented that the pastry was undercooked.
Maison Cauvin – 5.6/20
10 rue Blacas, Nice
€16 for a four-person galette
I occasionally stop into this old-fashioned pastry and chocolate shop for a croissant on the way to my cooking studio and have always found them to be fresh and flaky, which is why I included Cauvin in our tasting. Something went wrong on galette day, though, and it came out looking like a pastry student's first failed effort. I might have taken pity on the pâtissier and not included it in the list if it weren't for the price, which was one of the highest of our test. "Inedible!" declared Karine of the out-of-control pastry and the dry, crumbly filling. 
Where To Eat The Best Galette Des Rois – Summary
Our conclusion after eating our way through eight galettes? You don't always get what you pay for when it comes to this seasonal specialty. Seek out the most experienced pastry chefs, and don't part with your money too readily; there is always Picard if you're on a budget.