Best French Alps Honeymoon Hotels
The French Alps have always been a destination for adventures. Set amongst magical scenery, it is seen as the equal for any place on earth. High in the southeast of France lays enchanting picture-postcard towns and resorts and historic buildings like the hand-built stone church. Sensational landscapes, breathtaking adventure, charming villages. If this is appealing to you, then you should consider a trip to the French Alps.
This amazing mountain region suits the trend in active holidays with lots of activities for you and your partner. From hiking in the summer and skiing in winter to mountain biking, ice, and rock climbing, canyoning, etc. With some of the best hotels, spas, and cuisine restaurants, the French Alps offers a lively feeling with refined indulgence and well-being for every visitor.
>>Also Read: Best Places to Relax in France
Here Are Some Of The Best Hotels To Spend Your Honeymoon in the French Alps
Chalet Hôtel Hermitage
Chalet Hôtel Hermitage welcomes you for your honeymoon at any time or season of the year for a pure mountain experience. During winter, you enjoy a wide range of board sports, including snowboarding, cross- country skiing, and alpine skiing. If you feel like having more leisure experience, you can put on your snowshoes and hike across the powder. In summer, you explore the waterfalls, mountain lakes, the paths and meadows, and the wild flora and fauna. All these activities are very close to the hotel.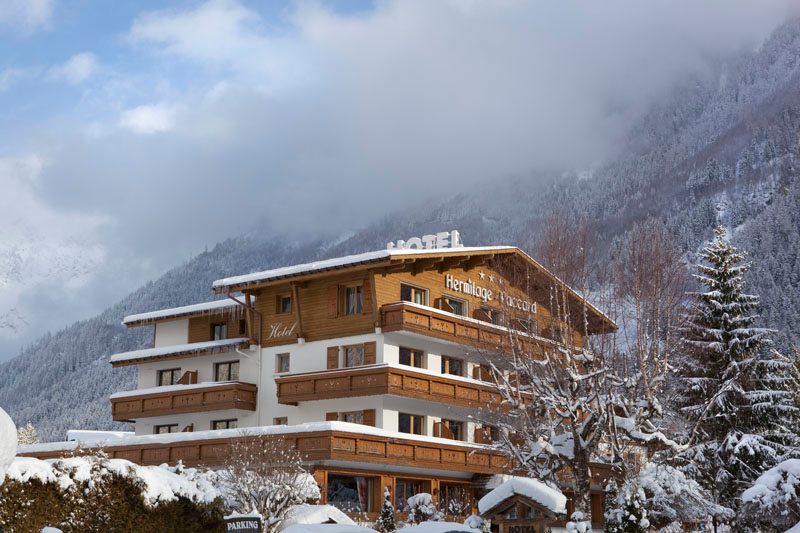 The hotel has a garden where you can relax and eat their home-made dishes. The hotel has a wellness area with free access to the outdoor hot- tub. The bedrooms at the hotel are spacious, with comfortable beds and a large private bathroom. You also get a fascinating view of the Alps from your room. They also offer a ski storage room with individual lockers, including heating for shoes, bike storage room, luggage room, Private car park, and lots more.
The communal areas and the main building are accessible for persons with reduced mobility. Pets are also welcome at Chalet Hôtel Hermitage. They have nice and friendly staff to help with your luggage on arrival. It is the perfect place for your honeymoon. The hotel is located at 63, Chemin du Cé 74400 Chamonix- Mont- Blanc.
>>Also Read: Best Places To Ski In France
Rocky Pop Hotel (Portes de Chamonix)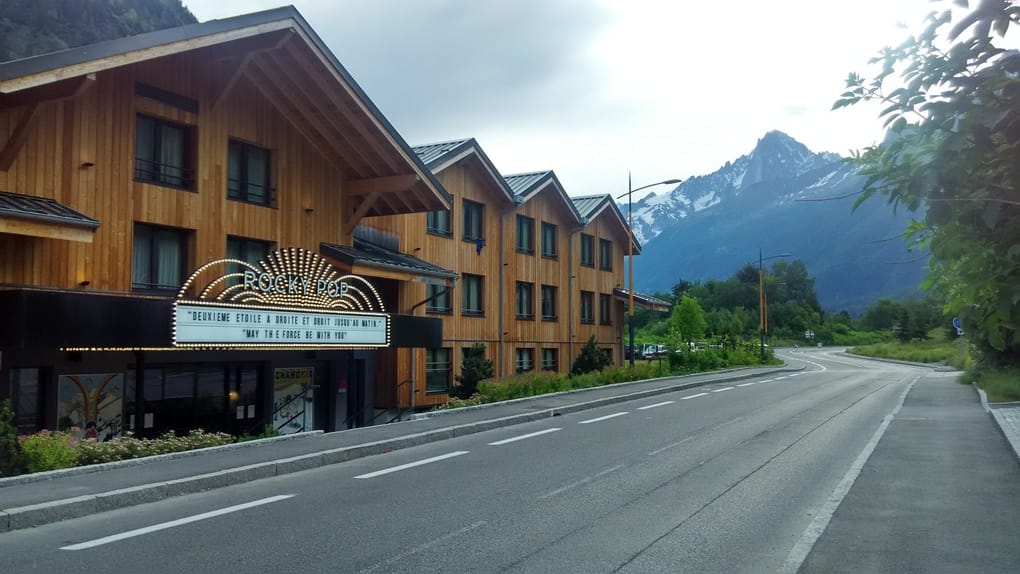 Located in Les Houches, Rocky Pop hotel- aux Portes de Chamonix offers accommodation in Les Houches, about 5km from Chamonix Ski resort. They also offer ski passes and ski lessons sales points. Rocky Pop hotel has a food court where you and your partner can enjoy pizzas, hamburgers, and French cuisine. You've got absolutely everything in this beautiful place.
Okko Hotels Grenoble Jardin Hoche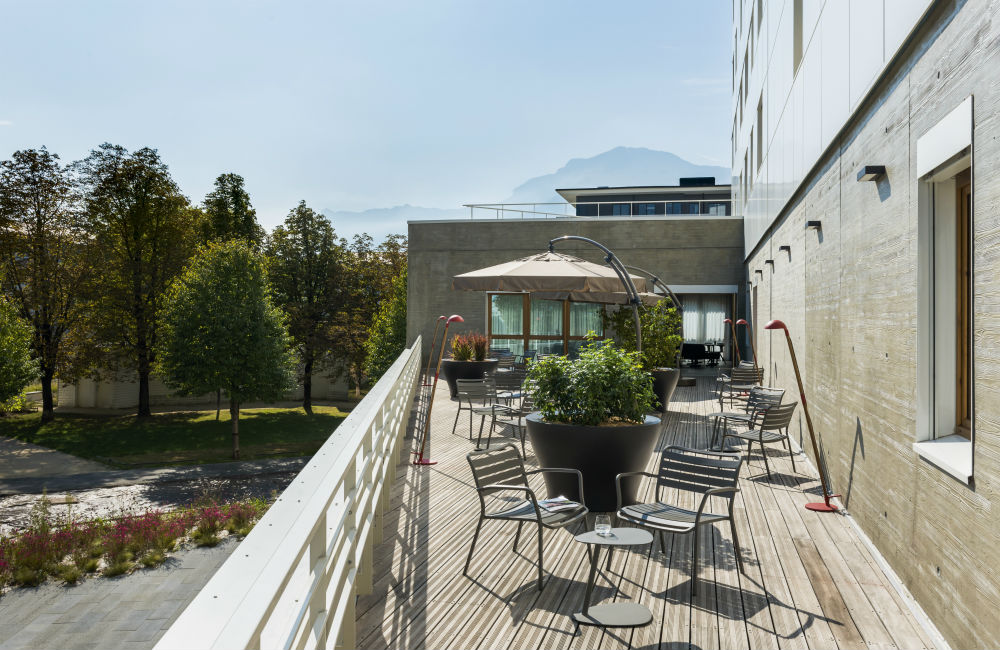 Situated in Grenoble City center, right after the Hoche Gardens, this fascinating hotel offers a terrace with amazing views of the Hoche Park. It also has many amenities like a 24-hour front desk service, free WiFi, free drinks, and refreshments in the rooms and lots more. The hotel also features a fitness center and sauna.
Heliopic Hotel and Spa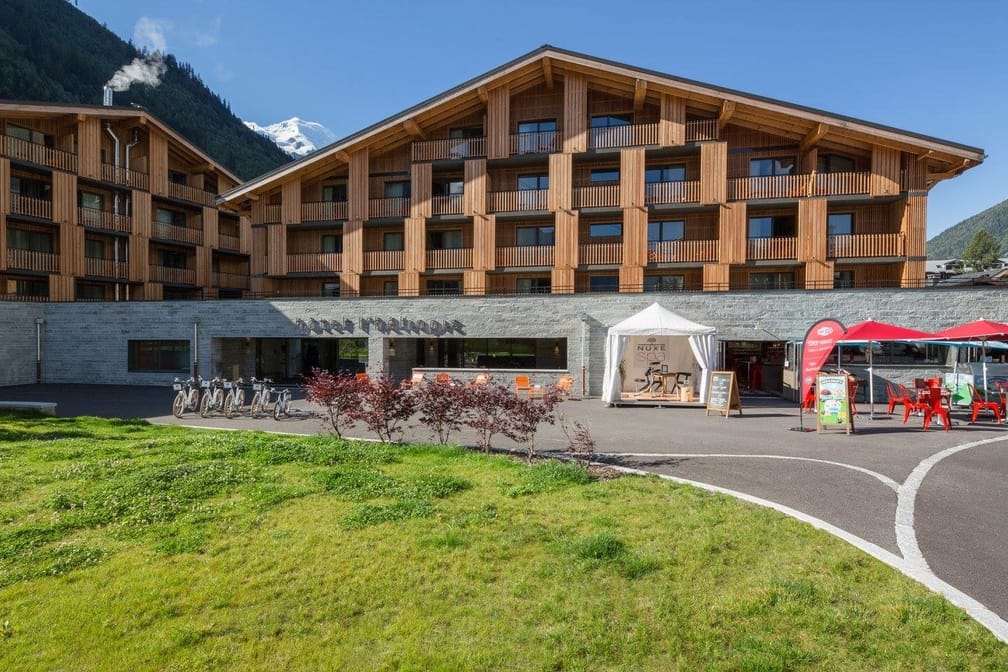 Heliopic Hotel is located at Chamonix city center, Chamonix- Mont-Blanc, which is a great location for amazing views of the Alps. They have friendly and welcoming staff, Michelin- star restaurant with a nice breakfast and gourmet dinner. It also has a ski- rental department within the hotel with the best service. Furthermore, there is also a ski-transfer bus from the hotel to different skiing sites.
The hotel can as well arrange beauty treatments for you and/ or your partner at an extra cost, and guests or whoever wants to wait can relax by the fireplace in the relaxation area. There are also bicycles to ride around the hotel all for free. Chamonix Train Station is a ten-minute walk from the hotel, and there are free public bus services to take you to the slopes. The closest ski lifts are at Le Brevent, just 1km away from the hotel.
Les Fermes de Marie Hotel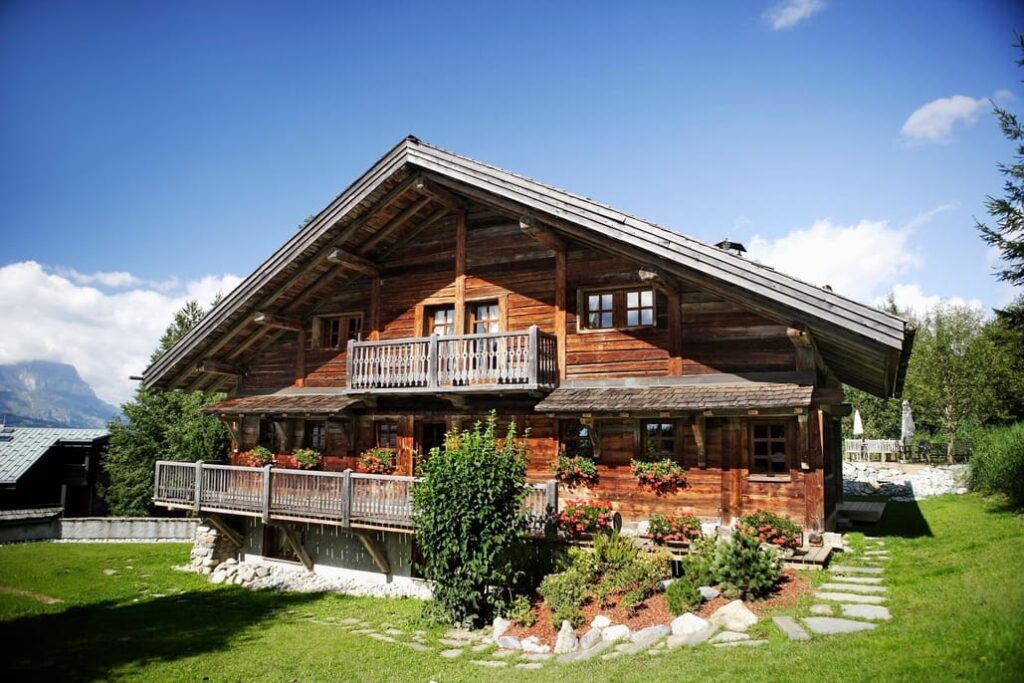 Les Fermes de Marie hotel is located at Chemin de Riante Colline, Megève. It was created by a young couple (Jocelyne and Jean- Louis Sibuet) in 1989. The hotel is set on a country road and sometimes can be taken for a sprawling private ski chalet. It is a collection of fine wooden buildings with sloping, snow-covered roofs and wide eaves with firewood as you step inside. In summer, the surrounding slopes are spotted with wildflowers.
The simple and stylish bedrooms are truly restful- clean and spotless lines, pine walls with the latest technology such as Bluetooth speakers, and free WiFi. In the two-bedroom Mont Blanc suite, everything is gorgeous all through, from the big south balcony with a magnificent view of the Alps to the living room under the eaves where fire crackles. 
The barn-styled Les Fermes de Marie restaurant serves hearty Savoyard fare with flavors like Beaufort cheese ravioli with local ham and wild cepes, organic eggs with chestnuts, black truffle pasta. The restaurant is known to serve generous meals. Their staff is nice and friendly- some of them can communicate in different languages. This is a place you'd love to visit for your honeymoon.
Hôtel de L' Arve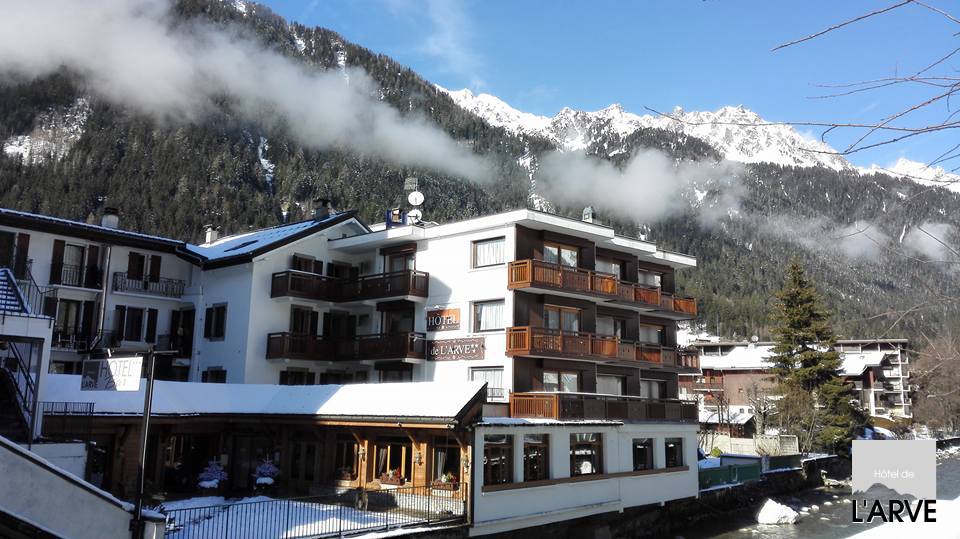 Located in the heart of Chamonix just 100 meters away from the shuttles to the ski slopes, Hôtel de l' Arve offers a terrace with graceful views of the Mont Blanc, 80 meters from the L' Arve River Banks. There is also a sauna, a weights room, and a small climbing wall (the equipment is not provided).
Le Grand Hôtel Grenoble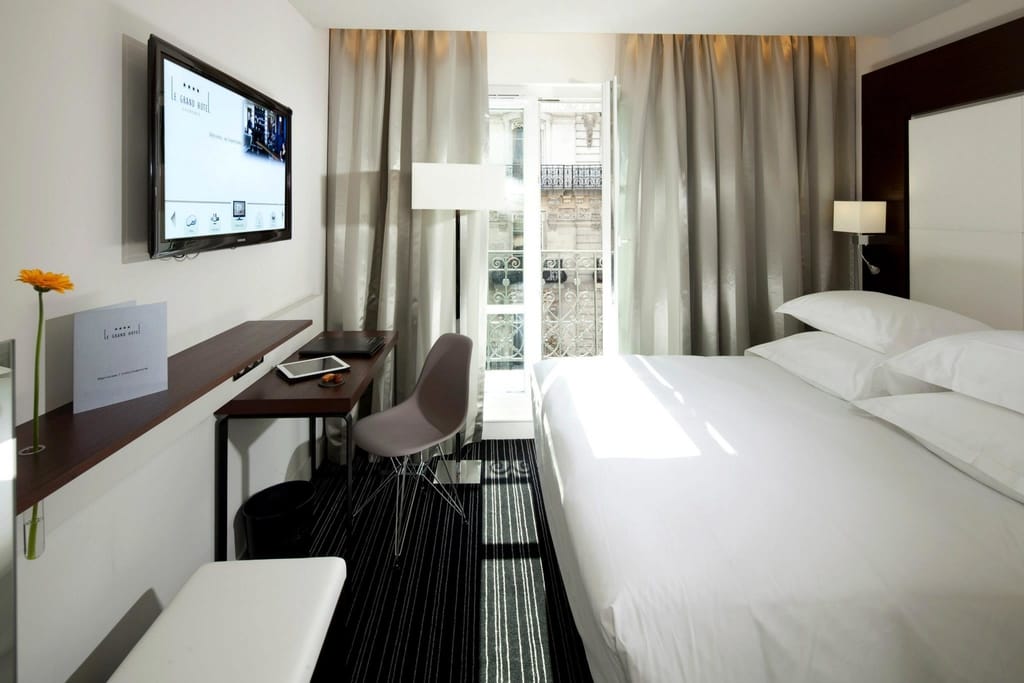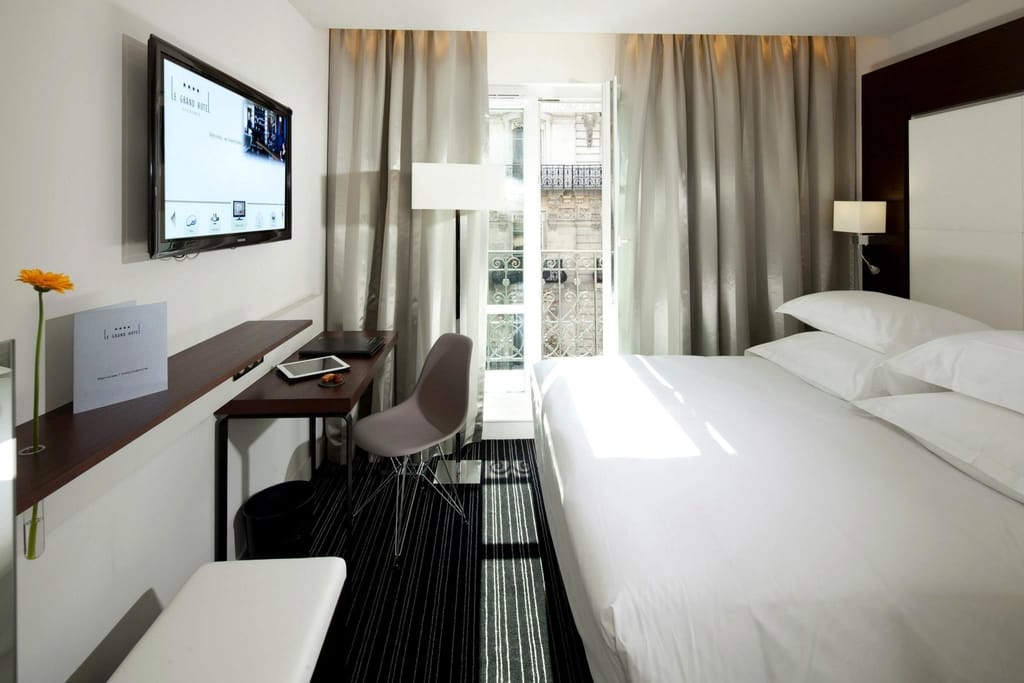 Le Grand Hôtel is a 4- star hotel located in the Grenoble City center, 10 meters away from Place Grenette. The guest rooms are all soundproofed, air-conditioned, and some rooms have a balcony. The guest rooms also have private bathrooms with bathtub or a walk-in shower. They offer mini-bar services, flat-screen television with satellite channels, and free WiFi.
Chalet Hotel Les Campanules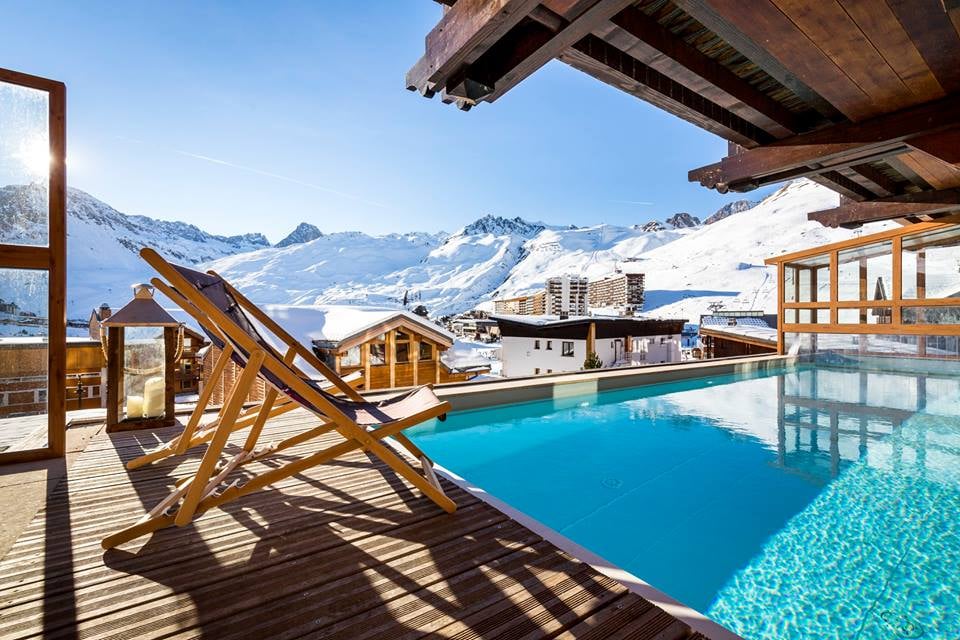 Le Campanules offers rooms with a furnished balcony and amazing views of Mont Blanc mountain range and the surrounding forest. You and your partner can have your meals on the balcony while you enjoy the magnificent view. The hotel's spa has a fitness room, sauna, hammam, and lounge area for an extra cost and can be rented for private use with your spouse.
Les Campanules is located in the village of Les Houches, it's a five-minute drive from the ski slopes. It is also close to the train station and also to the bike and hiking trail that takes you to Chamonix along the river. It is the best place to relax with your partner after the day's tour.
Hôtel de France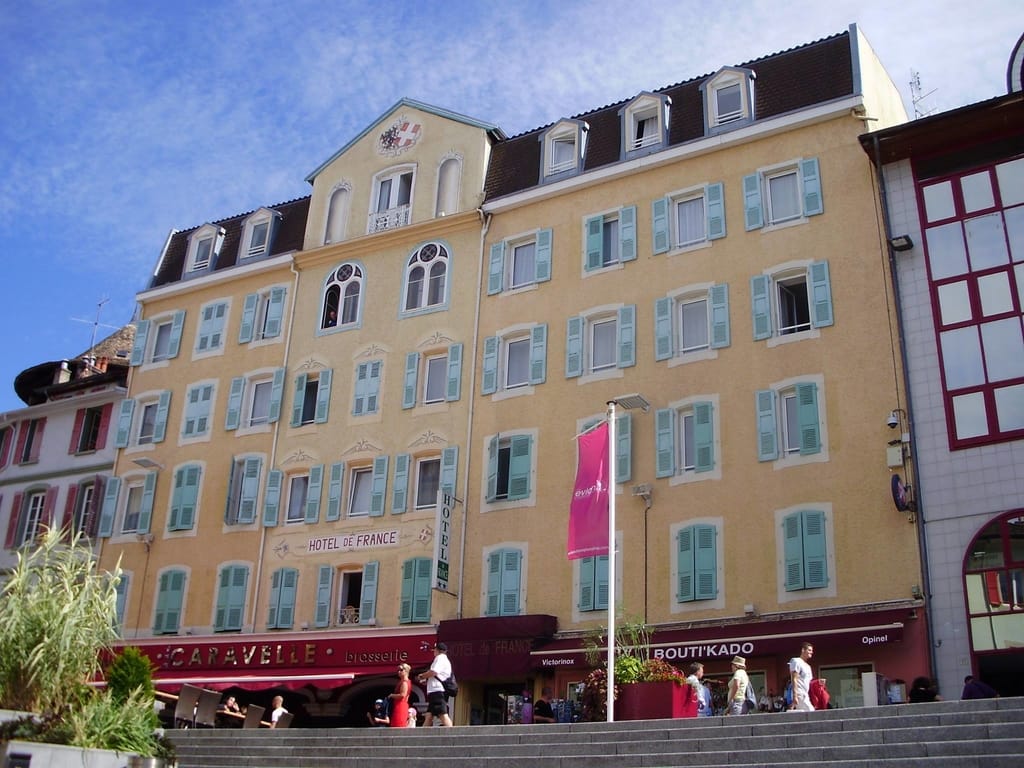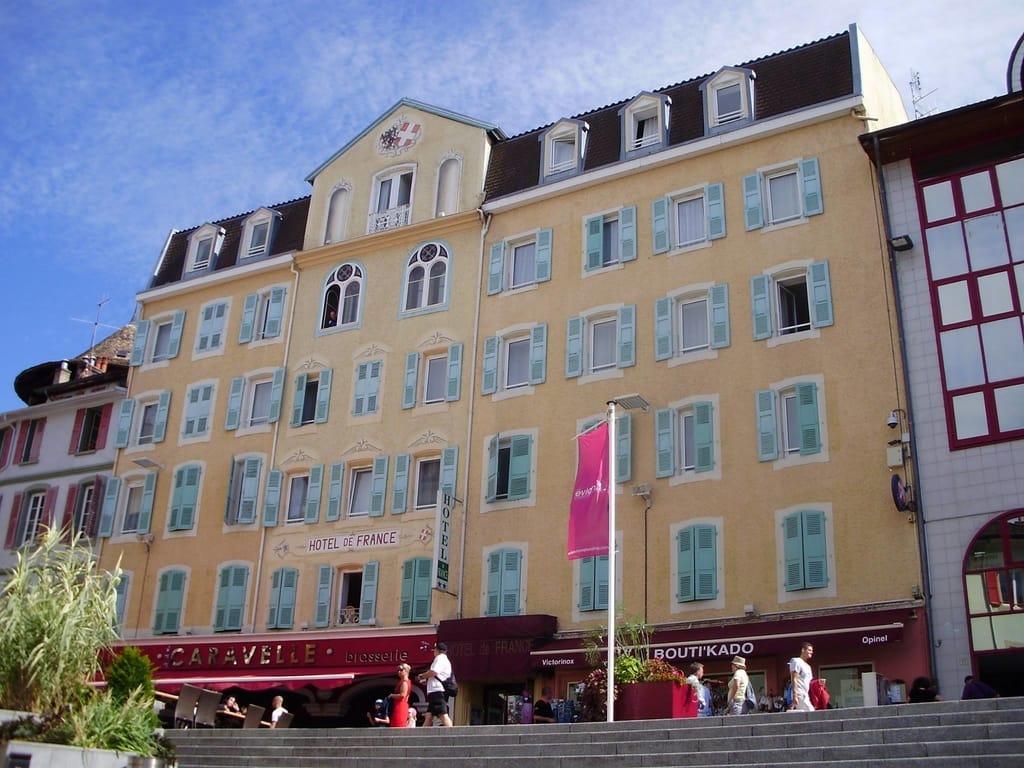 Hôtel de France is situated in the heart of Evian-Les-Bains within a pedestrian street. It has an elegant garden with a terrace and gives a magnificent view from a high altitude of the Leman Lake. All the rooms at the hotel are installed with satellite television, a telephone, a desk, a private bathroom with bathtubs and so on. Their staff is very nice and welcoming. Be sure you and your partner will feel at home and comfortable while you are on your honeymoon.
Chalet Anduebis
Located in Valdeblore, Chalet Anduebis offers furnished rooms with a lovely balcony where you have an amazing view of the area, free WiFi, and flat-screen television, as well as a bar and a wonderful garden. The rooms also have private bathrooms with shower in every unit, along with hairdryer and toiletries all for free. Exceptional hospitality- accurately designed neat and spotless rooms/suite. They also have delicious meals for you and your partner.
Le Grand Veymont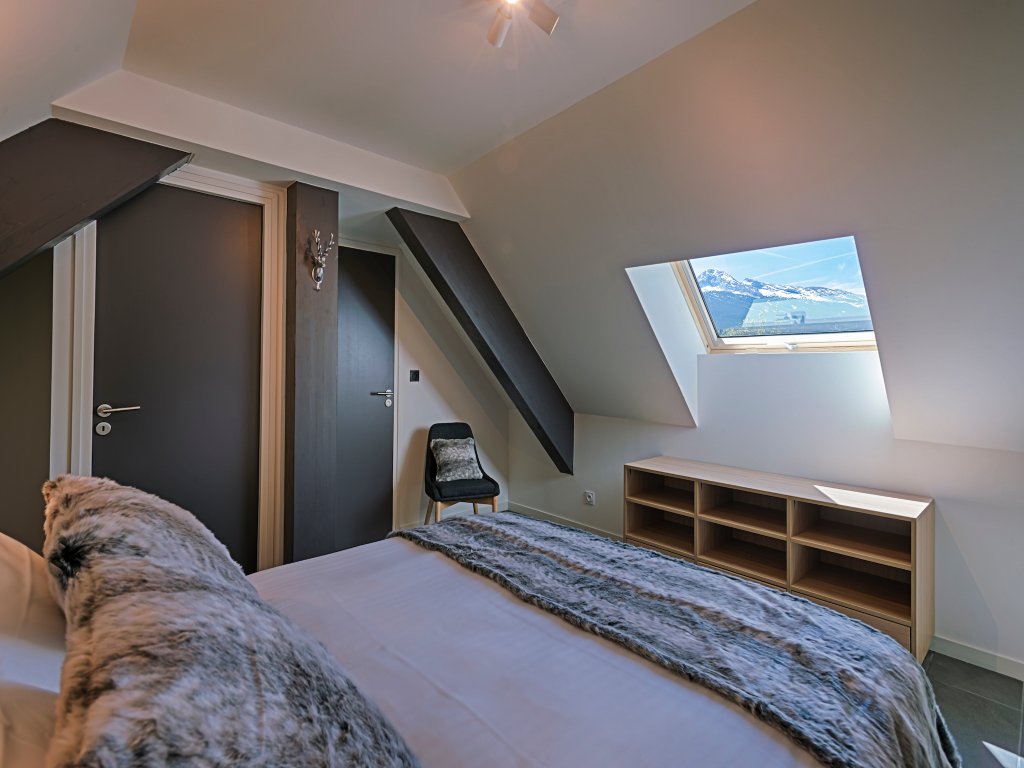 Located 5km from Pré des Preys Gondola, Le Grand Veymont offers accommodation that comes with a bar, a terrace, and room services for you and your partner's comfort making you feel at home during your honeymoon. Free WiFi is also available within the hotel. After the long day of cycling, skiing, or hiking, you can relax in the gentle garden or at the shared lounge area.
Refuge du Montenvers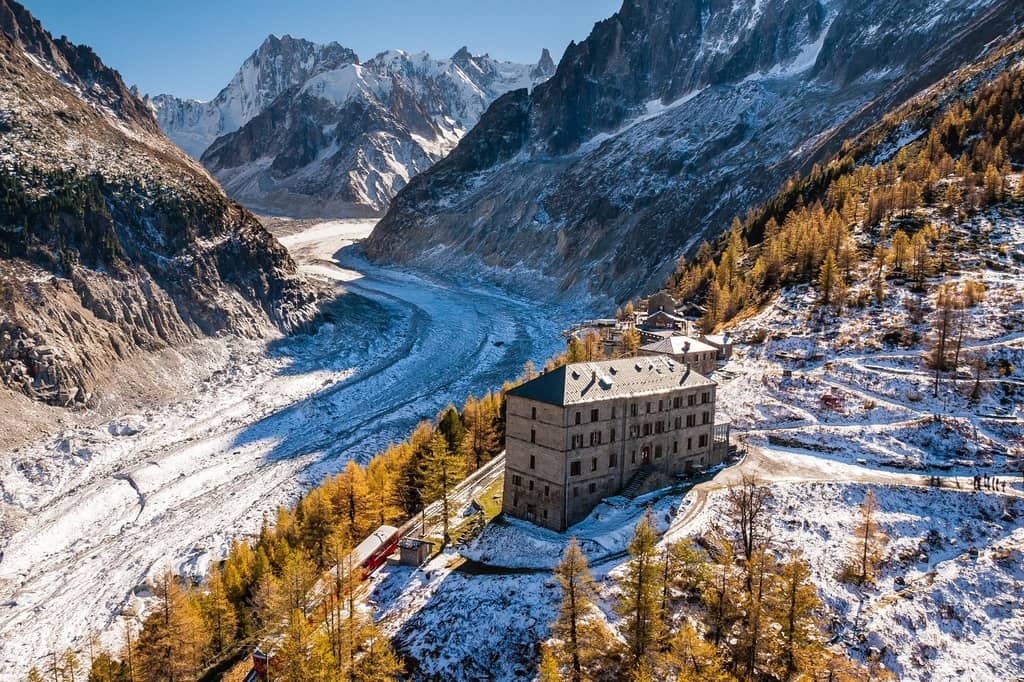 Refuge du Montenvers is only accessible by train leaving from Montenvers- Mer de Glace Train station, terminal Neige. The hotel is a shelter-like hotel set in a 19th- century building located at Chamonix- Mont-Blanc with an altitude of 1913 meters in the mountain range. You get an exquisite view of the mountains from your room. The rooms also have large and comfortable beds you wouldn't want to get out from, large bathrooms with free toiletries and hair dryers. 
When you choose Refuge du Montenvers, you get a complimentary pass to Chamonix- which means you and your spouse get to visit town anytime you want. The hotel offers excellent meals as well as hot chocolate. The staff are nice and accommodating, so feel free to ask them any questions- they are always willing to answer.
Best French Alps Honeymoon Hotels – Summary
You'd mostly think winter sports are this region's main activities, but these little towns also have dedicated communities of mountaineers and hikers in the warmer months. So whichever time or season you visit, be assured there is something interesting waiting for you and your partner.
Wherever you eventually choose, try getting a concierge (you can ask the hotel staff) to help you arrange all sorts of lovely hikes and such- making you enjoy every moment of your honeymoon.
>>Also Read: Where Can You Go Skiing in France?