Best Honeymoon Destinations in France
I believe that there is no country that expresses the need and desire for love as masterfully as France does. The fantastic weather, amazing landscape, interesting architecture, and an attractive way of life, it is the perfect destination for couples to go to. Especially if it's for your honeymoon. A city like Paris is an obvious choice when people think about it. But, there are other beautiful places too that offer an equally satisfying experience. You will fall in love with Riviera towns like Cannes and St. Tropez.
Artsy couples could consider the delights of inland Provence. The landscape and purple- colored lavender fields inspired some great artists like Vincent van Gogh, Paul Gauguin, and Paul Cezanne. Foodies will find their own special type of paradise in Bordeaux and Loire, filled with historic chateaux and vineyards, Michelin- starred restaurants, and markets. Every place is unique in its own way, and depending on what kind of couple you are, you can always choose the one that suits you the best for your honeymoon.
Here Are The Top Cities in France For You Honeymoon Destination
Paris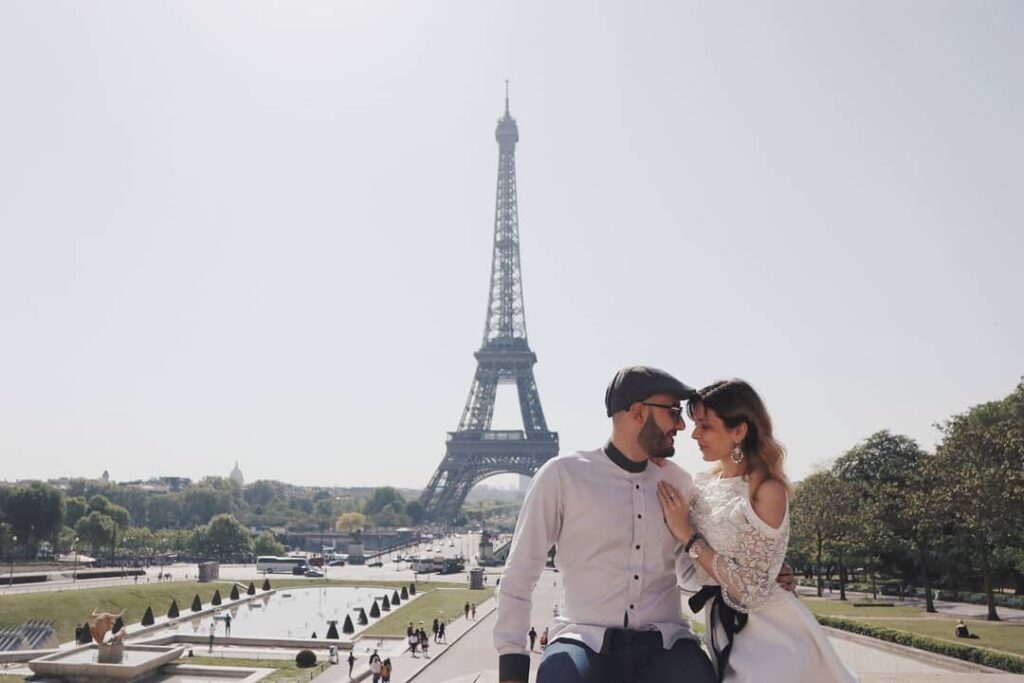 Let's start with the obvious; Paris! Walking anywhere in the City of Love always feels like a romantic stroll. Υou can binge on a hotel and be treated like royalty while having intimate meals over candlelight. It is also visitor-friendly and quite easy to find your way around. So, you are relaxed and also feel like everything has been handled and taken care of on your behalf. And if it's your first time, you can spend a couple days on some side trips from Paris to make you feel like you are having two vacations in one.
Also Read:
>>What To Do On a Romantic Weekend in Paris
>>Top 10 Ideas For Valentine's Day In Paris
Nice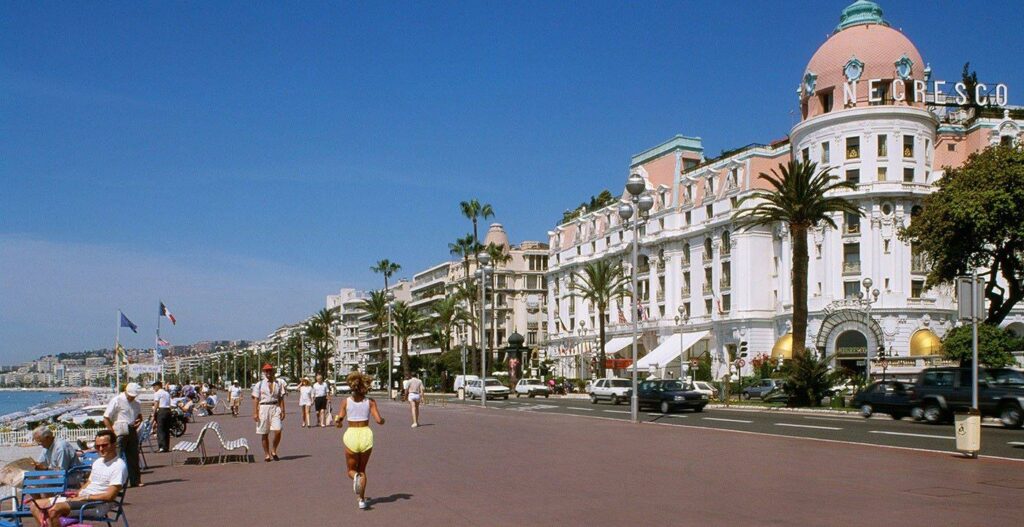 The capital of the French Riviera- Nice is gorgeously curved round the Bay of Angels, desirable and electrifying as you like. Its prominence for glamour is made better by an equal reputation for top-end scandal. The light glitters on the Mediterranean to form a setting for the luxury and pleasures of the senses. 
You can spend your whole trip wandering along the Bay. But your trip is incomplete if you don't visit the Nice Old Town, where the real Niois re-colonized their city, hosting the south's finest flower market on the Cours Saleya. This is a playful and splendor piece of urban greensward. And it's enchanting at any time of year.
Also Read:
>>Things To Do In Nice
>>What and Where to Eat in Nice
>>Nice Travel Guide
Aix-en-Provence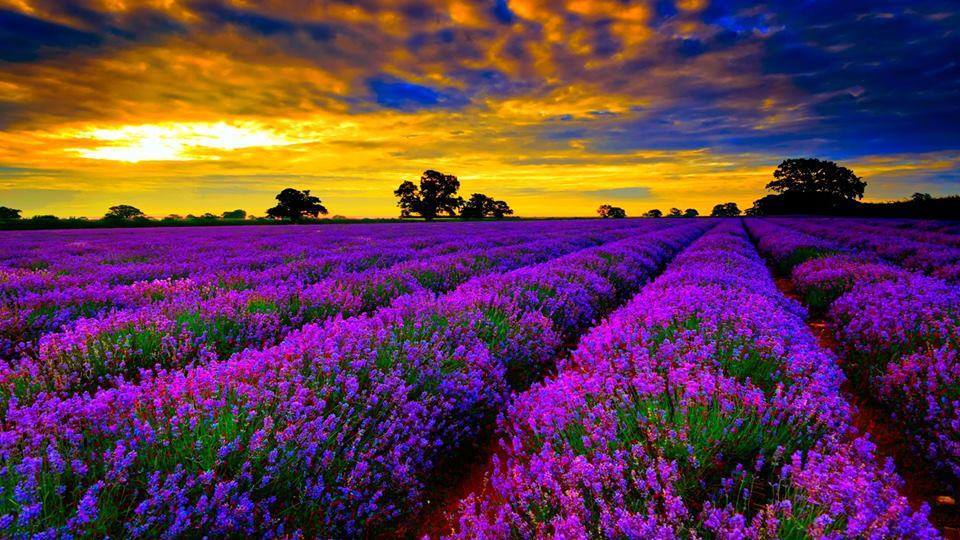 Ever dreamed of running in a lavender field holding the hands with the love of your life? Then you should head straight to Aix-en- Provence in the south of France. This interesting town is 'spotted' with fountains and castles, where you can take photographs to create lifetime memories. The town is also filled with restaurants with friendly and hospitable staff, welcoming you to have drinks and intimate meals with your partner. 
As reported by reputable traveling guides, the Aix main street is one of the most attractive and strikingly beautiful in all of Europe and maybe the world. Aix features lots of top museums, churches, shops, and captivating places to enjoy a stroll with your spouse while enjoying the awe and beauty of France.
>>Also Read: Top 10 Things To Do In Provence
Marseille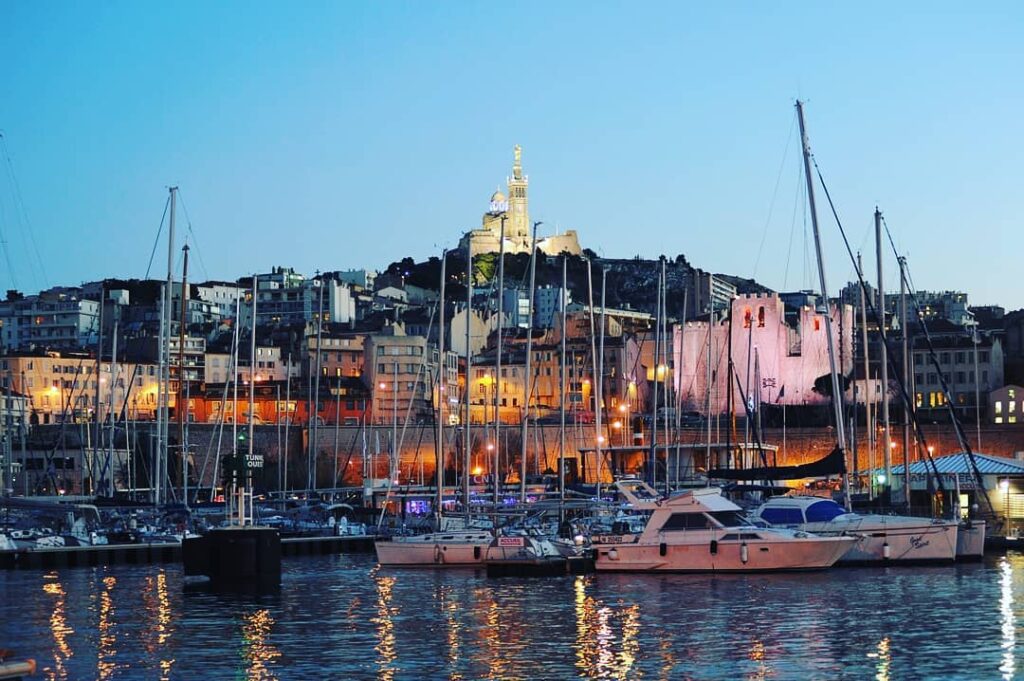 Marseille is seen as one of the top honeymoon destinations in Europe. It can be reached in 3 hours by train from Paris. This magical port city filled with history and multicultural urbanites is the ideal destination for new couples to spend unforgettable moments together. An intimate and romantic stroll in the Parisian Boulevards is highly recommended for newlyweds. 
If you find yourselves here by the end of June, you can take partake in two famous festivals of the city- La Fte du Panier and La Fte Bleue (the Blue Festival). You can set out time to watch the sunset at Vieux Port with your partner or visit the Notre Dame de la Garde, which would be a beautiful and amazing experience that you might want to keep memories of in your honeymoon photo album.
Also Read:
>>Things To Do In Marseille
>>Marseille Travel Guide
>>What is Marseille Famous For
>>Hotels Near Vieux Port in Marseille
Lyon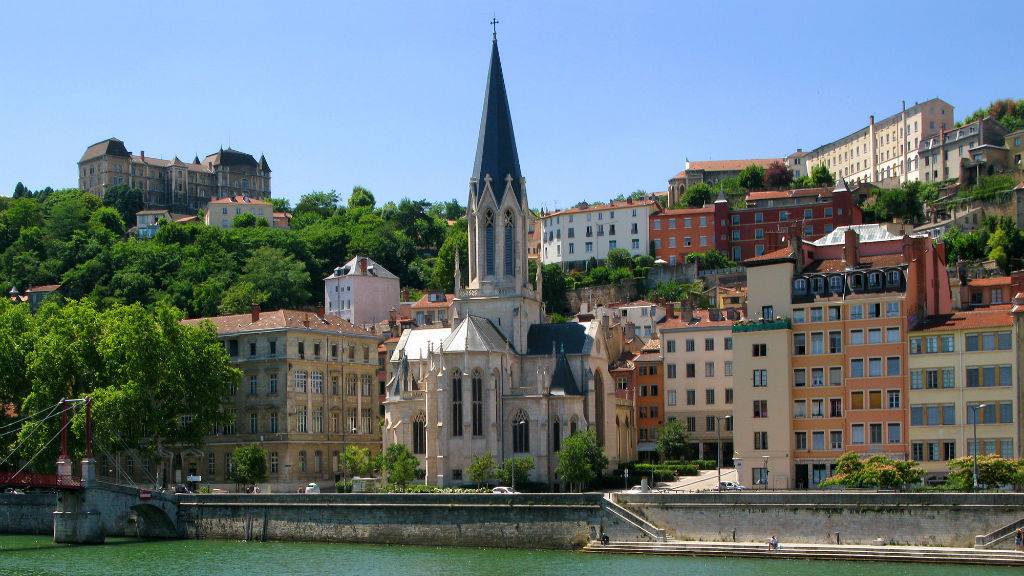 A food frenzy from a foodie is almost inevitable in a weekend tour in Lyon, with the lively sparkles of Michelin-starred restaurants and streets filled with the indigenous Lyonnais bouchons (restaurants), their red and white checked tabletops with dishes of smelly, smooth St Marcellin cheeses, and Quenelles de Brochet. 
Old Lyon, which is a UNESCO World Heritage Site lies between the hills of Croix- Rousse and Fourvire, its small and narrow streets with characteristic pathways that were used by the silk merchants to transport their products many years back. Today, Lyon is gradually shining from renovations and urban remodeling.
Also Read:
>>Lyon Travel Guide
>>Is Lyon Worth Visiting?
>>Things To Do In Lyon
>>What is Lyon Famous For
Bordeaux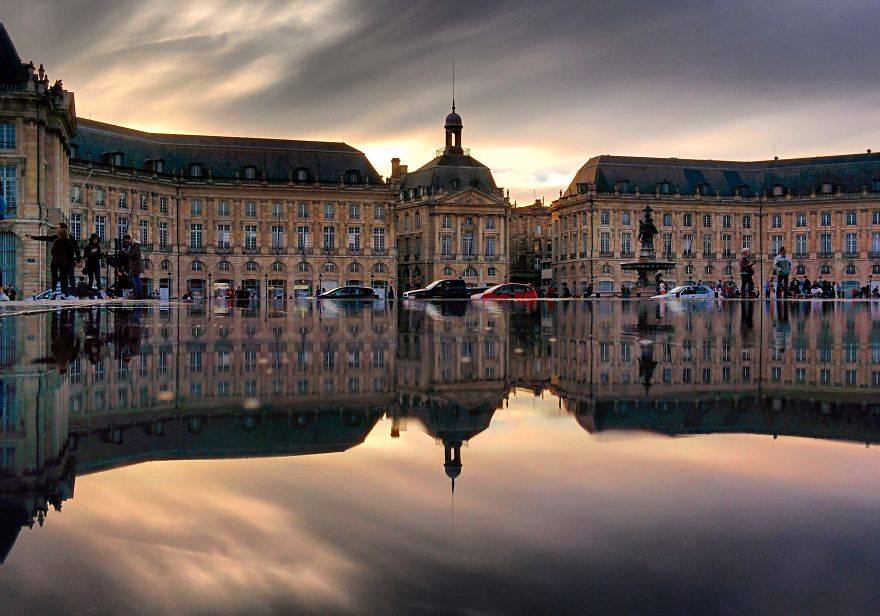 New couples visit Bordeaux to walk the most graceful streets in France, have intimate meals, drink and have an interesting time together in a city in touch with its Latin side. Bordeaux still remains the world's headquarters of wine and chateau-owning folk. 
There is a cracking museum of modern art, tapas bars up the road and fusion food in the restaurants. There are few more graceful urban sights in France than the Miroir-d'eau, showing the great beauty of Palais-de-la-Bourse. Bordeaux nouveau offers the ancient dignity added with a tart quality and fruitiness for instant drinking.
Also Read:
>>Bordeaux Travel Guide
>>Things To Do In Bordeaux
>>What Is Bordeaux Known For
>>Is Bordeaux Worth Visiting?
Corsica
Corsica is regarded by many as the French Island for honeymoon. This amazing place looks like a little continent with a stunning geographical uniqueness. The landscape changes from shinning and flashing bays, coastal cities, and amazing beaches to sawtooth peaks, stunning valleys, dense forests, and a mysterious hilltop village within 30 minutes. 
Spending your honeymoon in Corsica will definitely be incredible. From canyoning and hiking to tanning, enjoying a leisurely cruise, delving into the island's rich and amazing history, and sampling local specialties. Even though Corsica has been part of France for over 200 years, it still feels different and unique from the mainland in every realm, from customs, tradition, and cuisine to language and character, and that's one of its appeals.
Also Read:
>>Things To Do In Corsica
>>What is Corsica Famous For
>>Is Corsica Worth Visiting?
Loire Valley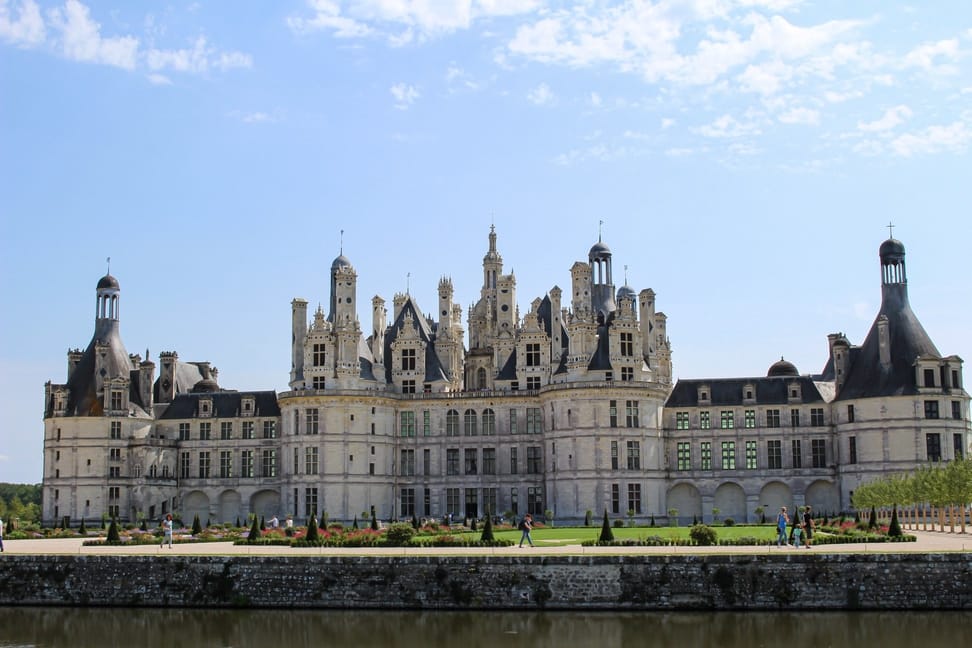 If you and your spouse are lovers of road trips, then Lorie Valley is the right honeymoon destination for you. Get a rental car in Paris and head a little towards the south to visit the historic Chateaux, vineyards, gardens, and live your dream honeymoon for a few weeks. Lorie Valley is famous for being the place French originated as a language. 
The area is popular with visitors who come to see the Chateaux; over 300, of them, are now part of the UNESCO World Heritage Sites. At a previous time, they were royal residences or fortification, now, just a few castles are open to the public. Some were turned into hotels while others now serve as homes. A drive through the valley gives you an awesome and incredible experience view, especially in the fall.
Also Read:
>>Things To Do In Loire Valley
>>What is Loire Valley Famous For
>>Is Loire Valley Worth Visiting?
Annecy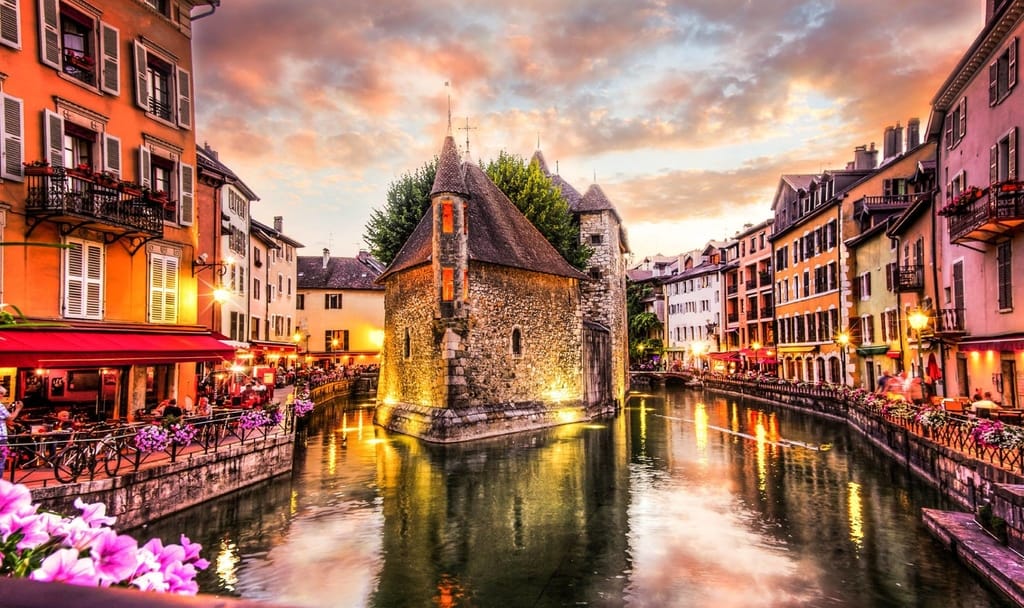 Annecy has its own lakeside setting that is regarded as one of the most beautiful resort towns in the French Alps. It has a magnificent historic center full of ancient buildings and monuments. Located in the south of Lake Geneva in eastern France, it's an area of streets and pathways crisscrossed by the little branches of the Canal du Thio. The noticeable Palais de l' Ile stands between two bridges, in the middle of the Canal.
The building is appealing to emotions because it has been a royal court and prison, most notably during World War II, when the French Resistance fighters were incarcerated, leaving their signatures scratched and engraved on the walls. The most significant chateau in the town is the building that the great families of the Dukes of Nemours and Genevois count lived.
Riquewihr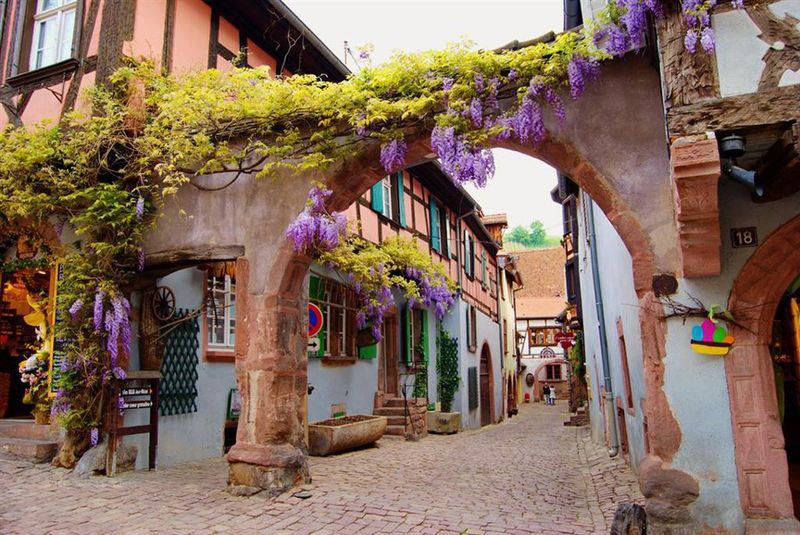 Riquewihr is an enchanting village in the east of France that is said to have inspired the setting for Beauty and the Beast. Walk down with your partner down the alleys among the semi-timbered houses from the 15th and 18th centuries, and let your eyes behold the amazing colors surrounding you. Legend has it that in the past, shops had to be painted differently according to your line of profession or the services you render (cobbler, tailor, butcher, baker, etc.).
Reims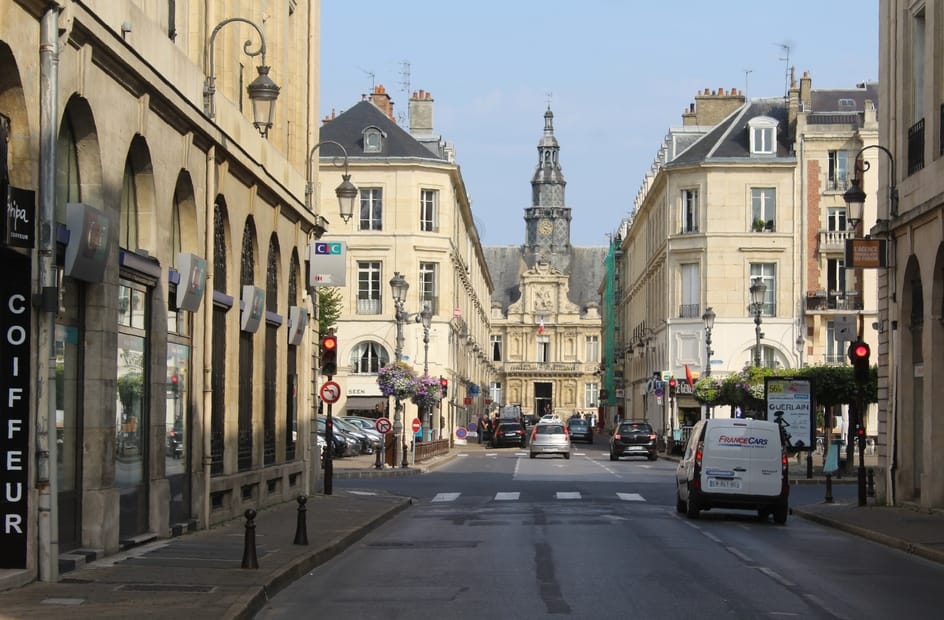 If you and your partner are lovers of bubbly, then this historic town in the Champagne region is where you two should be. The world's leading producers, from Moët et Chandon to Veuve Clicquot, can be found on Avenue of Champagne. 
Book a reservation for tasting and tour at a grand vineyard like Taittinger, then move to the gentle La Fine Bulle, which has a tasting room, restaurant, and shop. Get a few bottles to take back to your classically designed room at Domaine Les Crayeres, a historic chateau with a Michelin- starred restaurant having some of the world's best chefs. If you both need a break from the champs, tour the Notre- Dame de Reims cathedral where kings of France have been crowned.
Also Read:
>>Things To Do In Reims
>>Is Reims Worth Visiting?
>>What is Reims Famous For
St. Tropez

This classic French Rivera town has entertained every celebrity you can possibly think of (Beyoncé and Jay-Z are regular visitors. You might just be lucky to meet them). After walking the glittering streets, you can stop for snacks at Dior des Lices- a garden-style restaurant in front of the Dior shop. Then you can later check into the Tuscan- inspired Villa Marie Saint- Tropez; each of the rooms is specially designed and has an outdoor patio. St Tropez should be the destination for your honeymoon.
Also Read:
>>History of St-Tropez
>>Things You Should do in Saint Tropez
Best Honeymoon Destinations in France – Summary
So here were our picks for the best honeymoon destinations in France. We believe it can help you choose amazing places on your honeymoon.
Do you have any other honeymoon in France ideas? Let us know in the comments below.
Also Read:
>>French Wine Honeymoon Destinations
>>Best French Alps Honeymoon Hotels