Do You Need A Travel Power Adapter For France?
From Normandy and Paris to the Riviera and the Alps, France is one of the most visited countries in the world. If you are rearing to visit the country, ensure that inadequate planning does not ruin your holiday. Put things in place, like the purchase of a travel adapter before traveling. Even though it depends on where you are coming from, getting a travel adapter before traveling is always a brilliant idea.
Things To Consider Before Buying A Power Adapter
Power outlets
There are two different types of electrical sockets in France C and E. Type C is undergrounded and it comes with two round holes. But the major difference between the two types is that E comes with a grounding prong that protrudes from the wall. The Type E is mostly found in places that have some links to France.
In addition, both Type C and E are set into a round indentation in the wall so plugs with a big head that is not circular will require an adapter; whether they are Type C or E. Just like the rest of continent, the French electrical grid is managed on a 50 Hz frequency and 230-v voltage.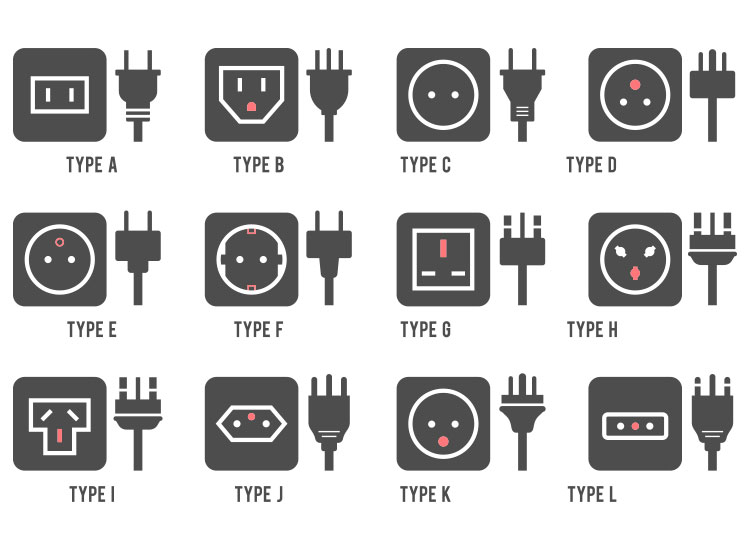 Power Adapter
First-timer travelers often ask about the kind of plug they need in France. Not to have issues with a French outlet, a plug must have some features: a head that can fit into a circular indentation, two circular pins, and either a head or a circular grounding hole.
While you will be fine with an adapter that has a little head and two pins, it is better to use one that can fit the grounding pin. Before traveling, when you buy your location to France adapter, search for the one with the round grounding hole.
Electricity in France
Electrical facilities across the country are of high quality. During storms, power outages occur, especially in the non-urban area. In a few cases, electrical fluctuations have been caused by employee strikes at power plants. But it is highly unlikely that you will experience power outage when you visit.
Is a Voltage Converter Needed in France?
France is not like the U.S. and many other countries. Its electrical grid deploys a voltage of 230 V which suggests that travelers will need to use devices below 220 V. Appliances like irons and blow dryers that produce heat are often ranked at 110V in someplace like the U.S. In the case that you plug in one of such devices in the country without a voltage converter, there is a high likelihood that it will cause a fire and destroy them.
Why You Need a Plug Adapter
In the world, there are about 14 different types of plugs. Not to be stranded, you will need an adapter to connect to power when you visit a place where the socket/plug shapes are different from where you stay.
As long as you can identify the type of plug your devices use and the type of sockets used in France, getting the fitting adapter will be easy. Below are the types of sockets/plugs used in different parts of the world:
United States, Canada, Columbia, Taiwan, Japan: Type A (Ungrounded) and Type B ( grounded)
Belgium, France: Type C (Ungrounded), Type E (grounded)
Ireland, United Kingdom, Kenya: Type G
China: Type A, Type C, Type I
Israel: Type C, Type H, Type M
South Africa: Type C, Type D, Type M, Type N
Germany, Finland, Sweden, Norway, Spain, Greece, Korea, Indonesia, Netherlands: Type C, Type F
New Zealand and Australia: Type I
While 'universal' sockets are made to accept plugs from different countries, just a few hotels in France, especially Paris, have them for guests. As such, you need an adapter in most places in the country.
In addition, vendors sell adapters with multiple sockets and with USB ports to connect multiple devices. You might also discover that some of the adapters serve as USB ports and no plugs sockets.
Few hotels in Paris (4-5 stars) now offer USB plugs and combo electric sockets, or grounded versions in the bathrooms. But do not depend on it, so come along with what you need.
Hotels or Apartments With Plug Adapters 
Hotels in France, especially in many parts of Paris, will provide adapters to their guests. These hotels are the 4-5 star ones with deluxe class treatments for visitors. In the case that you are staying at a 5-star hotel, you can be sure that they will have an adapter. But you should not bank on it. Ensure you travel with an adapter at all times. It could be expensive when to buy locally as well.
Why You Need a Travel Converter Too
Depending on the devices you will be using while on vacation, a converter is always a good idea even if you are coming from a place with 100-127 v power. Almost all electronics today, like tablets, phone chargers, and tablets, have built-in auto-switching voltage transformers/converters in their chargers or power supply.
With an adapter to let you connect to a local electric outlet, there will be no worries. If you are still second-guessing, check on the charger's bottom. There is a small print similar to "Input: 100-240v 50/60/hz".
Devices Like Shavers, Curling Irons, Hair Driers, Heating Pads
Almost all 3-star and higher hotels in the French capital have hairdryers for guests to use. You might not need to bring one, especially if you are coming to Paris. In the case that you will be lodging in a 1-2- star hotel, check with the facility to ensure a dryer will be available for use.
If you are considering traveling with many gadgets, ensure you check their voltage. You can even check out the model specifications on the internet or see it in the user's manual if it is accessible. Alternatively, find a tiny type icon somewhere on the device to find the input voltage.
In the case that you see 'dual voltage', check to see if there is a switch that must be changed manually. If it is the case, make a note on your checklist to change the voltage switch when you are arranging for the trip, and when you pack to leave your country.
Do not wait until you reach France or return home as jet lag could make you forget to do it. Inserting a 110 v hairdryer into a 220 v outlet will spoil it in no time. As a pro tip, so far, your device has dual voltage, and you remember to switch manually, there will be no need to get a converter.
Other Devices – Not Dual Voltage
Do you plan to bring something that is totally not a dual voltage? Then there are about three options: you can substitute it with a dual voltage model like it, buy a transformer, converter, or leave it at home.
If you must use the device, the simplest choice will be to buy a dual voltage model. Assuming your device is beyond 2-3 years old, you may need to substitute it soon. And for a few items like electric heating pads, dual voltage models can be difficult to get. So search for the cheaper 220 v the only model.
 And if you make up your mind to get a converter you intend to use with a high-wattage device, anything that makes use of 1200 watts like a curling iron, hairdryer, or heating par- be sure is can carry the load.
That means you will be getting a converter tagged 'dual wattage' or 'high-wattage setting' higher than your device. A 1,800-watt hairdryer will require 1800 + watt capacity converter. But ensure the converter you get has a built-in plug adapter of the type your device requires.
Do You Need A Travel Power Adapter For France – Summary
Charging your phone and laptop while on vacation will be without hassle the next time you travel to France. And you do not have to fear that your hairdryer or shaver will fry because of high currents. With a travel adapter, devices will be safe, and your mind will be at peace.