7 Hiking Essentials for Any Weather
Whether you're an outdoor enthusiast who enjoys epic long hikes or prefer shorter treks, you're sure to encounter a smorgasbord of weather in almost any climate. Keep in mind that climate refers to the average long-term weather in a region, while weather means the short-term conditions of the atmosphere. Weather conditions and temperatures can change quickly, especially from day to night and while climbing higher altitudes. 
You've got your gear list and food, water, and emergency supplies. You've got a roomy hiking backpack with compartments and gadgets, and a cozy sleeping bag. Now, make sure you have the seven following essentials for hiking in any weather. 
>>Also Read: Best Mountain Hikes in France
1. The Proper Clothing
In most locations, spring and fall are the seasons with the most moderate temperatures. A t-shirt made of polyester or other synthetic material will wick moisture from your body. (A sweat-filled t-shirt, like cotton, will make you feel cold if the air temperature decreases at higher altitudes or your body temperature drops as you slow down or descend downhill.) Hence, carry clothing for layering such as a light jacket or long-sleeved fleece. 
In winter, when temperatures are below 40 degrees, wear a long or short-sleeved base layer of wicking fabric, such as wool or polyester. Then, add a thicker layer or layers to the base layer for insulation. Layers can be removed as you heat up. Top it all off with a windproof, waterproof jacket. Down-filled jackets are great for really cold weather, but keep in mind that it won't provide insulation if it gets wet. 
In any weather, hiking pants should be weather-resistant and made of synthetic fabric. In summer, when the temperature is above 70 degrees, choose shorts or convertible hiking pants that can turn into shorts. During winter, add gloves and a hat that are made of wool or synthetic fabric. 
Always wear good, sturdy hiking boots with synthetic socks in any weather. In winter, wear thin liner socks underneath thicker wool or synthetic socks. 
All in all, make sure you have a sturdy, lightweight tent that won't leak. This way, you have somewhere to recuperate and dry out overnight! 
2. Daypack
A  daypack, especially those that detach from your backpack and can be worn separately, is an important part of your layering system. It gives you a handy place to stow or carry your layers. 
Choose a daypack that's easy to get into and made of lightweight, water-resistant material with rust-resistant zippers. 
3. Sun Protection
Quality sunglasses are a must to prevent damage to your eyes from ultraviolet rays. Keep in mind that the sun's rays that are reflected off of ice and snow are especially strong, so carry them in every season. Choose lenses that block 100 percent of the sun's UV rays. If you'll be hiking over extensive snowy grounds, choose extra-dark glacier glasses. 
Always wear sunscreen and lip balm in both summer and winter. Damaging UV rays are reflected off of snow and the water in lakes and rivers. Health experts recommend a formula with an SFP rating of 30 for extended outdoor exposure.
4. Headlamp
Even if you don't plan to hike at night, it's a good idea to have a headlamp in your gear. The light is often low in foggy areas, such as summit tops. And, you'll be ready to explore that surprise cave you happen upon. 
A headlamp is preferred over a flashlight for obvious reasons. For one, it frees your hands for other tasks like cooking or carrying trekking poles. 
5. Fire
When hiking and camping in cooler weather or higher altitudes, you should be prepared for the warmth of a fire. In arid climates, the temps can be sweltering during the day and freezing at night. 
Carry a butane lighter or waterproof matching and firestarter. After all, there is nothing worse than being cold and not being able to start a fire.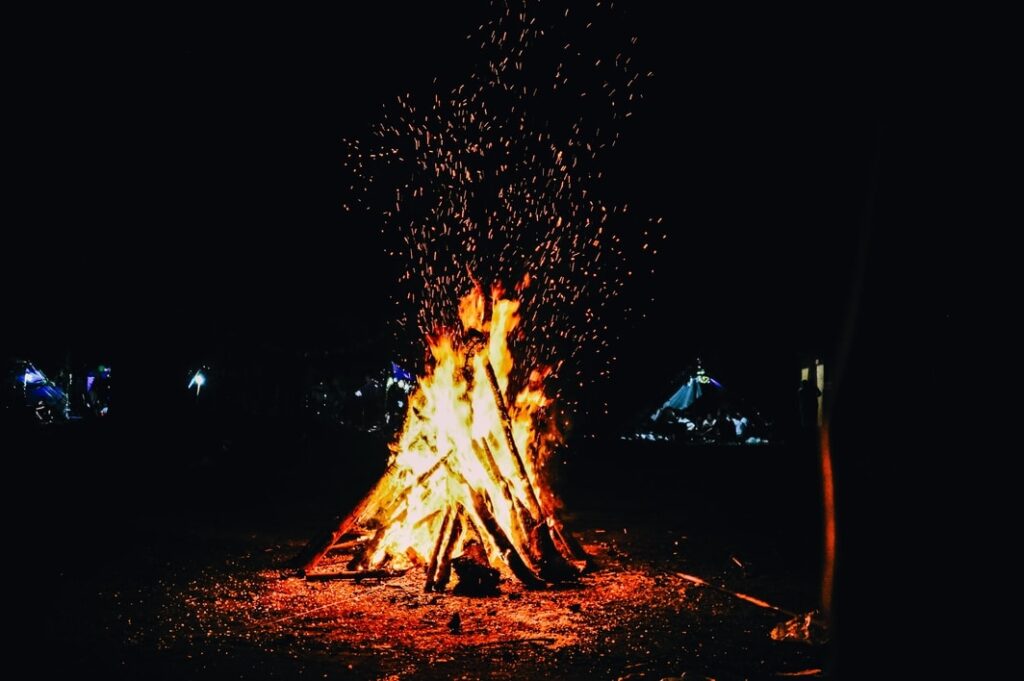 6. Emergency Shelter
Let's assume you have the perfect tent. It's sturdy enough to withstand the wind and doesn't leak. But it's important to have an emergency shelter with you in case you get stuck in the elements away from your tent or along the way before you set up camp. Pack an ultra-lightweight tarp or emergency space blanket that packs small. 
7. Extra Clothing
On long hikes, you'll want to stuff as many extra clothes in your backpack that will fit comfortably. You may or may not pass by laundry services frequently. Even on shorter backcountry hikes, pack a change or two in case the weather is wet or an emergency causes an unplanned night out.