Alpine, skiing, and exhilarating fun in the same breathe only means one thing- Courchevel. The French Alps ski resort consists of the world's largest connected ski areas, Les Trois Vallees (the Three Valleys). For the initiated, Courchevel and its nearby towns of Courchevel 1300 (Le Praz), Courchevel 1550, Courchevel 1850, and Courchevel 1650 (Moriond). They all derive their names from their altitudes in meters.
Been the most glamorous ski resorts in the world, Courchevel is an expensive place to visit. Visitors can find reputable 6-star palace hotels and 5-star hotels, restaurants managed by Michelin-starred chefs, and a casino. But as expensive as it might seem on the outside, no one needs to break the bank to enjoy Courchevel. This sublimely beautiful resort also boasts of petit affordable apartments and hotels to meet a broader range of needs.
>>Also Read: Where To Stay In Courchevel
Here Are A Few Things To Note About Expenses in Courchevel
Accommodation
The resort has some of the country's most famous and expensive hotels. However, there is the possibility of staying in more affordable accommodation options on the mountain. As earlier noted, the four towns are named after their altitude. Bear in mind that the higher you stay, the more expensive things will be.
For those who care less about spending, Courchevel 1850 has both 6-star palace hotels and 5-star hotels; all offering luxurious accommodation options, world-class service, and immediate access to the mountain. There, visitors are bound to discover upscale designer stores, some interesting nightclubs, and gourmet restaurants.
Budget travelers should explore Courchevel Moriond 1650. It is a lively village with cheaper accommodation options, including smaller hotels and apartment complexes. In addition, this village is easily accessible to beginner and lower intermediate skiers. And it is just down Le Praz 1300 where there is a strip of chalets.
Skiing and Snowboarding 
For holidaymakers who are looking for a difficult off-piste skiing and steep landscape as well as some tree-lined slopes and a more comfortable broadly open snow groomers, Courchevel is the perfect destination! This amazing resort is purpose-designed to give visitors an incredible skiing experience from the time they leave their hotel.
Just in Courchevel, there is more than 50 km of nicely groomed slopes, and with access to the Trois Vallees, visitors will certainly have a huge 600 km of slopes to manoeuver. Apart from this, there is a downhill course, about three slalom runs, and many freestyle parks and pipes. The Creux valley, Grand Couloir run, the Saulire cable car, and Suisse run are where it is at for both advanced skiers and great intermediates. But beginners and regular intermediates will most likely prefer the Signal Mountain and 1850.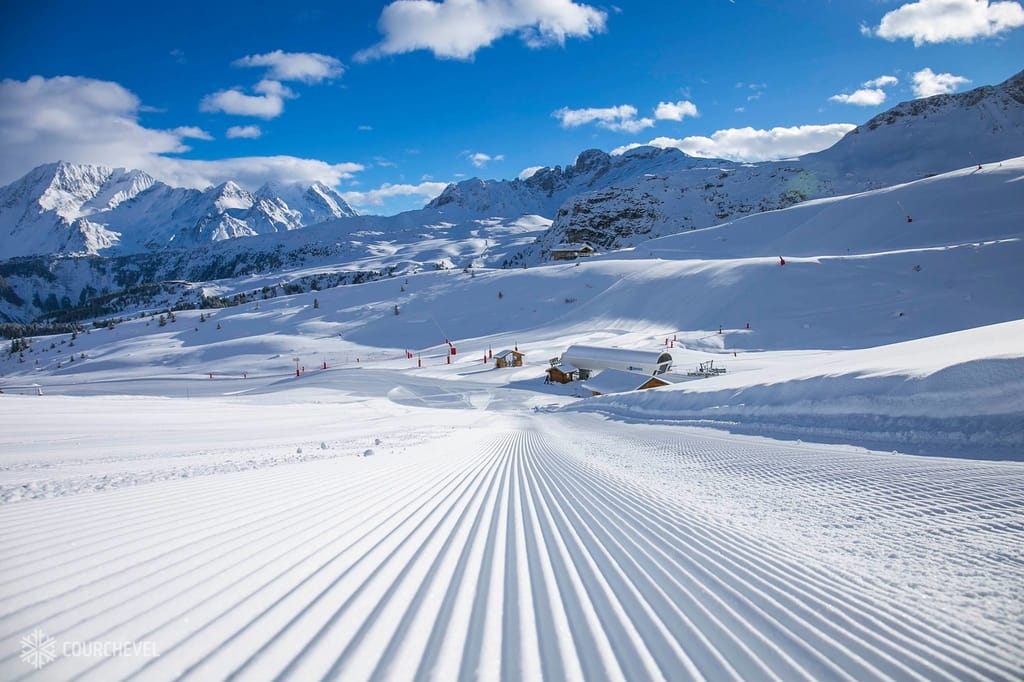 Activities 
Within the walls of the refined village of Courchevel, visitors will find lots of non-skiing activities to keep them busy- from shopping in the finest galleries and boutique in the world to watching a movie or acquiring new skills in a traditional cooking course.
In addition, there are many ways to discover how to enjoy the massive Dolomites' views- whether you choose ice-climbing or go cross-country skiing, snowmobiling, ice-skating, snowshoeing, you are bound to be encircled by nature's breathtaking beauty.
Make the best use of your time in this beguiling area with a scenic flight in a private helicopter, private plane, or a hot air balloon, if you can afford those. Or you can try parachuting and paragliding. It is an experience not to forget.
Getting There and Around
The mountain can be too crowded to ascend, and prices can rise significantly at times. Fly into one of the close by airports to get to Courchevel and find a bus to take you to the village. From Grenoble or Chambery airports by road, it will take about two hours. Lyon or Geneva is about three hours.
Alternatively, visitors can take a train to Moutiers, which is about 24 kms from Courchevel and reachable by taxi. From Paris, London, and Chambery, there are also direct trains to Moutiers. Arriving by a private helicopter or plane is another alternative.
How to Travel to Courchevel On a Budget 
Book an All-Inclusive Hotel or Chalet
Courchevel 1850 has the highest altitude of the four towns, but you can save money when skiing in and around it. The first thing to do will be to save your spending funds before booking an ALL-inclusive chalet or the hotel of your choice. 'All' is capitalized because it is not every time that 'all-inclusive' actually means everything. Some hotels are fond of tagging their service as an all-inclusive one only for guests to find out that the wine bills etc. are on them. Meanwhile, these items like chocolate, wine, etc. that will be paid for come expensive.
A typical all-inclusive ski trip should include breakfast, afternoon snacks, dinner, and beer/juice/wine/fizzy drinks to the satisfaction of visitors. So what to do is to research and find the affordable all-inclusive deal you can possibly get. In the long run, you will be saving enough cash.
Get Your Ski Equipment Before you Leave 
Do not fall for the end of the year bonanzas when traveling late in the season. At such times, a 2,000 euro skiing equipment might cost 1,000 euro. That is a lot of money for the average tourist or skier. In the past, it used to be expensive to prepare for a skiing expedition. Now, you can get a good bargain in many outdoor shops or online just before departing for Courchevel. It is usually better to get your gear while at your home town.
Get the Crystal Discount Card
It could be the Crystal discount card or any other one. Discount cards are a lifesaver as there are many deals to enjoy. Many visitors have reportedly seen Crystal representatives move around the resort at the beginning of every season. The reps are looking for businesses that will offer a discount to their teeming patrons. This is one of the things that add to the charm of Courchevel 1850. Usually, discounts range from 10% off drinks and food to the best of an affordable two-course dinner with a drink.
Go to Val Thorens and eat at Wok Ski
You should get a lift pass that includes the entire three valleys and courses to Val Thorens. Here the food is cheaper, and the pistes are higher. Wok Ski offers the best on the mountain. Delicious noodles and smoothies are less than 10 euro, and you can even get an additional euro off if you are with your discount card as well.
It is affordable and lively, while you enjoy the sunshine outside, champing down on your delicious noodles. Also, it can take about two hours to travel back from Val Thorens to Courchevel, so it is better to leave early.
Self-cater and Get Take Out Food
One of the cost-effective methods when spending days in a foreign city is to cook yourself and bring your food from home. With that you will significantly cut the cost of eating out when you do not need to. So stock up your suitcase with sausages, chocolate, and pasta. Not that you wouldn't need a few things from the local stall like the French bread (no one should miss out on that)- it just helps you save enough penny.
How Expensive are the Courchevel Towns?
As earlier established, Courchevel 1850 is the most expensive of the 4 ski towns. There are about 19 five-star hotels in 1850 and about 6 Michelin-starred restaurants in Courchevel. It is said that Russian oligarchs have private chalets there and David Beckham together with his wife, Victoria Beckham. Prince William and the Duchess of Cambridge (Kate Middleton) are also said to be habitués.
Courchevel Moriond, also called Courchevel 1650, is high enough to have snow. It also links to the same slopes as Courchevel 1850. Courchevel Moriond is smaller, less expensive, and easier to reach and get around. There is also a wide range of bars, chalets, affordable supermarkets and restaurants, and Aquamotion (the Alps' best aquacenter) is nearby.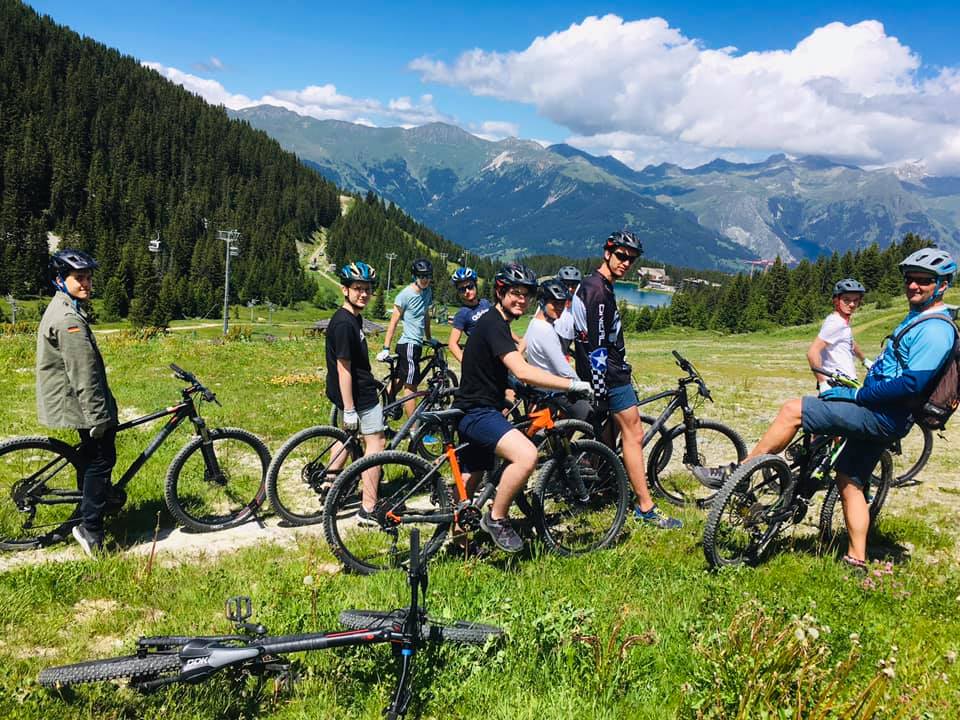 Is Courchevel Expensive? – Summary
Whether you are a snowboarder, skier, or a traveler who just wants to indulge in a different kind of adventure, Courchevel is the ski resort to be. A visit here is a luxury one with deluxe services and magnificent views. Yes, Courchevel is Expensive, and that means more insane expenses that a budget traveler wouldn't dare look. But it doesn't have to be that way all the time.
With proper planning, you can even save enough for your next trip abroad. And don't just take a 2 km torch-lit sled run late at night from Courchevel to Courchevel 1550 at a dive of 300 or something meters; explore the very heart of Courchevel, and you will be super thrilled you did.