Is Lake Annecy Expensive?
80m deep and a surface area of 27.4 km2, Lake Annecy is Europe's cleanest lake. Its charmingly serene, clear water is great for many water sports and activities like sailing, swimming, boating, diving, waterskiing, or fishing. Such a paradise for summer vacationers. Its beaches are bound to excite fans of lounging around. And with its splendid shores, cyclists and walkers are served. Right at its edge is Talloires- a village popular for its resort blending relaxation, water sports, and leisure activities.
 It is a fantastic choice if you plan on visiting the city of Annecy and its famous lake. Still, the fun will naturally cost you money. While you keep an eye on your budget, do not forget that planning to visit a place like Annecy can be slightly intimidating- considering the many things to do and see. Annecy is not a small city. The lakeside villages and towns surely tempt in the distance on a late noon pose countless options for exploration and accommodation.
Knowing the place to stay and how to go around will be helpful- as it will place you in the center of the action you are most eager to delve into. It the bright way to spruce up your holiday from ordinary to perfect.
>>Also Read: Most Beautiful Lakes in France
Here Is What You Need To Know About Expenses in Lake Annecy
How Much Does it Cost to Travel to Annecy
You should plan to spend at least 171 euros per day on your vacation in Annecy, involving a trip to Lake Annecy. That is the average daily price based on the expenses of other visitors. Also, past travelers have spent, on average, 12 euros on meals in one day while a couple is expected to spend at least 210 euros. Therefore, a trip to Annecy, involving a visit to Lake Annecy for two people, will cost an average of 1639 euros in one week.
Furthermore, single vacationers who plan to visit Lake Annecy should plan for at least 820 euros for a week's stay. That means a trip to the city (the lake inclusive) for two people will cost around 1639 euros in a week. Meanwhile, a two-week trip for a couple will cost at least 3279 euros.
However, note that traveling as a family of about three to four people reduces vacation costs. This is because children's tickets are cheaper, and hotel rooms can be shared. Considering all costs, including repeated visits to Lake Annecy, two people visiting together for a month in the city will most likely have a lower daily budget per head than a lone traveler who is only visiting for a week.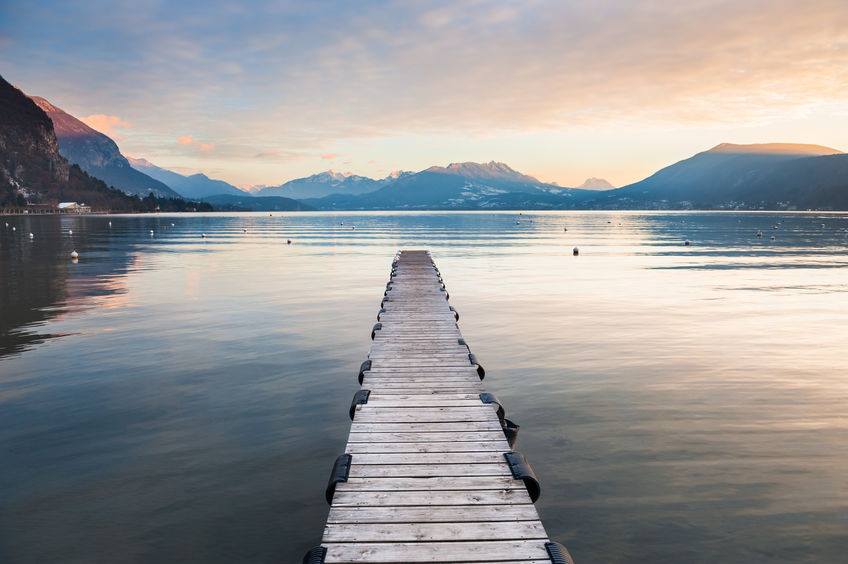 How Expensive is Lake Annecy? 
Hotels in the Lake Annecy area are reasonably affordable even though there is a bunch of upmarket options. A decent number of facilities and leisure center too do not come cheap. But fair to Lake Annecy, visitors have a broad range of activities to participate in with decent spending. Activities like swimming, amongst others, can be done free.
However, hiring the services of tour operators to enjoy Lake Annecy is a costly policy. Activities like boating, snorkeling, etc. fall on the other side of the price range. But it has to be said, spending more at a breathtaking place like Lake Annecy is worth every euro paid. To reducing spending, bring along your water as bottled water adds to more cost. Annecy city's water system is pretty good. Additionally, do not buy meals or items around the lake. Restaurants and food stalls around the area are known to charge more. And ensure that you bring along your own watersport gears if you have them. Renting could be costly.
Almost similar to the dining centers close to the lake, a meal at an inexpensive restaurant will cost about 15 euros per person. While a three-course meal for two in a mid-range restaurant will cost at least 60 euros. Beer lovers can get a 0.5-liter draught of domestic beer for around 6.50 euros, and the imported one (0.33-liter bottle) will cost around 5 euros.
Sights to Enjoy in Annecy
Perched on an island in the river Thiou is the Palais de I'Isle. This 1100s castle is located in the city's administrative headquarters. The Palais de I'Isle is, for most of its history, served as a courthouse and prison until the Revolution. Again in the Second World War, it was used as a prison. Today, this iconic spot is hosts a local history museum; a historical monument that was classified in 1900.
There is the Chateau d'Annecy (Annecy Castle) too that is houses the Counts of Geneva and the Dukes of Genevois-Nemours. The massive castle is proudly positioned on the top of one of the Semnoz Mountain's promontories that looks over the lake with the old town of Annecy set at its foot.
From different parts of the town, its silhouette can be seen as a beacon of the city's medieval past. Following its abandonment in the 1600s, a garrison occupied the castle until 1947, and in 1902 the French government listed it as Historical Monument. Today, the castle contains the Alpine Lakes Regional Observatory and the Museum of Regional Art.
Outside is Saint-Pierre, a splendid Renaissance building built in the 16th-century. The cathedral is also adored for the way it connects with the water as it is partly built over the canals. You can make the steep walk up to the Basilique de la Visitation too. It is high to the south of the city, and its tower can be sighted many miles around. This church has the best local views of Annecy. Inside are tombs of two saints, Jane Frances de Chantal and Francis de Sales.
Do not miss the Gorges du Fier. Just minutes west of Annecy is a stunning river canyon cut by the Fier River. As famous as the French Alps are for their natural specialties, the gorge is a must-see. There is a group of walkway hanging 25 m above the river, thereby unusual visitors at the odd shapes that took for many years for erosion to forge.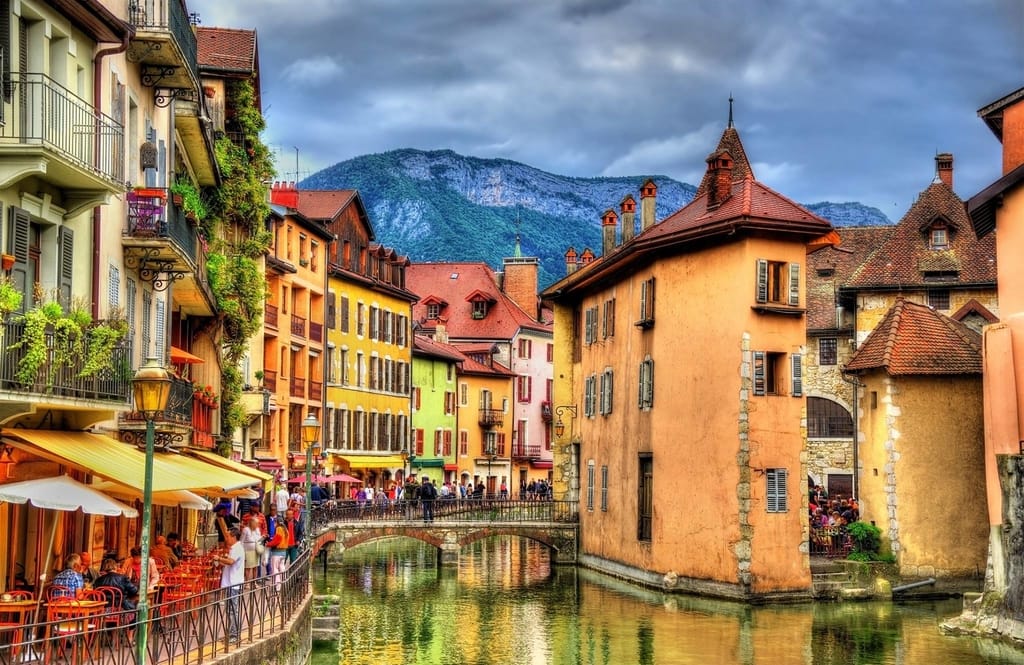 Areas in Annecy
Old Town
Walking around the city's old town is captivating. With its alluring canals, stunning houses with flashy facades, and its flower-bedecked banks, Annecy is dearly nicknamed Savoyard Venice. Also incredibly delightful to walk along its canals or stroll around the adorable narrow pedestrian streets crammed with terraced cafes, medieval buildings, and bridges that exude history.
Proceeding further, you will find more modern parts of Annecy with high street stores and trendy boutiques, a bus and train station, and more restaurants and cafes.
Lake Annecy
The ravishing old town itself would be enough to win over anyone who visits the city, but the major attraction is the lake, close to the old town- a typical playground for visitors of all ages. Visibly marked around the lake's blue surface are pedal boats which are available for hire while speedboats make up this attractive setting in front of turquoise water and panoramic mountains. Sun-seekers sprawl in 'plages' and parks and parts of grass that serve as public beaches with showers, lifesavers, and ice cream vendors constitute the brisk setting. You should also see runners, cyclists, and walkers use the footpaths as well as bike lanes that encircles the lake.
Activities
Hop on a boat. For the choicest way to discover the lake and surrounding mountains, you can take a trip on hired pedalos and small motorboats or tourist boats. The tour will take you around the lake to savor the enticing beauty, the runoff from the snow-capped mountains that encircle visitors, and the endless colors that all make the waters the world's cleanest.
You can also spend time strolling around the shops in the city to culturally connect to this distinct part of France. Stop and take pictures on the historic bridge that looks over the Palais de L'Isle. Also, stroll on the cobblestone streets to Chateau d'Annecy, and you will be stunned at the street wonders.
Is Lake Annecy Expensive? – Summary
Lake Annecy is an expensive destination. But given the number of ways to explore and enjoy it, a small budget could see you have the best time of your stay in France. Whether it is on the shores or in the crystal-clear waters, you do not need to be a Jeff Bezos to ascend to the heights of Lake Annecy fun-wise. Just let Annecy unlock your nautical potentials. It's another way to have the French experience.