Best Budget Hostels in Paris
While luxury, class, and affluence are related to Paris, the good thing about the city is the vast array of options. Therefore, there are many things to do and places to visit, even on a budget. So whether you're a novice or a serial tourist, Paris is perfect to surprise you in epic proportions. Though choosing accommodation tops the list for most visitors, for that reason, it is important to find the Best Budget Hostels in Paris.
In Paris, often referred to as hostels, this type of affordable accommodations can be found in any part of the capital city. There are even cheap hotels that cost as low as 20 euros per night. Even though these hostels are cheap, their standards are high.
>>Related: Comparing Hostels In Paris: What to Look For
Here Are Some of The Best Budget Hostels in Paris: 
Hostel Generator Paris
Situated along the Les Piaules, this is a decent hostel with good facilities. The area is a burgeoning one of the 10th Arrondissement that is currently witnessing a transformation. The hostel's popularity increased among locals after renovations finished.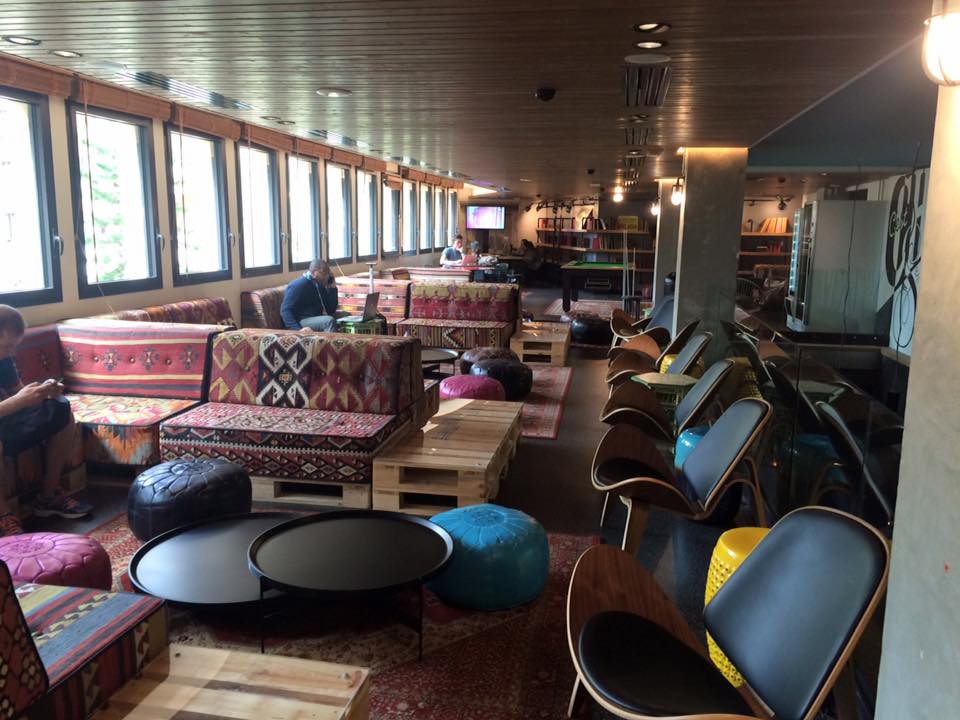 Generator Paris is about 15 minutes from Gare Du Nord. As such, guests have the luxury of walking through the Buttes-Chaumont Park where they can socialize with the locals, see the art galleries, patronize the shops or even relax in a café by Canal St-Martin.
The hostel's highlight includes a striking rooftop terrace, a Moroccan themed, Café Fabien, and the Metro Bar.
St Christopher's Inn | Hostel in Paris Canal
A subsidiary of the popular European hostel company, St. Christopher, the Canal in Paris is a custom-built hostel situated in a good location with tidy dorms and private rooms. The hostel also has the Belushi's Bar and a vivacious nightclub in the basement. St Christopher's Canal is a fun place to be.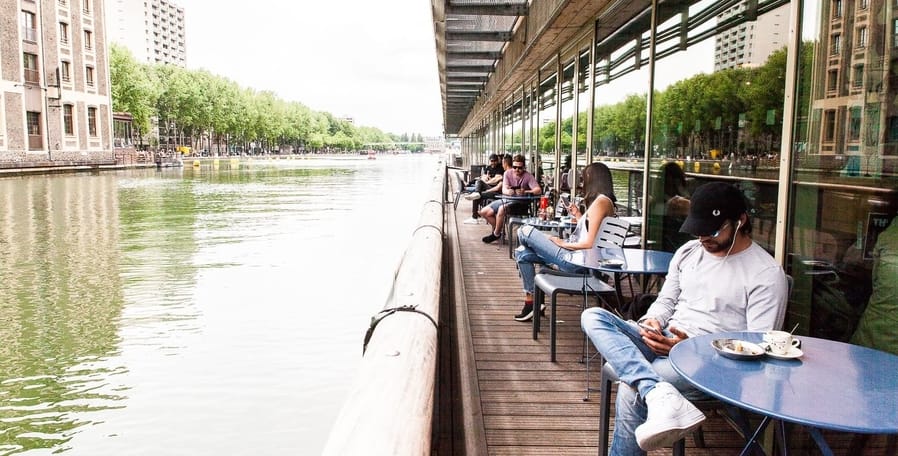 The hostel is in a tranquil area that overlooks the Bassin de la Villette, which is Paris's largest artificial lake. And you can see the main sights of the city after a brief metro trip. The hostel area used to be a warehouse back in the 19th-century, but it now has a contemporary appearance with decent furnishings like pod beds. While St Christopher's Inn Canal Hostel is cheap, it undoubtedly provides comfort and relaxation for all guests.
Related:
>>Left Bank Hostels in Paris
>>Right Bank Hostels In Paris
Les Piaules Hostel Paris 
Located in a 1930s renovated 'Art Deco' structure in the burgeoning area of Belleville, Les Piaules. It is an awesome new design hostel with a great bar, stylish bunk beds, and a rooftop terrace that provides guests with views of the city's skyline.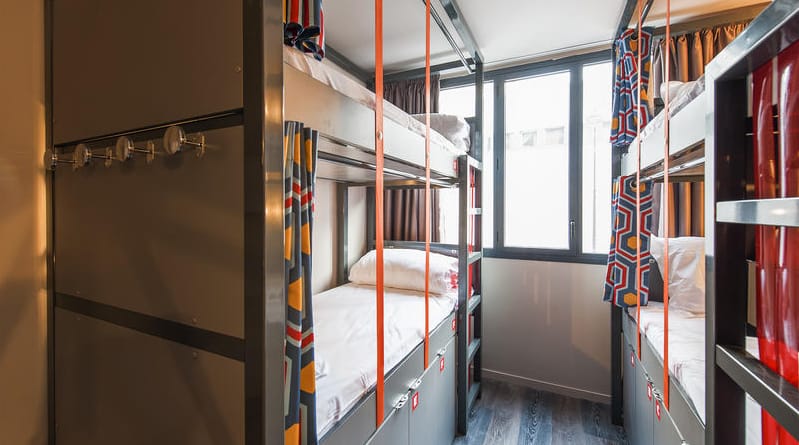 The area has a long strip of bars, coffee shops, and restaurants, so there is something interesting to do and see. It said that Les Piaules' owners traveled for more than 12 months across a wide range of hostels to garner information. They ended up designing their own hostel with the accrued experience.
There are four rooms overlooking the Sacre Coeur and the famous Eiffel Tower. So, there is a vantage point to see some of Paris' major attractions. In addition, the hostel has one of the chicest bars in the area with a carefully selected stash of French specialty drink, coffee, and local beer.
Breakfast here is as low as 2.50 to 8 pounds to start the day- hand-roasted coffee sourced from the Belleville Brûlerie (500m down the road), croissants, eggs, and bacon, creamy 24 month-aged Comté, French cheeses from local producers, or muesli and organic yogurt. Among hostels in Paris, Les Piaules is more than average.
Hotel du Champ de Mars
The Hotel du Champ Mars has a different edge of Paris feel. The interesting thing about the hotel is the cost (starting from 100 euros per night), especially considering where it is situated. And given its proximity to the Eiffel Tower (about 1km away from the Eiffel Tower), guests are treated to spectacular views that are hardly forgettable.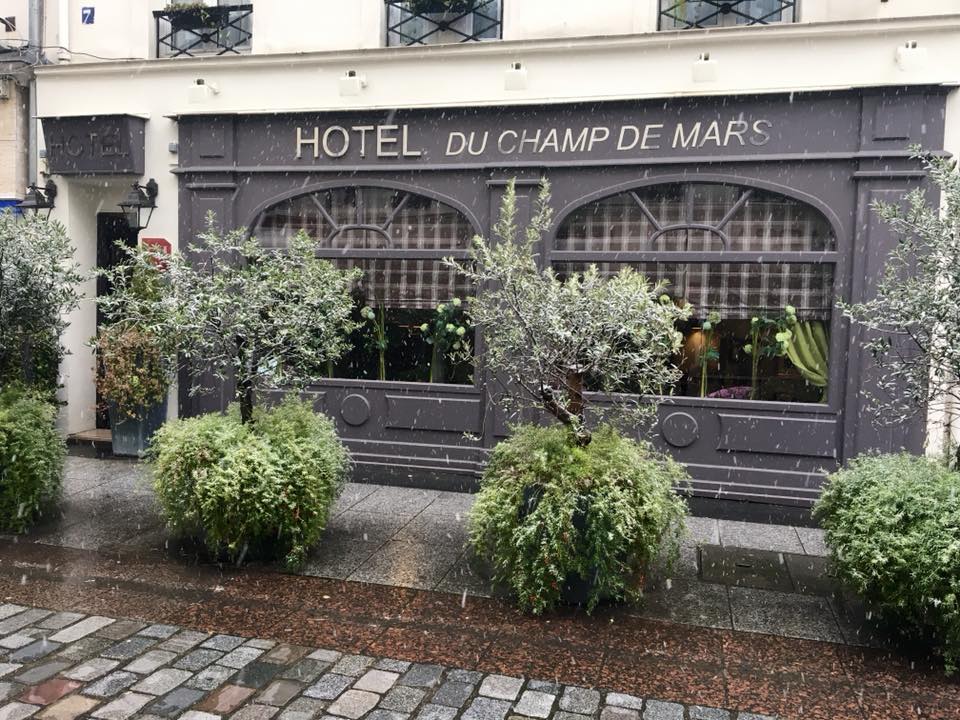 Another reason to stay at the Hotel du Champs is the Rue Cler, a popular street with a market. This part of the area hosts a buzzing market, which is a necessity to visit, especially if you desire to see a particular side of Paris with specialty services and items such as cheese and chocolate available. In addition, the area is not far from museums and sights like the awe-inspiring Musee du Quai Branly.
Hotel du Champ Mars promises a swell time to guests regardless of how long you will stay. Continental breakfast at the hotel is available at an extra 5 euros while Wi-Fi and computer access are free. Though with just 25 rooms, expect to lodge in a serene and clean accommodation. 
Oops! Hostel in Paris
Pardon the title, Oops! Hostel is an excellent accommodation that has the Parisian charm that keeps you coming back when you visit the area. Guests appriciate all the themes and designs that the hostel offers. Each of the rooms has immensely varied innovative interiors that blend bodacious colors and prints which have led Oops! to be featured in magazines and blitz publications.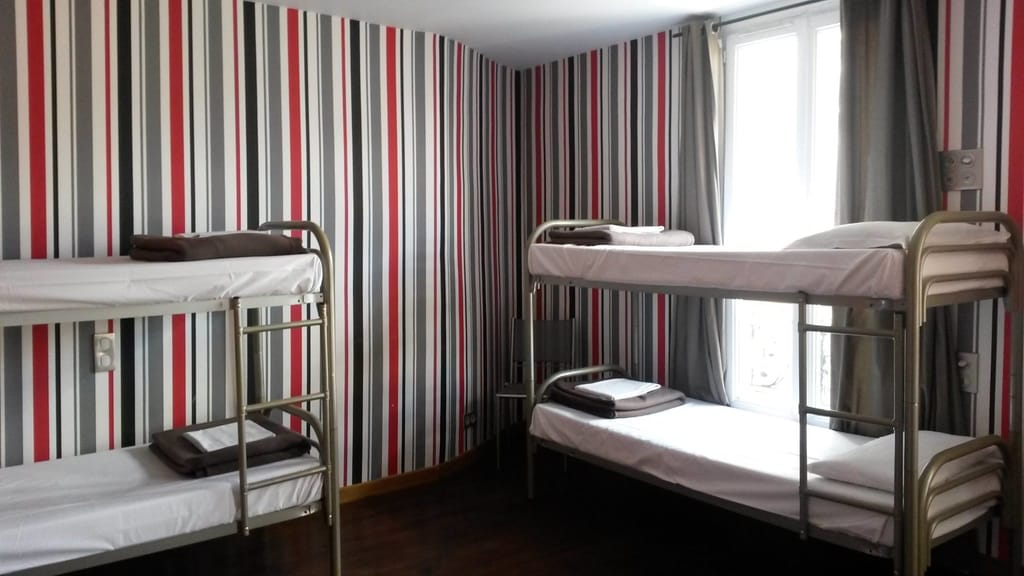 Free Wi-Fi is available, and the continental breakfast is a must-have and a foodie's delight. Apart from the chic reputation, impressive designs, and facilities that the hostel prides itself on, it leverages its remarkable location in the Latin Quarter, which is made up of multiple streets with buildings, live entertainment artworks, and statues. All these offer exciting opportunities that are reminiscent of Bohemian Paris. Lodging at Oops! Hostel can cost as low as 23 euros. 
Hostel JO&JOE Paris, Gentilly
Located in the buzzing neighborhood of Gentilly, JO&JOE embodies the charm of Paris itself. Here you will find distinctly themed private rooms, which are an Insta inspiration. The quirky designs are quite something while the en-suites and private balconies make up a truly Parisian-styled setup.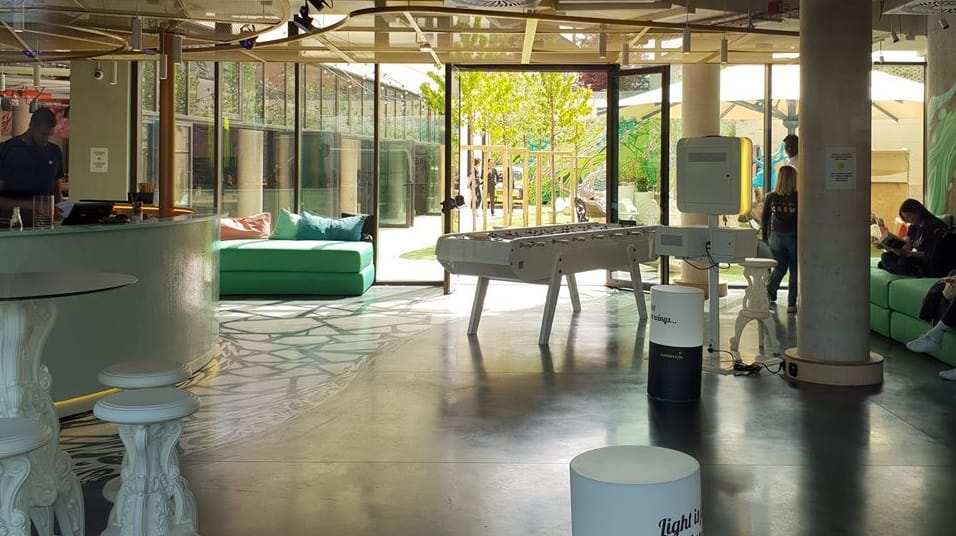 And as you already know, JO&JOE's dorms are modish and comfy to the pleasure of guests. There a splendid garden on the property too begs for a nice picnic and a little nature-seeing. The bar is an interesting place with a stage designated for the DJs, primed for a perfect Friday night. With JO&JOE, you get the right blend of fun and comfort, all on a budget.
MIJE Maubuisson – Youth Hostel in Paris
Mije Fourcy Fauconnier is one of the highlights of the Le Marias area. The 17th-century building is an impressive structure that palpably tells of its inclination to comfort and relaxation. When you arrive in the neighborhood, you will have the impression that you are in a beautiful French suburb. The hostel is said to be of the best in Paris if you want to take a trip back in time.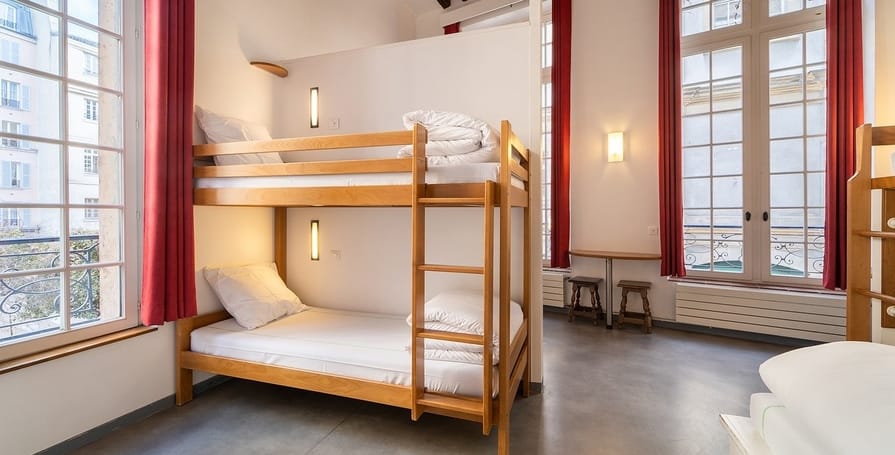 With its big windows, contemporary bedrooms, easy staircase, a swanky dining room, common rooms furnished with books, and free luggage storage, Mije Fourcy Fauconnier is where classic meets modern.
>>Related: Best Party Hostels in Paris
Hostel Le Régent Montmartre, Paris
Known for its serenity and its modern facilities, Le Regent Hostel close to Montmartre is perched comfortably in a friendly environment. Relax in the common area with other guests or have a great time in the lively game space. Le Regent Hostel is situated between Pigalle and Montmartre, where you can check out the cafes, art galleries, and shops.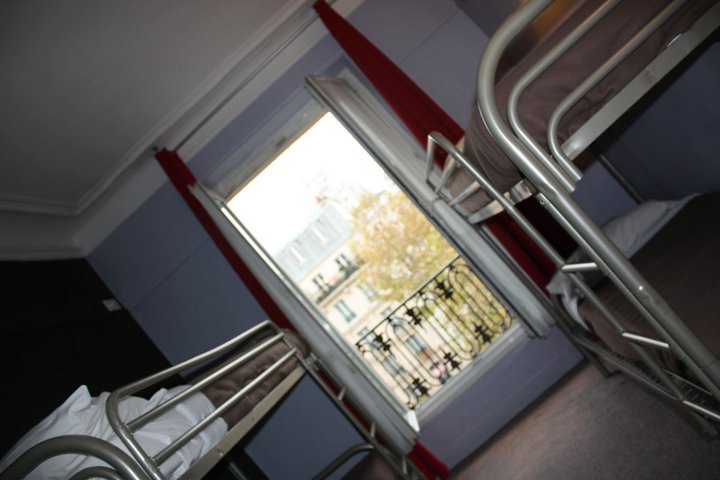 >>Related:
Best Hostels in Montmartre, Paris
Montmartre Neighborhood Guide
FIAP Jean Monnet Hostel, Paris
A rather fascinating thing about Paris is that you get to meet great people from different parts of the world. Though a budget hostel, FIAP Jean Hostel affords you that luxury to socialize. There are free towels, fresh bed linen, security lockers, city maps, free breakfast, and free Wi-Fi, all at affordable rates.
Located in the 14th Arrondissement, the hostel is just a few metro stations away from the vibrant Saint-Germain-des-Pres. Shimmering-colored bars and international students are a common sight here. Do not forget to walk through the stunning French gardens in Le Jardin du Luxembourg as you feel the indescribable serenity that reaches you. 
Hostel Arty by Porte de Versailles, Paris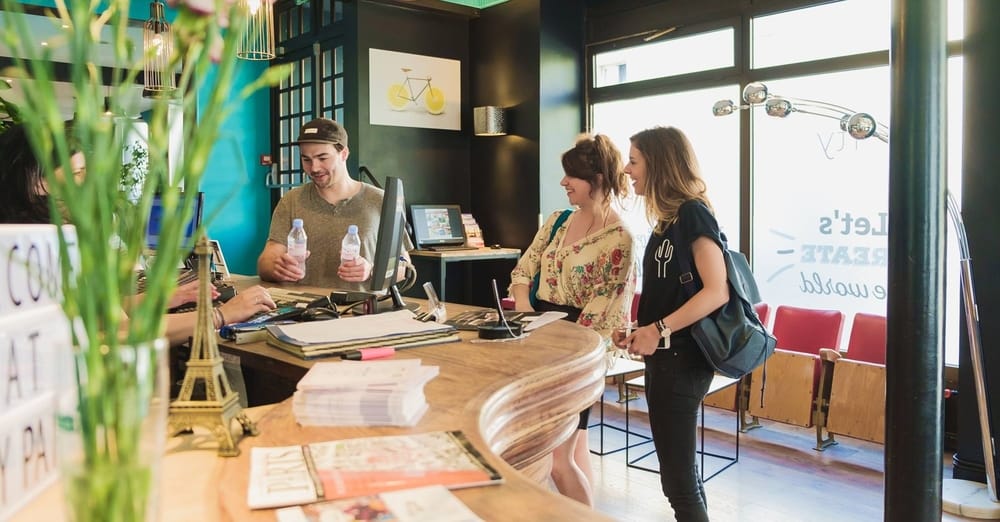 Chic and amazing, the Arty Paris hostel is located in the 15th arrondissement de Paris. It is designed and well-furnished for relaxation. Navigating here is very simple; follow the quotes on the wall's black tiles and head to the lobby. You can sit in one of the cafes and terraces as you watch guests playing petanque. Arty Paris is a banging place for party, wither themed or otherwise as nightlife there is electrifying. 
Hôtel de la Mare, Paris
Hotel de la Mare is a typical Parisian guesthouse that offers a range of accommodation options that starts from 100 euros per night. Spacious and comfy, the rooms are well furnished, and if you want a private bathroom, you can confirm that while booking. 
Backpackers will find the attractive kitchenette while on a strict budget. Nothing feels like cooking your food. And you can indulge the cook in you thanks to the food shops around where you can get materials. But if you would love to head out for dinner, La Bellevilloise and other well-known areas are close by. 
Mama Shelter Paris
This hostel is a sharp change from the small, usually stuffy, and often overpriced hotel rooms of Paris. Located to the west of the capital city, Mama's Shelter offers you an easy pass if you will be spending lots of time in the center. As you will observe, the Alexandre Dumas Metro Station is 750 meters away from the hostel, providing direct access to the Montmartre district and the Sacre-Coeur Basilica. 
Apart from its impressive restaurant, Mama's Shelter also offers free movies for cinephiles, free Wi-Fi, laundry, an iMac, and televisions whose prices all start from 79 euros, with an option of upgrading to Luxe, and Deluxe.
Best Budget Hostels in Paris – Summary
Finding the Best Budget Hostels in Paris is the biggest relief when visiting a place as expensive as Paris, especially when you are on a budget. The featured hostels offer cheap accommodation despite their decent standards. You can even go online and compare prices to get the best deals on the market. And you can secure accommodation close to the area in Paris you would most likely frequent during your stay in the city. That will be very cost-effective. It is a license to enjoy Paris like a local without worry. 
Which one do you think is the Best Budget Hostel in Paris? Let us know in the comments below.