The stunning city of Biarritz is a well-known seaside resort on the Bay of Biscay. As the center of France Basque culture, it offers more to visitors beyond its breathtaking beaches and excellent cuisines. This city is where French charm brilliantly blends with a distinct Basque culture. It is among the most expensive places to live in southern France because it has quite a classy reputation.
As the city is rather small, most of its neighborhoods are well-connected. But determining the best neighborhood to stay can be a tad tricky. Whether you wish to experience the local culture, the beaches or nightlife will have a massive influence on where you want to stay. But as ritzy and charming as Biarritz is, it is essential to know about safety there before traveling.
>>Also Read: Is Biarritz Worth Visiting?
Here is All You Need to Know About Safety if Biarritz:
Overall Safety
Biarritz is generally a safe small city with adequate security. The local police does an excellent job of keeping residents, tourists, and properties safe. However, tourists still need to be careful of scams, carjackers, and pickpockets. They might be easy targets for criminals around the city. That is why it is smart to conceal one's identity as a visitor.
When you can, hide your binoculars and do not speak English loudly in certain parts of the city. Street crimes are not common but keep an eye on your credit cards, passport, and other valuables. Also, ensure that your bag is placed across your body and not your shoulder.
Transport Risk
Biarritz is a small and well-connected town. You can explore it on foot as it is very pedestrianized. Most tourists walk to the city center, to the beaches, and the great joints for shopping or surfing. These are all accessible at no cost. But do not walk in empty streets alone at night or when poorly-lit openings. Gangs might operate in such settings with the hope of help scarce.
As for getting to places you would rather not walk to reach there, the city's bus system is great. Called the Chronoplus, it has been serving the entire town since 2011 at affordable prices. It also serves neighboring cities like Anglet and Bayonne. Buses are safe and efficient, but be careful of pickpockets. They are known to operate in places like the bus where passengers might lose their items easily. In Biarritz, the possibility of getting kidnapped from public transport is considerably low, and the overall transport risk level is low.
Pickpockets Risk
Pickpockets are the nightmares of tourists. Areas like La Grande Plage, Les Halles, and Port Vieux are common places that thieves work. When in those areas, ensure you keep your valuables close to yourself. Do not flaunt your bags carelessly in crowded places and watch your surroundings when you are about to take pictures with your camera or phone. Sometimes, pickpockets operate in groups, so be careful. Reports of snatched items are not a rarity.
Natural Disasters 
When natural dangers are in question, the risk level is low in Biarritz. Visitors need to follow the instructions of authorities, especially the tourist office. They have helpful information on natural hazards peculiar to the town. Also, follow the local weather news. That way, you can be able to stay abreast and fine-tune your itinerary.
Mugging Risk
The chance of getting kidnapped or mugged in Biarritz is low, but some areas need to be avoided in the late hours of the day. In the city center, shops and establishments begin to close in the evenings but few open.
Terrorism Risk
The possibility of terror attacks in Biarritz and the rest of France remains, and the risk is high. This is as a result of occasional threats to the country by Islamic terror groups. It is not a French problem alone as it affects entire western Europe. Visitors need to be careful in public and adhere to the advice of local authorities. And when you suspect any event, immediately report to the police.
Beaches risk 
Biarritz is famous for its two major beaches that attract lots of visitors every year. They will most likely impress you too, especially in the summertime as they are excellent. The biggest one is the Grand Plage that gets crowded quickly. Keep your valuables at the management's vault. Not everyone that comes to the beach is there for the ambiance and its beauty. Some come to take other people's stuff. If there are high tides, swimming is not permitted; therefore, do not attempt it. The key to staying safe at the beach is to be careful and follow instructions.
Scams Risk
Be careful when you visit markets. Ensure you check your change and that your purse is close to you. Also, be careful of people who will do anything in the name of charity to obtain money from you. Scammers can operate anywhere.
Women Travelers' Safety
Biarritz is very great to travel as a solo tourist. If you are a woman, you will enjoy the city on your own with lots of things to do and see. However, be careful of strangers. France is among the most visited tourist destinations in the world and invites people from anywhere.
Safe Areas in Biarritz 
La Grande Plage
This neighborhood is an amazing place to stay in your time at Biarritz. It has a beach situated in the north-east of the city center with the coastline being the highlight in Biarritz. Its restaurants and other establishments are usually busy for the most part of the year.
The area is also well linked to the broader Biarritz-Anglet-Bayonne region, affording access to the major attractions lying to be explored. At La Grande Plage, there are a casino and shops for the pleasure of locals and visitors. Other awesome things worth seeing in the La Grande Plage are Phare de Biarritz, Le Colisee, Yogadelique, Duplex, and La Marina.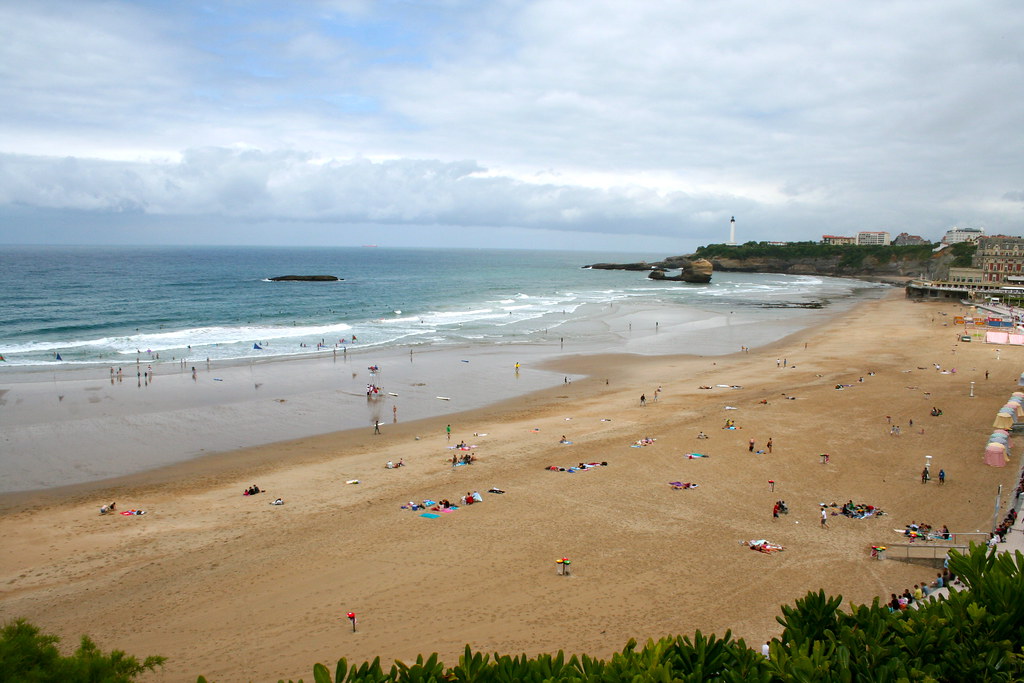 Port Vieux
Port Vieux is at the heart of the action in Biarritz. Some of the most amazing things to do in the area are to head to the Dolce Arena and sample some tasty Franco-Basque tapas that looks over the ocean. When you stay in the neighborhood, visit the beach there. Even though it is small and secluded, it is the one for those who just want a gentle seaside trip.
Like many coastal cities in France, the area is the historic center of the city. It is distinguished by the modern city center with tall cliffs. Port Vieux is only a short walk away from the two largest beaches in Biarritz and the urban center.
Other things to check out in Port Vieux are the Le Musee d la Mer, Eden Rock Café, Rocher de la Virge, Le 3éme Oeil, etc. If you are looking for the best hotel for backpackers in the neighborhood, Hotel Anjou offers what you need. They provide private rooms and apartments that are fits larger groups. There is also breakfast for an extra fee every morning as well as private parking.
Les Halles 
This area is known to have the best night time fun. Along Gambetta, there are chic bars to get you in the groove before hitting any of the many clubhouses here. And it might also be of interest to you that Les Halles is the food capital of the French Basque area. You can select fresh local produce, sample local cuisines, and get some souvenirs from creative and artisans. You can stay at the affordable Hostel Saint Charles or the budget Hotel et Residence Parc Mazon Biarritz, or the luxurious Hotel Villa Koegui Biarritz.
Is Biarritz Safe? – Summary
Biarritz is probably the safest town in southwestern France, and it will be remiss if you do not go there while you are in the area. As safe as it is, you should, however, avoid carrying valuables everywhere you go. Pay attention to your surroundings all the time, and report any suspicious activities. That is how to stay safe in any city. And to stay updated on the news concerning safety, stay in touch with the tourist office.
>>Also Read: Is Biarritz Expensive?